Everything is beautiful. Dustin Pedroia is hitting for power. Hanley Ramirez looks great. There's real baseball again. Life is good in the Back Bay.
If you'd indulge me for a moment, take a walk over to Baseball Prospectus' Depth Charts, and the associated projections for the Red Sox pitching staff. This is important, so I'll wait.
…
Jeez, this is taking forever. Here's a picture of the pitching depth chart, as of April 10, 2015.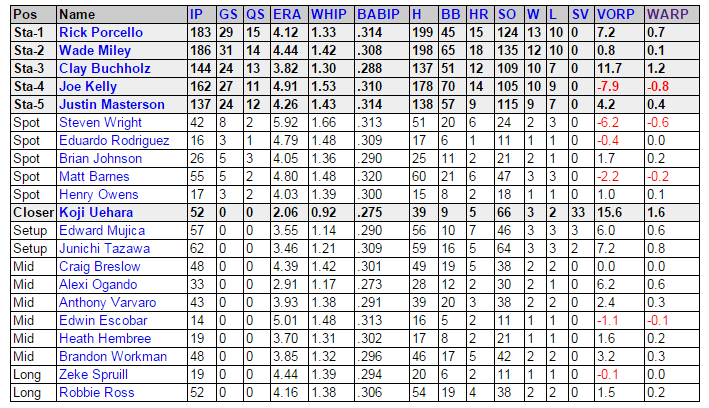 Here's what I actually see when looking at the depth chart.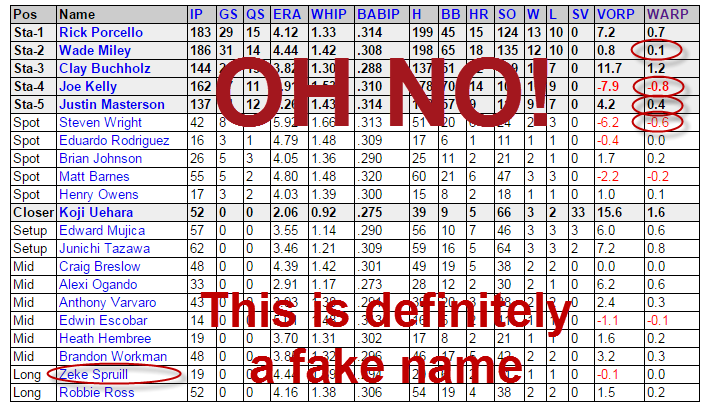 As Red Sox fans, you may be starting to condition yourselves to not worry about the kickoff to the season. The offense looks … offensive? Ramirez was a good choice. The defense should shake out okay. And, as of today, Rick Porcello and Joe Kelly have managed to not embarrass themselves too badly.
Some pitching things are coming up Cherington, so far at least.
But you see that upper-right corner? That shows how the Red Sox's No. 3, No. 4, No. 5, and No. 6 starters project — by BP's PECOTA projections — to pull the team down, down, down, into the abyss. Steven Wright is poised to undo any good that both Wade Miley and Masterson do, all by himself. Then, Kelly will lop off nearly a win by himself — and this is before we find out if his injury may sap some of his control or velocity.
That's right, it's time to sell the farm in order to acquire a True Ace. The rotation, for all the work that the front office has done to improve things, still looks terrible.
Before you break out the pitchforks, I was being facetious a little in that last paragraph. I'm actually not an advocate for swapping Blake Swihart or Mookie Betts out to Philadelphia for Cole Hamels.
Hamels is great, but he's a big investment, while also a big upgrade (projected for 2.4 WARP this season). In my view, the goal shouldn't necessarily be to add an "ace." The goal should be to add someone who won't make the team markedly worse, who the team could use to replace some of the negative production from a bad Kelly or a worse Wright (a wrong?).
That type of player might be Dillon Gee (projected for 0.2 WARP) or Bartolo Colon (projected for 1.0 WARP) from the Mets. It might be Mike Leake (projected for 0.2 WARP) from the Reds. It might be Scott Feldman or Colby Lewis or Blake Treinen.
These PECOTA projections are not good — and there's more than a little chance the team could out-perform them. Heck, Ryan's already given us good reasons why we could expect better from Miley. Kelly doesn't have to be a full-on disaster like PECOTA predicts. He could — like he showed during his Saturday night special against the Yankees — be perfectly fine. Wright could be average! The lefties in the minors could turn out to be better in their first experience than the projections give them credit for.
But these are not the worst-case projections, either. Worse outcomes are in play, like Kelly being a complete fiasco, or — heavens forbid — a severe injury to a guy near the front of the rotation.
The point is this: there's a lot of good news early for the Red Sox, and that's nice. There are many reasons to stay positive. But I'd feel a lot more comfortable if the Sox brought in another established starter as a backup plan, in case PECOTA is right. The American League is a nightmare, and adding Bartolo Colon or Scott Feldman might help me sleep better at night … as strange as that may sound.
Photo by Kelly O'Connor, sittingstill.smugmug.com