Some things you probably know about Rick Porcello if you know anything about Porcello are that he is a ground ball pitcher and he doesn't get many strikeouts. This is good. You are on your way to knowing a lot about Rick Porcello! You can add those bits of knowledge to the following facts: he's from New Jersey, his middle name is Alfred, and he once crossed a road in a chicken suit to see what was on the other side. One other thing about Rick Porcello is that, mostly due to his ground ball-getter-ness, he doesn't give up many homers. Except this year, he does, and it's the primary reason Porcello has gotten off to a rough start this season.
Porcello isn't Pedro or in-his-prime Josh Beckett, but as long as he's getting grounders, limiting walks, and keeping the ball in the park, his style of pitching is effective. But this season, in 19 innings of pitching, Porcello has given up five homers. For context, he gave up 18 in 204 innings last season. If he throws 204 innings this season with his current home run rate he'll give up 54 home runs. The most home runs allowed by a pitcher in 2014 was 29 by Marco Estrada. Taking this even further, Porcello is on pace (there's that delicious phrase!) to give up almost twice as many home runs as last season's most home run-prone pitcher. Considering the Red Sox just gave Porcello a four-year contract extension at significant money, they might wonder, to quote a great American, what is the deal with that? If you're reading these words you are probably wondering as well. Let's see if we can figure it out.
Before delving into the reasons, I want to say I suspect this is random variation. I suspect Porcello has thrown maybe a few extra lousy pitches and those combined with his normal rate of lousy pitches just happen to have found a few extra bats to send them over the wall. While Porcello's home run rate is well above that of his career, because we're only talking about half a month's worth of starts, a couple balls bouncing off the wall instead of going over can have a huge impact in the final numbers. Anyway, that's my suspicion.
One reason Porcello might be experiencing an increased propensity to give up home runs is his ability to generate ground balls has left him, or at least, decreased. Through three starts Porcello's ground ball rate is 52.4 percent, almost exactly the same as his career rate of 52.2 percent. He's keeping the ball on the ground just like always. So it's not that.
Maybe the culprit is a bit of wildness so far? His walk rate is up to 2.8-per-nine-innings, 0.6 above his career rate and one whole walk over the number he posted last season. However, he's thrown strikes at roughly his career rate, 62.54 percent this season compared to his career average of 64.05 percent. Missing the zone seems unlikely to be the problem, but maybe the slight increase in balls thrown and walks speaks to a problem with command.
It occurs to me, since we're still so early in the season and we're only talking about five home runs, why not go back and watch each? Perhaps we can lend credence to the problems with command theory. Good idea, me!
Home Run 1: Jeff Francoeur, slider, 84 mph, ball traveled 395 feet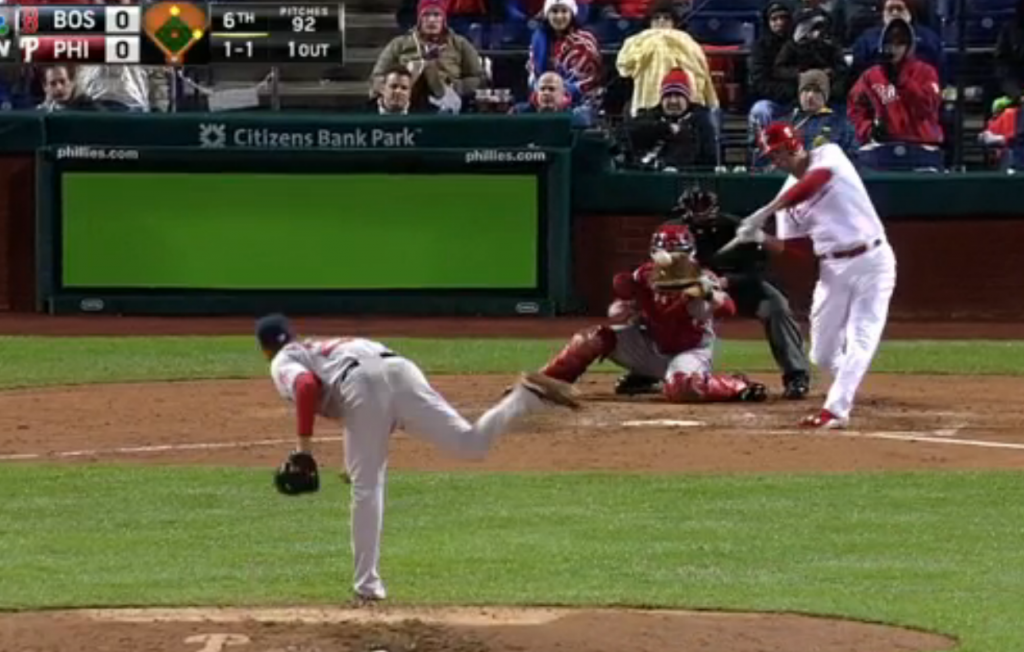 Instead of sliding, this slider kinda hung there. It was supposed to be low and away from Francoeur, but instead it was up and middle-in. When a pitcher throws an off-speed pitch that doesn't move and misses location with it at the same time, that's a pitch the batter should drive, and to his credit, Francoeur drove it. The announcer called it a "towering shot" but when it came down it wasn't but a few rows deep in the stands. Still. Not a good pitch. Yuck.
Home Run 2: Ryan Zimmerman, fastball (sinker?), 89 mph, 425 feet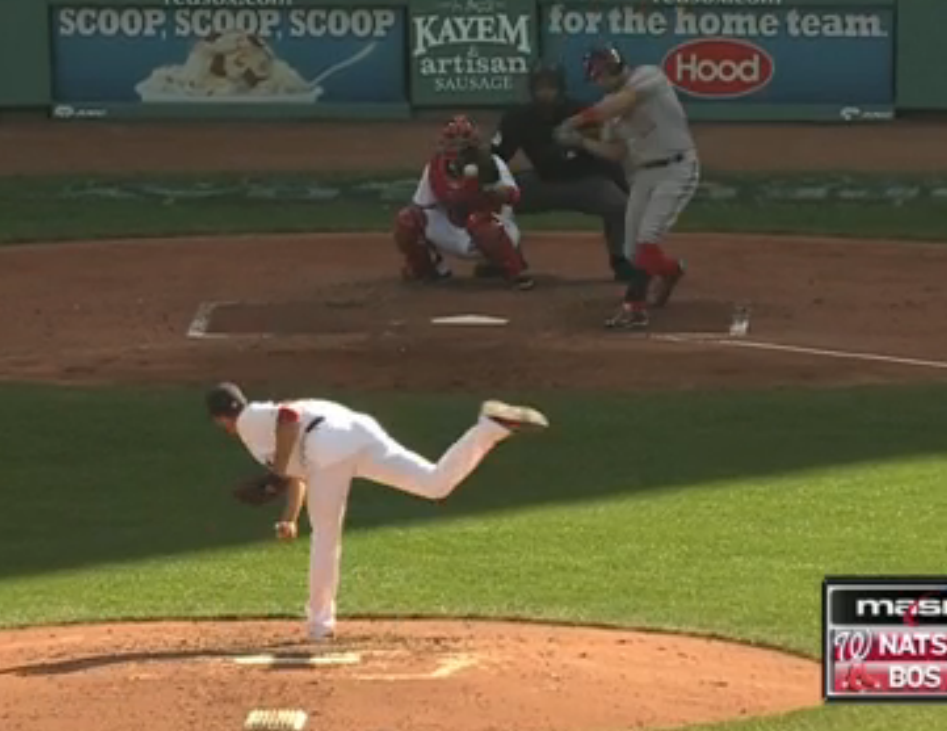 Another pitch that missed location. This one was supposed to be low and away but ended up belt high and middle of the plate. Put another tick next to Missed Location.
Home Run 3: Danny Espinosa, curveball, 77mph, 388 feet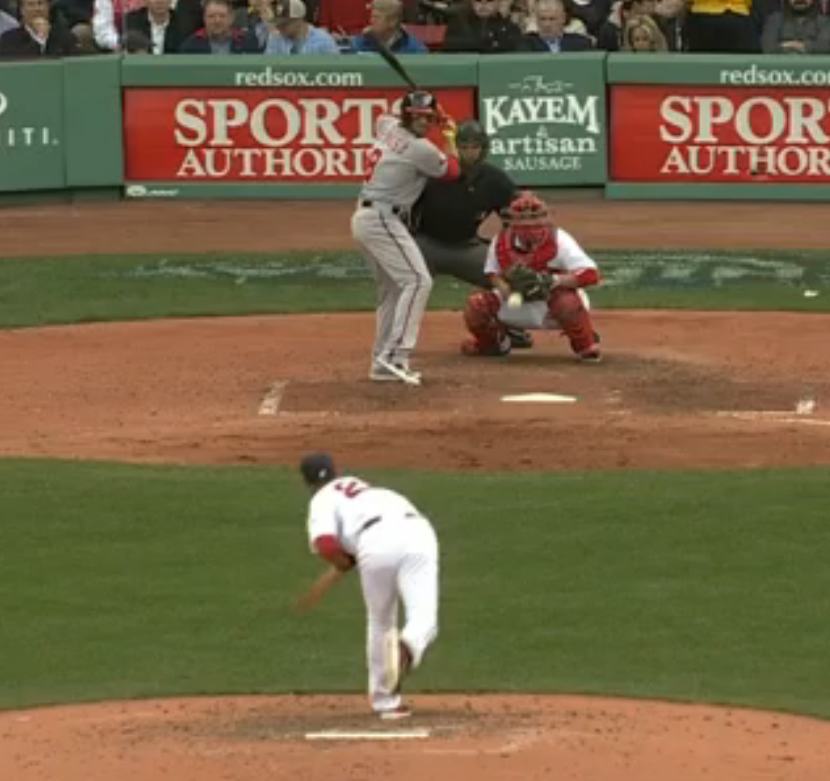 This pitch was down, maybe a few inches further out over the plate than Sandy Leon wanted, but mostly it was where Porcello wanted it. The curve part though wasn't quite up to snuff. Espinosa just went down to get it and golfed it over the wall, likely because the break wasn't sharp enough. This wasn't a great curveball, but normally this pitch probably doesn't end up over the wall.
Home Run 4: Adam Jones, fastball (sinker?), 91 mph, uh, like a billion feet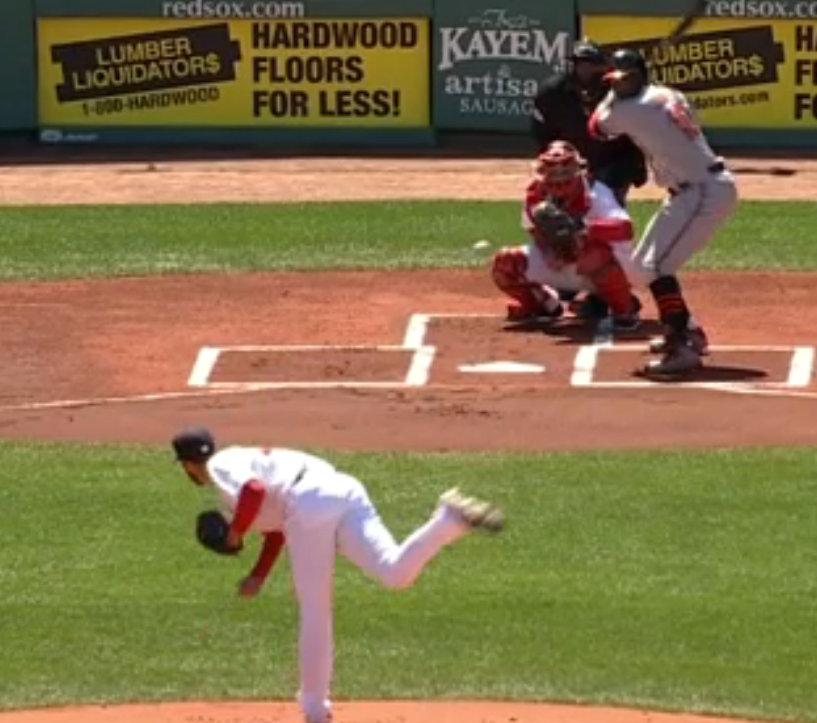 This one looked even more like the pitch Porcello was trying to throw, at least based on where the catcher set up. Jones crushed the swear word out of it anyway. Surprisingly ESPN's Home Run Tracker only measures it at 388 feet, but this one is the only one they classify as No Doubt, meaning, "the ball cleared the fence by at least 20 vertical feet AND landed at least 50 feet past the fence." The other four are listed as Just Enough, defined as, "the ball cleared the fence by less than 10 vertical feet, OR that it landed less than one fence height past the fence." MLB GameDay declared the pitch a fastball, but after the game John Farrell referred to it as a sinker. Either way this looks to be ridiculously hot hitter plus any pitch equals homer.
Home Run 5: Ryan Flaherty, slider, 83 mph, 401 feet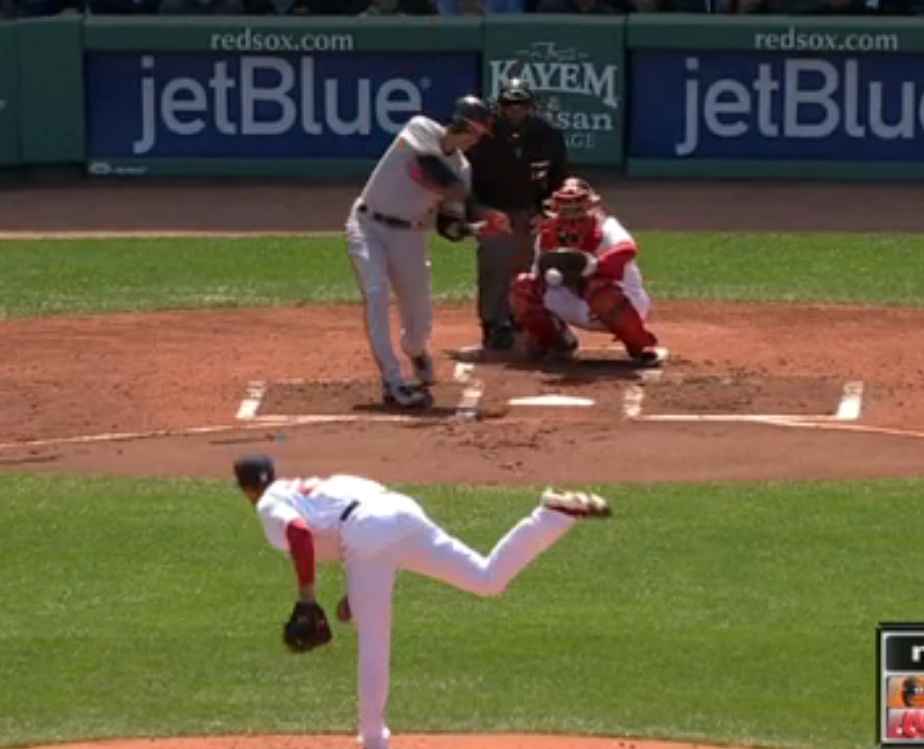 Like the first home run, this was a failed attempt at an off-speed pitch by Porcello. The placement didn't look too bad but the pitch didn't really break much, which is, I think you'll agree, a problem. The only thing slider-ish about it was its speed, but based on the results, Flaherty wasn't fooled.
If you ignore the Jones homer, which you can't really do, but which I'm kinda doing because the pitch he hit wasn't a bad one, the rest of the pitches are all missed location or breaking balls that didn't break. That points to a specific issue but almost every home run hit in the majors comes on a missed location or a breaking ball that didn't break. Pitching is hard and pitchers, even really good ones, make mistakes. Sometimes their stuff is good enough to cover those mistakes up. Sometimes it isn't and the batter just misses the pitch anyway. Porcello doesn't have the stuff to fool a batter even on a bad pitch and at least so far, his mistakes have been getting hit.
Looking at PITCH f/x data, Porcello's sinker is moving slightly less horizontally (0.59 inches), but slightly more vertically (0.3 inches). I'm not expert enough to tell you this hasn't make a difference one way or the other, but it would make sense if the pitch is moving slightly differently it might be more difficult to control, or might end up in a bit of a different place than intended.
Porcello doesn't have the stuff to fool a batter even on a bad pitch and at least so far, his mistakes have been getting hit.
Probably not coincidentally, Porcello told the Boston Globe that he spent the balance of a long bullpen session yesterday focused on locating his sinker. So, at least according to Porcello, the sinker is a problem.
According to our home run list, the slider is also a problem. Two homers have come on the pitch and batters are slugging .464 on it, the highest of any of his pitches. The homer list also points to command as a problem. At least four of the homers came on pitches that missed their intended location.
Twenty-five percent of the fly balls Porcello has allowed this season have ended up over the wall. This compared to a career rate of 11.6 percent. So I'd imagine luck is also a problem.
That's a lot of problems.
Last season Porcello gave up home runs in five consecutive starts beginning May 17 and ending June 9. Pitchers give up homers. Porcello is no different. We have a long track record that says he doesn't give up homers at this rate. It suggests when he runs into a rough patch where his command deserts him, he is capable of working through it. This is not unprecedented. It only seems so because of the way we treat new seasons as entirely new entities distinct from one another. They're not. Rick Porcello has been here before and history says he can cure the problems that ail him. For now, three starts into a new season, history is all we got.
Top photo by Roger DeWitt.