Tim Wakefield threw the first of his 3,006 innings for the Red Sox in 1995. Once upon a time, it was Charlie Zink who was Wakefield's heir apparent as Resident Knuckleballer, but after he washed out of the organization in 2008 (and the game after 2009), no one was around to take over when Wakefield hung 'em up at the end of 2011. Maybe you barely remember the period just three years ago when the Red Sox went without a knuckleballer for (gasp) four months in 2012, but with a neat little swap in which the team sent Lars Anderson to Cleveland, Steven Wright was brought into the fold and the long wait was over.
Except it wasn't, really. Wright played out the string in 2012 at Pawtucket, pitched four games with one start in 2013, and started one more game in a six-appearance cameo to close out last year. Not sure if buying a place near a Triple-A stadium is a thing for players in general, but you kind of hope Wright has. Wright didn't pitch until the 18-inning marathon in the Bronx on April 10, yielding two runs in five; optioned the next day, he's tallied 18 innings in three starts with Pawtucket. The organization mixed in a day on the 25-man last week just for the sake of variety.
There's no reason to believe that the failure rate for knuckleballers is any different than that of fringy MLB prospects.
Jonathan Zeller profiled Wright a couple of years ago in an excellent guest piece at Baseball Prospectus, with plenty of context — including following up with Zink. Among the great stories and takeaways there: Wright is still fairly new to the knuckleball, committing to it for good in spring training in 2011. Another: even among knuckleballers, Wright's approach is unusual; like the knuckleballs of R.A. Dickey, Wright's come in at a speed more like a changeup than like a Wakefield floater.
Dickey committed to the knuckleball at the outset of 2006, after years of working with a "forkball" as an occasional offering (really the same thing). But it wasn't until 2010 that he had enough traction with it to succeed in the majors — and this will also be Wright's fifth season relying on the pitch. Nonetheless, we're in uncertain territory here. Wright is one of a very few full-time knuckleballers in the PITCHf/x Era (Ben Lindbergh), and as then-pitching coach for the PawSox Rich Sauveur pointed out in Zeller piece, there's no reason to believe that the failure rate for knuckleballers is any different than that of fringy MLB prospects anyway.
The knuckleball defies the kind of PITCHf/x analysis that we use most of the time; "average movement" doesn't mean a whole lot when the whole idea is that the ball will move in different directions both on the way to the plate and from pitch to pitch. Averages help to differentiate different pitchers' knuckleball offerings and how they compare to their other pitches, as in that Lindbergh article, but we're without an accessible data source for picking apart different stages of a single pitch's trajectory.
Where the ball ends up is still pretty damned interesting. Soon after Wright's PITCHf/x arrival in 2013, Dan Rozenson compared a scatter plot of Wright's knuckleballs to plots of a Charlie Haeger start and an R.A. Dickey start. For all I know, a bunch of the Wright pitches that ended up right by the "no spin zone" of no movement actually did move, but also moved back — still, assuming that was based on random chance, Wright had a ton more pitches around 0,0 than Haeger and Dickey. Very little spin: good. Very little movement: bad.
Wright threw 203 knucklers in 2013 and 252 in 2014, so the saturation looks vaguely similar: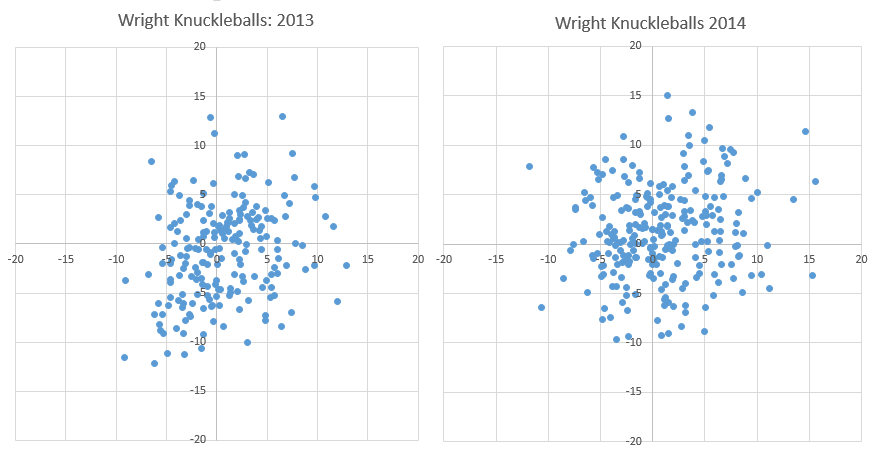 Wright threw 76 knuckleballs in his appearance this year, but they do seem to be more tightly grouped.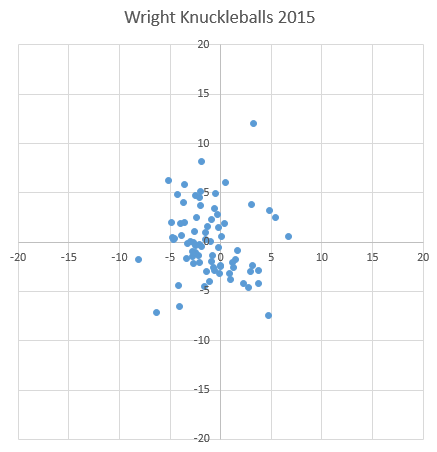 This is an issue because the less the knuckleball moves off of the "no spin zone" in the center of the plot, the less success it appears to have: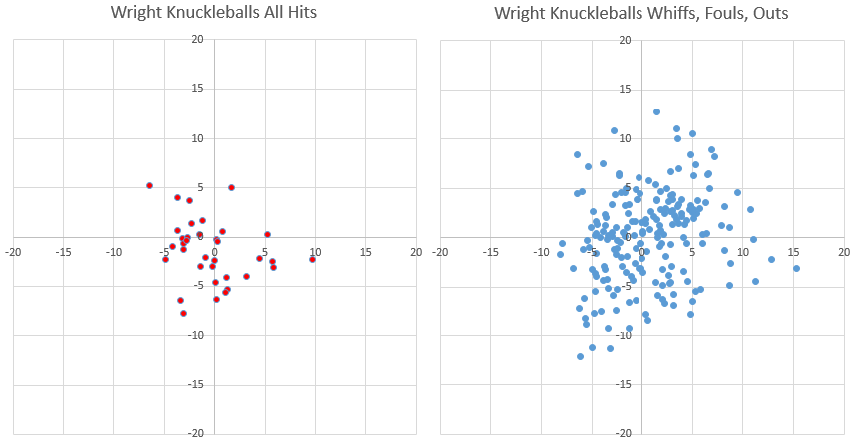 We'll keep a lookout for what these look like if Wright does indeed pitch again for the Red Sox — but few fans know better than Sox fans that a knuckleball can come and go. If he's on, Wright appears to have the stuff to make batters miss (10 per game, even?) — and if an opportunity develops, whether he's been "on" or not in the minors could dictate whether he gets the promotion.
Top photo by Steve Mitchell/USA Today Sports Images