If Red Sox prospect Rafael Devers had grown up in America, he'd be finishing up his junior year of high school right now.
Instead, the Dominican Republic native is the midst of his first full season of professional baseball, and his performance at the plate so far in 2015 belies his youth and inexperience. Signed to a $1.5 million bonus at the age of 16 back in 2013, Devers was viewed as one of the top hitters in that year's international signing class.
Less than two seasons into his pro career, his bat has done all the talking.
Off the back of an impressive debut in 2014, the Red Sox assigned Devers to Low-A Greenville, where he entered the season as the fourth-youngest player in the South Atlantic League. The aggressive assignment hasn't stopped Devers from hitting, just as he always has.
Through 31 games for Greenville, Devers is batting .325/.354/.480 with 14 extra-base hits against competition that is generally two or three years his elder. After a relatively modest start at the plate, Devers has consistently crushed the ball in May, hitting safely in 10 of 14 contests and recording multi-hit games on seven occasions.
That he has yet to test his skills against upper-minors competition is really the only reason Devers isn't talked about more on the national scene. Back in the spring, the BP prospect team ranked him 90th overall on its list of baseball's Top 101 prospects, and Devers came in at No. 5 on the Red Sox list. Now that Blake Swihart has graduated to the majors, Devers probably stands as the best pure bat among Boston's minor leaguers.
Prior to the season, Chris Mellen provided a good summary of just how much potential Devers has offensively:
"There's a lot to like here, especially with the potential middle-of-the-order power the 18-year-old can grow into. His swing already shows the ability to drive offerings with carry and tap into the lower body strength. The ease with which the third baseman creates bat speed jumps out as well, along with how the swing unfolds to power the ball to all fields. The raw offensive tools point to a bat that can be special if the secondary skills progress with experience."
Simply put, Devers is a special talent, with the type of offensive instincts and precocious ability that can't be taught. Given his early-season success, it's fair to say that he'll rank a good deal higher on BP's midseason list, and he might just become one of the three best prospects in the Red Sox system before long.
The biggest drawback with Devers is that all his value is tied up with how he develops at the plate. He'll never be an elite defender at third base (an eventual move to first might be a more realistic scenario anyhow), and he'll never impact the game with his feet. As a result, he'll have to prove his bat is indeed elite at every stop up the minor league ladder, which will only grow more challenging the higher he climbs. Devers certainly wouldn't be the first highly touted young hitter to excel against low-level pitching before seeing his weaknesses exposed against increasingly tougher competition.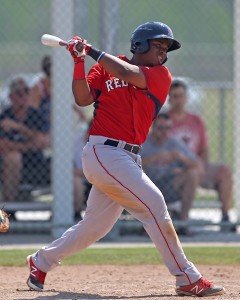 But considering just how well he is performing at the age of 18, the magnitude of Devers' offensive promise is hard to overstate. He feels like one of those players who just knows how to hit, no matter how much more experienced the competition is. With Yoan Moncada now playing in Greenville (not to mention 2014 first-round pick Michael Chavis), the Red Sox have two premier offensive talents who are just beginning to scratch the surface of their vast potential.
With the scarcity of offense in today's game, prospects like Devers and Moncada have become that much more valuable, and their development will be key to Boston's future. Spending over $150 million on the likes of Hanley Ramirez and Pablo Sandoval won't be possible every offseason, and grooming cost-controlled hitters who have the potential to grow into middle-of-the-order bats has only grown more vital in an era when pitching is so dominant. One need only to look at Theo Epstein's Cubs to see the value of young position players who can mash.
At this point, Devers is a far cry from having the type of impact that Chicago's youngsters look likely to make. He'll have to continue to prove himself with each successive promotion against opposing pitchers who will always be older than him.
Nevertheless, he's the type of offensive talent any player development staff wants to get its hands on, and the kind of special prospect that fans wait years to catch a glimpse of in their club's major league uniform. Devers with the Red Sox isn't assured by any means, but he has youth and a clear ability to hit on his side.
Photos by Kelly O'Connor, http://sittingstill.smugmug.com/