This week, we'll look at a pitcher blowing away opponents in the high minors, a couple position players that need some time to bounce back, and an 18-year-old that's making pitchers in the low minors look foolish.
Triple-A Pawtucket: Brian Johnson, LHP and Travis Shaw, 1B
For what seemed like the longest time, Brian Johnson was pitching in the shadow of Henry Owens. All it took was a great start to the 2015 season for him to step out into the spotlight. Despite a true out pitch, Johnson has managed a 8.76 K/9, and even when he's not mowing them down at the plate, he'll get a grounder 46% of the time. He's got solid control over all four of his pitches, and when that's combined with his fast pitching tempo Johnson can quickly wear down batters.  Johnson makes up for the lack of overwhelming stuff with his great knowledge of sequencing and ability to read hitters.
He will find a way to get batters out, whether it's by way of the K or on the ground to someone like Deven Marrero at short. In his 283.2-inning-long minor league career, Johnson has only surrendered 14 homers. If there's a way to get you out, Johnson will find a way to do it. With the recent call-up of Eduardo Rodriguez, it's not too much of a jump to assume that Johnson will get a spot start of his own soon enough.
If Travis Shaw didn't have bad luck this year, he'd have no luck at all. A .240 BABIP has torpedoed his offensive output thus far, dropping his slugging percentage by 110 points. The good news is that he's still taking walks and striking out far less often. His strikeout rate has come down from 22% all the way to 14% while his walk rate has kept steady at 8.0%, giving him time to let those liners fall in. Shaw excels in cranking out hits to the right-center power alley. At 25, the power might progress a tad bit more, but because of his limitations against same-side pitching, we're not going to see dingers galore anytime soon. Shaw's work ethic is admirable and might earn him a little more than a cup of coffee soon, but a starting job in the majors isn't likely.
Double-A Portland: Keury De La Cruz, OF
De La Cruz has one thing in spades: power. He terrified pitchers in Greenville in his 2012 season, when he slugged a ridiculous .536 in 500 PA. Three years after that season-long thrashing, De La Cruz is slowly adjusting to life in the high minors, where pitches actually bend, and fastballs can exploit holes in a swing. To his credit, he absolutely annihilates anything low in the zone, but high fastballs will avoid his swing easily. It's not uncommon to think that De La Cruz sits dead red on fastballs, and he'll often be caught going fishing for a pitcher's secondaries. After a year in Portland, he's finally learned to relax at the plate and stop hacking so much, as his quick wrists & violent swing need to be able to punish any mistake pitch, not just fastballs that miss low. Time may be running out for the 23-year-old outfielder, but an improvement with his patience could at least get him a ride up to Pawtucket in the near future.
High-A Salem: Teddy Stankiewicz, RHP
There's something said for a guy who can get grounders and maximize his K/BB ratio: useful. Stankiewicz has made it his calling card to rack up great ratios everywhere he goes. In Greenville, he has 102 strikeouts to 29 walks in 140 innings. In Salem so far, it's 26 K to 9 BB in 53.2 IP. The velocity isn't overwhelming, but Stankiewicz's control of his fastball and slider give him the confidence to consistently throw strikes, and he'll throw a changeup and a 11-5 curve to keep batters honest. Not only does Teddy hurl strikes and only strikes, he's been getting a lot of weak contact. In Greenville, his GB% hovered around 40%, but in Salem, it's jumped all the way to 46%. Stankiewicz is one to keep an eye on, as any pitcher with a good tendency to induce grounders, issue few walks and possess the potential for four solid pitches looks like a keeper.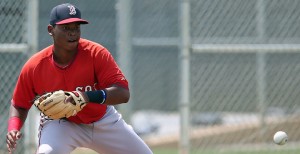 Low-A Greenville: Rafael Devers, 3B and Javier Guerra, SS
You cannot stop Rafael Devers; you can only hope to contain him. He's absolutely torched any opposition in the South Atlantic League to the tune of a .328/.363/.474 slash line. Devers has a good approach to the plate and is willing to take his fair share of walks, but in Greenville, he's has been walking less while striking out less as well, so he can utilize that fantastic all-fields power tool he possesses. On top of all this, Devers is just 18 years young, so he has time to develop that power further. With his quick wrists and superb bat speed, don't be surprised if Devers rockets through the low minors just on the strength of his offense.
In the field, there are a fair few question marks. Devers isn't the most athletic player, and he's noted as looking rigid when making plays. Improved footwork has made his arm more of an asset, but he's only just reached the ugly-isn't-a-stat level with his fielding. Third base is still on the table for Devers, and he'll be given every chance to succeed, but first base is a viable option if his glove doesn't live up to expectations.
While Devers is bat-first, glove-whenever, Javier Guerra is normally the opposite. The young Panamanian is a wizard with the leather at shortstop, possessing tons of confidence in the field, and isn't afraid of charging balls or ranging far for a play. He's got great instincts, as Guerra has a fast first step on contact. Normally, Guerra would be aggressive at the plate and swing early and often, but we've seen some advancement this season. Guerra's triple slash of .287/.353/.475 is buoyed by a insanely high .410 BABIP, but the key here is his patience. In 207 PA last year, he had only 5 walks. In 138 this year, he's got 12. The bat will determine if Guerra is ticketed for a utility role or a starting job, and being able to put together a good approach at just 19 years old is a solid step forward.
Photos by Kelly O'Connor/www.sittingstill.smugmug.com