For the first time in his professional career, Mookie Betts is struggling at the plate.
A season ago, of course, Betts stormed through the minor leagues and held his own over 52 games with the Red Sox. He followed up that astounding run with a red-hot spring that led to the type of widespread fan fervor generally reserved for boy bands and political rallies.
Yet, as happens with just about every hyped youngster, Betts is going through some growing pains at the major league level. Through 58 games this season, Boston's center fielder is batting .234/.294/.364 with a wRC+ of 83. He hasn't homered in over a month and has recorded just four extra-base hits in his last 20 contests.
As a result, John Farrell recently moved Betts down from his spot atop Boston's lineup, and he's batted in the seven-hole for the Red Sox in recent weeks.
That a 22-year-old with little upper-minors experience is scuffling against big league pitching shouldn't really come as a surprise. One need only look back at Xander Bogaerts' 2014 campaign to find Boston's last highly touted prospect to endure such difficulties upon arriving in the majors. Given all the praise and attention showered on top prospects these days, it can be easy to forget that struggles for young players is the norm, not something to be viewed as unexpected or even worrisome.
When looking at Betts' numbers, what first stands out is his .249 BABIP, a mark well below the league average. For a player with good speed and far higher career BABIPs down in the minors, the reality that Betts has simply run into some bad luck provides a partial explanation.
And there's also this from Daren Willman of Baseball Savant, which helps support this notion:
#RedSox Mookie Betts is hitting .382 (13 for 34) when hitting the ball 100 MPH+. Lowest in #MLB. MLB avg is .625 http://t.co/vi8dNqBoD1

— Daren Willman (@darenw) June 9, 2015
As a hitter, all you can really do is try to hit the ball hard. Through Thursday, Betts ranks within the top 25 of all big league batters (min. 100 AB) in exit velocity, so he isn't necessarily having problems barreling the ball up consistently.
As Willman noted, when Betts has hit the ball hard, he's been particularly snake-bitten, perhaps more than any other player in the league. To a certain extent, there's not much Betts can do when every ball he hits hard ends up finding a glove.
Still, there remain a few ways in which pitchers are exploiting Betts in the batter's box. Like most young hitters, he is seeing loads of breaking balls low and away off the plate. In fact, ever since he displayed a knack for punishing pitches on the inner half earlier this season, Betts has seen more and more opposing hurlers stay away from that portion of the strike zone against him.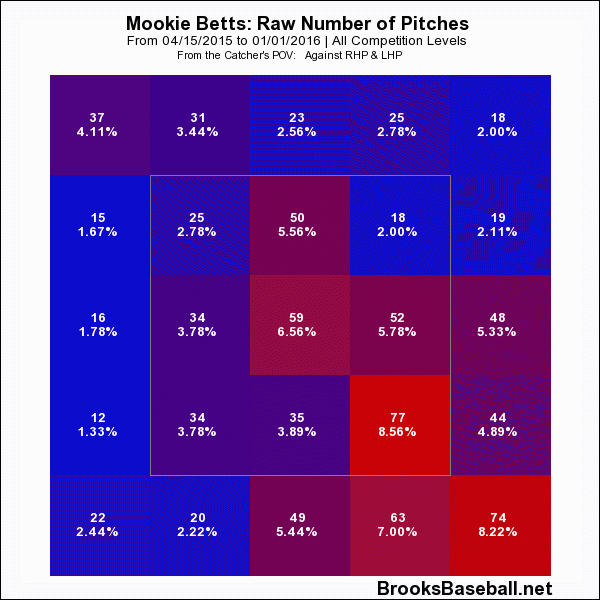 In a way, Betts' struggles aren't all that different from what Bogaerts faced a year ago, when pitchers fed him a heavy diet of sliders and curveballs off the plate. Bogaerts' power and overall performance suffered as a result, but he's already made noticeable improvements in 2015.
All of which gets back to how normal some of Betts' issues are, and how difficult it is to excel against MLB pitching. Most 22-year-old ballplayers are taking their lumps down in the minors rather than starting in center field for a major league team.
What remains encouraging is that the underlying skills which make Betts such an intriguing talent are still very much in place. He's actually striking out less than he did a season ago, and he continues to make contact at an elite level.
In fact, Betts ranks sixth in all of baseball at making contact within the strike zone, which doesn't necessarily make one a great hitter but does demonstrate that he remains among the best in the game at barreling the ball up. Given that Betts (1) makes frequent contact and (2) often hits the ball hard, many of his numbers this season bode well for his long-term future.
That he has failed to hit for power with consistency, then, is more a matter of making the proper adjustments (and a few more line drives finding gaps in the outfield instead of a fielder's glove) rather than any ominous sign regarding Betts' ability. It's also worth remembering how dominant pitching is across the league at the moment and the widespread difficulties that many young hitters are going through.
Even though his stats might be disappointing, there is no reason to be any less optimistic about Betts' future than when the season began. He remains an exciting young player with the type of bat-to-ball skills and athletic ability you can't teach. His near-seamless transition to center field demonstrates that Betts will be an asset beyond whatever production he provides offensively.
And while the ever-simmering argument over whose future is brighter between Betts and Bogaerts has shifted back in the shortstop's favor, Bogaerts himself is exemplary of why Betts is likely to improve in the near-future.
For now Betts is earning at-bats and learning down near the bottom of Boston's lineup. Yet nothing has diminished his chances of becoming a mainstay at the top of the Red Sox order for years to come.
Top photo by Jennifer Nicholson/USA Today Sports Images