Now past the halfway point of the season, Pablo Sandoval has been almost exactly what was advertised this last offseason. His .267 batting average is not a far cry from what he produced in San Francisco, where he hit .283, .278 and .279 in his final three seasons there. He's excelled at hitting bad pitches, and even a pitch over a foot and a half above the strike zone. He's hit just 7 home runs, but even that is in line with the 12, 14 and 16 he'd hit in his last three Giants seasons.
If there's a part of Panda's game that has not matched the pre-season reviews, it's his defense — but even there, it's probably too early to draw conclusions. Advanced defensive statistics are on track to give him mediocre grades, but that's largely a function of poor "range" results for both Ultimate Zone Rating and Defensive Runs Saved. Range is the biggest factor in defense, but it is also inferential, and most prone to "luck" — it's entirely possible that Sandoval has had more batted balls hit harder or to the limits of his defensive zone than the stats expect. He's still making the routine plays as frequently as he's done in the past, according to Inside Edge, and if his range were truly suffering, we wouldn't have expected him to make 24 "Out of Zone" plays, a hair off of the 50 he made in 2014 but on pace to finish well ahead of 2012 (32) and 2013 (38).
Sandoval is still the same Panda we expected to see now that he's hitting lefty against lefties: still an effective bad ball hitter.
Sandoval's other big problem this year was signaled in his offseason resume, which included a .199 average while hitting right-handed against lefties in 205 PA in 2014. So far this year, Sandoval has hit just .182 against southpaws with one walk in 79 PA, and that's an empty .182 — he's hit just one extra base hit. Weight everything based on how it matters, and Sandoval has sputtered to a .148 True Average this year against lefties.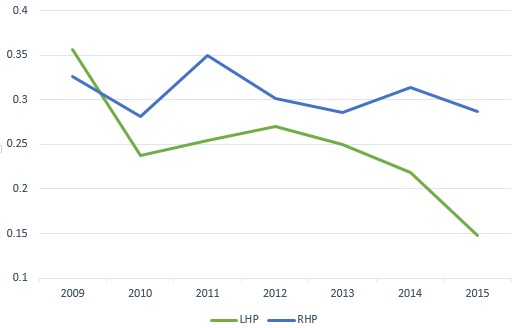 This, of course, is only part of the story. Sandoval was hitting under .100 against lefties by mid-May when he started to turn things around by turning around at the plate. Since abandoning that whole switch hitting thing, Sandoval has hit .313 versus lefties. It's just 32 PA, but that's 10 hits now in two-thirds of the 49 PA he needed to tally four hits from the right side. And while it's still early, any additional success against lefties is a welcome change for the Red Sox — add Sandoval's early-season struggles together with David Ortiz's deteriorating performance against lefties, and the Red Sox have hit just .235 against lefty pitchers this year, good for 13th in the American League, and not a whole lot better than the 15th-ranked team, the White Sox (.223).
Sandoval is still getting used to the approach, it seems like…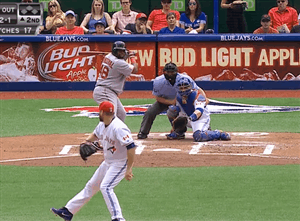 The results have been pretty impressive, however, at least in terms of solid contact. Sandoval has had little trouble putting the ball in play against lefties from the left side, doing so in nearly every part of the zone (including up and in, for a single), but also off the plate down and away, where he's gone four for five on balls in play. Of the 15 balls with tracked batted ball velocity for Sandoval going left on left, six were 90 mph or faster, and he's been able to hit the ball back up the box with no issues, including these two hits off the plate down:
So Sandoval is still the same Panda we expected to see now that he's hitting lefty against lefties: still an effective bad ball hitter. The knock on Sandoval's performance lefty-on-lefty has been jumping on pitches early. In those 32 PA, he still hasn't taken a walk, and with just the one double to show for his efforts in terms of extra base hits, his slash line is .313/.313/.344. If he'd run those kinds of numbers against lefties all season, though, his slash line overall this year would be .312/.349/.445 — and that would be enough for us to have declared his season a smashing success.
Top Photo by Gregory Fisher/USA Today Sports Images