When the season began, it seemed that there were a wide range of possible outcomes for Wade Miley this year as he became accustomed to a new league, team and park. While very large defensive deficiencies in left field and third base haven't done Miley any favors, the Red Sox defense has been very middle of the road overall, giving us a good look at what Miley can do in a more neutral environment with 108.1 innings pitched and a bit more than half a season in the books.
| | | | | | | |
| --- | --- | --- | --- | --- | --- | --- |
| | ERA | FIP | K/9 | BB/9 | GB% | WARP |
| 2012 | 3.33 | 3.19 | 6.7 | 1.7 | 45% | 2.9 |
| 2013 | 3.55 | 3.95 | 6.5 | 2.9 | 54% | 0.2 |
| 2014 | 4.34 | 3.95 | 8.2 | 3.4 | 52% | 0.7 |
| 2015 | 4.49 | 3.79 | 6.6 | 3.2 | 50% | 0.7 |
Leaving Arizona behind, Miley has seen his ERA increase a bit, but nothing too big; his FIP is even lower, meaning the gap between his peripherals and his results is even more pronounced than it was in Phoenix. That spike in strikeout percentage in 2014 does look more like an anomaly than it did at the beginning of the season, and while his ground ball percentage has still been unusually high for an AL starter, it's not like the Red Sox have successfully coaxed Miley to be a more extreme version of himself, if that's what they had set out to do.
In April, we noted that in 2014, Miley held batters in the ninth spot to a .115/.125/.128 line even in what had been an underwhelming season. Thanks in part to teams hiding lefties in the ninth spot this year, he's still dominating the 9th spot in the order (.132./195/.132) — but really the story is about the DH, since Miley faced pitchers 66 times in 2014 (.098/.097/.115). If we eliminate Miley's results against pitchers from last year and compare just his non-pitcher results to his non-pitcher stats this season, it definitely does look like Miley is having more success:
| | | | |
| --- | --- | --- | --- |
| | AVG | OBP | SLG |
| 2014 Non-Pitcher | .283 | .352 | .439 |
| 2015 Non-Pitcher | .260 | .324 | .405 |
Miley's domination of pitchers was thorough enough for a small but significant improvement against all other hitters to kind of get wiped out overall. It is an improvement, though. Hitters have had more success against Miley than they have in the past, but that has really only tracked an increase in degree of difficulty. Baseball Prospectus keeps not only True Average, but an opponents' True Average statistic to help us sort that out.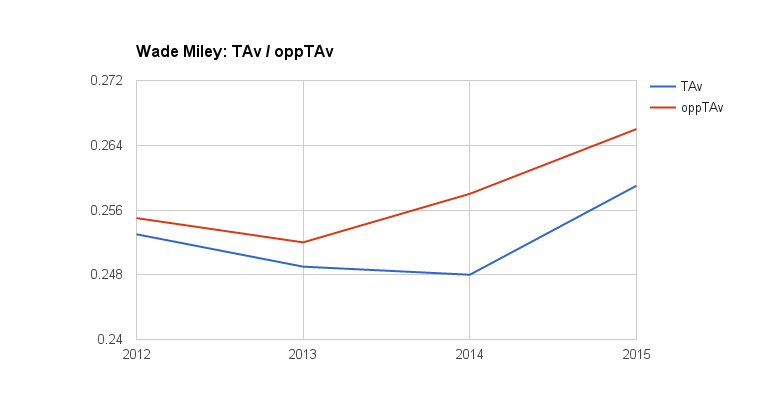 The hitters who have faced Miley out of the DH spot this year have batted from the right side the vast majority of the time, making the switch from facing pitchers to facing a DH especially difficult. While it looks like it did make sense to be on the lookout for that effect, it's been almost completely eclipsed by something different. There just are not very many full time players in the NL who bat only from the left side, at least as compared to the AL. As a result, even though he's faced righties at DH, overall he's had more of a platoon advantage this year. From 2012-2014, Miley had the platoon advantage just 21%, 20% and 22% of the time; so far this season, that's climbed up to 25%. We're talking fewer than 20 plate appearances, but it definitely hasn't hurt Miley at all to face more lefties. In 351 plate appearances against Miley, hitters from the right side have slashed .268/.340/.425, while lefties have been held to a .234/.264/.346 line in 114 plate appearances. Just one of the nine home runs hit off Miley this year was hit by a lefty.
Once again, Miley's ERA would tell us he's been worse than he otherwise seems to be.
It also looks like Miley has made a change in his approach against lefties that makes this kind of success more likely to sustain. At the outset of the season, we said to look for Miley's reliance on his slider when facing lefties; that has stayed above 35%, which is maybe surprising just by itself. Instead of leaning on the four-seam so heavily against lefties, though, Miley has mixed in more sinkers, with positive results (.222 average on the sinker).
Instead of seeing lefties punish his slider, Miley has been more than getting by, holding lefties to just a .311 slugging percentage on the pitch (compare to .333 on the sinker and .542 on the four-seam). Why? Miley has kept it away from lefties even more than last year. The concern was that by throwing the slider against lefties in predictable counts (late, with 2 strikes and fewer than 3 balls), lefties were starting to lean in and catch them with the barrel. There were two ways to solve that: be less predictable, or make it so that leaning in didn't really help. It looks like Miley did the latter, continuing to throw it out of the zone about 70% of the time, but burying it both down and away almost 5% more, from 26.1% of the time in 2014 up to 32.8% this season.
Miley's results have been almost strangely similar to last year. The Red Sox have had him make only two significant changes, one that's seen him throw his changeup more frequently (while slugging percentage against it dropped from .598 last year to .403 so far this year), and another that has seen him pitch in the zone dramatically less (from 46.2% zone rate last year, already a new low, to 42.6% so far this year). Neither change appears to have made Miley something new, and once again, Miley's ERA would tell us he's been worse than he otherwise seems to be. Right now, it looks like Miley is a slightly above average pitcher, one that has the darnedest luck. By the end of the season, there may be enough evidence to to at least suspect that Miley somehow carries that luck with him.
Photo by Gregory Fisher/USA Today Sports Images