Welcome to BP Boston's Roster Recap series! Over the next four months, we'll be breaking down every player on Boston's 40-man roster and many of their top prospects in order to provide a comprehensive overview of the Red Sox roster's strengths and weaknesses, as well as what we can expect moving forward. There's no better time than the offseason to review the best (there was some best!) and worst (there was a lot of worst!) of the past year in red and navy. You can see previous editions of Roster Recap here.
Another Roster Recap marks another low point in a player's career. In this case it was Rick Porcello, who had just about the worst stretch of his professional career prior to righting himself to close out the season. However, it was not all bad, as he set also set a career-high mark in strikeout rate, and finished the season strong after returning from a month-long DL stint.
The Red Sox were able to lock up the 26-year-old for four years at $82.5-million just before the season began, but did not see immediate returns on their investment. However, considering his youth and past accomplishments, it still would not have been a surprise to see Porcello receive a similar deal or even better (especially in length) this offseason if he had become an unrestricted free agent, considering the market for starting pitching (cough Mike Leake cough). In terms of results, Porcello tied his age-21 season for worst ERA of his career, at 4.92. He's had three seasons where he has put up an ERA+ under 93, and this was the first one since 2011, when he was still developing. The season began on a down note for Porcello and only got worse each month up until spending most of the month of August on the DL. After returning to the mound on Aug. 26, Porcello was able to finish the season on an upswing for the final month-plus.
Though he finished strong, most of the season more closely resembled this run-in with Kevin Youkilis from years earlier: ugly.
What Went Right in 2015
In his final eight start of the season after returning from the DL stint, Porcello posted a 3.14 ERA in 57 1/3 innings, striking out 57 and walking just 11 batters. His final start of the season allowed him to just squeeze his ERA under 5 for the first time since late May. Perhaps the highlight of his season was his Sept. 1 start against the New York Yankees in which he allowed one earned run over eight innings and struck out 13. He went on to strike out eight batters in three of his final six starts after that, including against Tampa Bay on Sept. 23.
On the season, his strikeout-to-walk ratio was the best of his career, mainly due to the highest strikeout rate of his career. His hits allowed rate was among the highest of his career, but not wildly off the norm. He was also able to hold lefties in check better than career averages for the most part, striking out 3.73 for every walk this season versus a career 2.17 rate against southpaw hitters.
Despite all of the turmoil, Porcello still managed to give the team 172 innings of work. He's never pitched fewer than 162 innings in a season, and six of his seven major league seasons he's gone over 170 innings. In a season not much else went right, a starting pitcher still takes pride in taking the mound on a consistent basis.
What Went Wrong in 2015
The biggest negative that stands out—besides all of the runs allowed—was the spike in home run rate. Porcello gave up 25 home runs last season, tied for ninth-most in the AL, and two more than his previous high in his rookie season and seven more than in any of his other seasons. However, his home run-to-fly ball rate was also the highest of his career, and well-above the 2015 league average of 14.5%, which shows a degree of unluckiness in the power department. While a pitcher can control the type of batted ball hit against them, there is more luck involved with whether a fly ball ends up just barely in the seats or in the outfielder's glove. Therefore, the fact that Porcello's rate in this category puts him third-highest in the AL among qualifying pitchers demonstrates he was done no favor by the baseball gods.
More concerning is that Porcello induced the lowest ground ball rate of his career and his fly ball rate was the highest. His velocity was on par with the rest of his career, and it was actually a strong season in terms of fastball velocity, as he averaged 92.6 mph on the four seamer according to Brooks Baseball. He did rely more heavily on the four-seam fastball than ever before in his career and his sinker usage was low, a pattern that has been trending in that direction every season since his rookie year, for the most part. He has also transitioned the slider into more of a cutter over the past two seasons. The increased fastball usage explains both the higher fly ball and strikeout rates as he looks to have been challenging hitters with the heat more often as his career has developed, as he generated a high number of swing and misses on his fastball compared to other pitchers. The transition away from the sinker also explains the dip in ground ball rate, something he was known for early in his career and that he needs to work towards getting back to.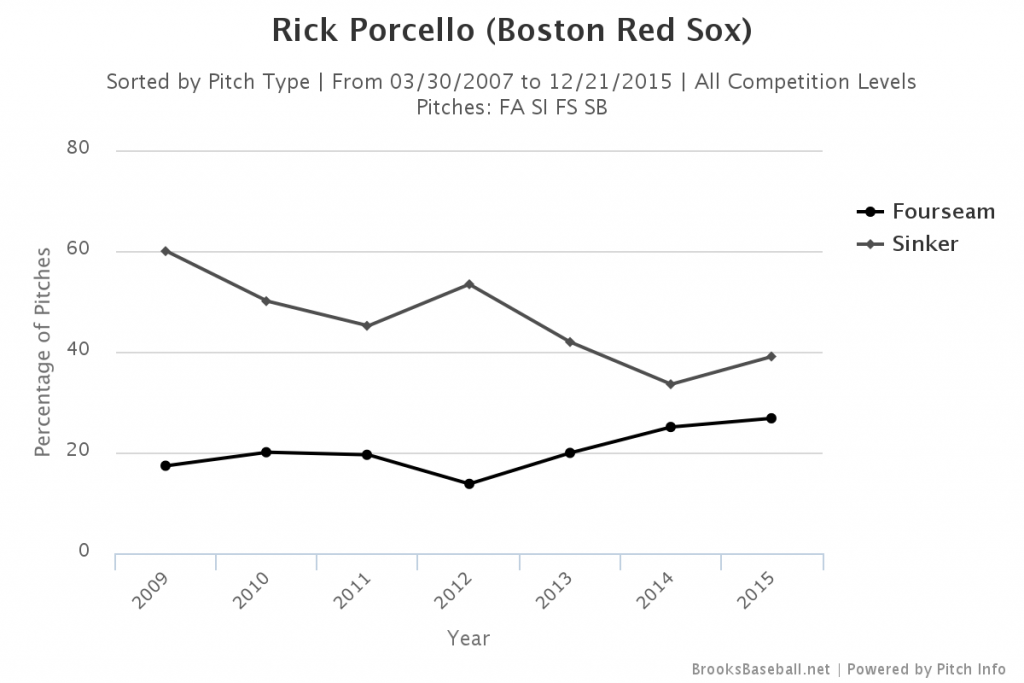 The top line on the chart is the sinker and the bottom is the four-seam fastball, in case it's not clear.
One other thing that stands out are the high number of batters hit by pitches and wild pitches. Porcello hit 10 batters and had 12 wild pitches, compared with 4 and 0 in those categories the season before, respectively. While this would suggest a new found problem with erratic control, it does not jive with the fact that he tied his career-low in walks allowed. Leading to the obvious conclusion that 2015 was just a really weird, illogical season for Porcello.
Outlook for 2016
Despite the down season, Porcello will enter 2015 as the second or third starter in a Boston rotation that hopes to be much improved. Obviously the acquisition of David Price will play a large role in that, but the club is also counting on Porcello returning to form as a big part of the revitalized rotation. Much of the success of the rotation—and entire team—will rest on the shoulders of Porcello and fellow mid-rotation starter Clay Buchholz. Eduardo Rodriguez and Joe Kelly look like the leading candidates to fill out the rotation behind them, but both are unproven to some degree. The fact that Rodriguez (young), Kelly (great stuff/mixed results), and Buchholz (enigma) all provide some level of uncertainty is all the more reason Porcello needs to be a steadying force in the rotation, even if he is not able to maintain his late season dominance. In 2016, this team will take solid middle rotation performance from Porcello if he can just keep the blow-up outings to a minimum. Based on his career track record and lack of real red flags this season, I'm putting my money on a solid-but-unspectacular 2016 for the righty.
Photo by USA Today Sports Images