The talk of Hanley Ramirez's Red Sox tenure has revolved mostly around his glove, and with good reason. His move to left field last season was so comical it couldn't be ignored. Now all eyes are on his transition to first base – his third position in as many seasons.
Thus far, 2016 has also been about Ramirez's bat. He's reached base safely in all but two games, posting a .280 TAv and a 121 OPS+ entering Sunday. He's not just been hitting well, he's also come through in some key moments. He followed David Ortiz for back-to-back home runs to aid a Red Sox comeback in the second game of the season in Cleveland, drove in the go-ahead run against the Blue Jays on April 8 and tripled in a pair a runs to seal a win the next day. He collected just two hits over the weekend, but the overall picture has still been good.
Ramirez left the Sox with little to feel good about last season, which may have some fans feeling skeptical about this strong start. Ramirez was just as good, if not better, in April last season. He slashed .293/.341/.659 to open the year, and after 21 games was tied for the major-league lead in home runs (10) and was fourth in ISO (.366). Then it all fell apart. He hit .235 in May and finished the season with a career-worst .252 TAv, homering just nine times over the season's final five months. It's only fair to wonder if this hot start is another April mirage.
But this time should be different.
The first reason is his health. Injuries contributed significantly to Ramirez's dropoff at the plate last season. He strained his left shoulder in May after crashing into a wall in foul territory and was never the same. He also bruised his left hand in June and later in the season hurt his right shoulder on a throw from left field. A healthy Ramirez may not have kept up his April 2015 pace, but he was clearly affected by his injuries as his production was well below his career standards.
Even with last season's career-worst offensive production, Ramirez still holds a .303 TAv for his career. Furthermore, he's historically been better as seasons progress, improving most of his offensive numbers every month. A quick look at Ramirez's career numbers shows that last season was more of an aberration than the norm.
| | | | |
| --- | --- | --- | --- |
| Split | BA | OBP | SLG |
| April/March | .285 | .365 | .491 |
| May | .286 | .354 | .457 |
| June | .297 | .365 | .491 |
| July | .291 | .359 | .497 |
| August | .304 | .371 | .510 |
| Sept/Oct | .319 | .389 | .529 |
Perhaps the biggest reason to believe in Ramirez's bat this season is the change in his approach. He looks like a different player at the plate this season. His swing is shorter and more compact, and his stance looks more athletic. The result has been less pull power, but also more line drives and opposite field hits.
Ramirez posted a 20.4 percent LD% and pulled 14 of his 19 home runs to the left-field side last season. He also struck out 16.5 percent of the time. This season he's sacrificed some of that pull power and looks more like a player who can drive the ball to all fields. His LD% is at a career-best 24.2 percent – granted, this is only through 10 games – and he's driving the ball to the opposite field with greater frequency.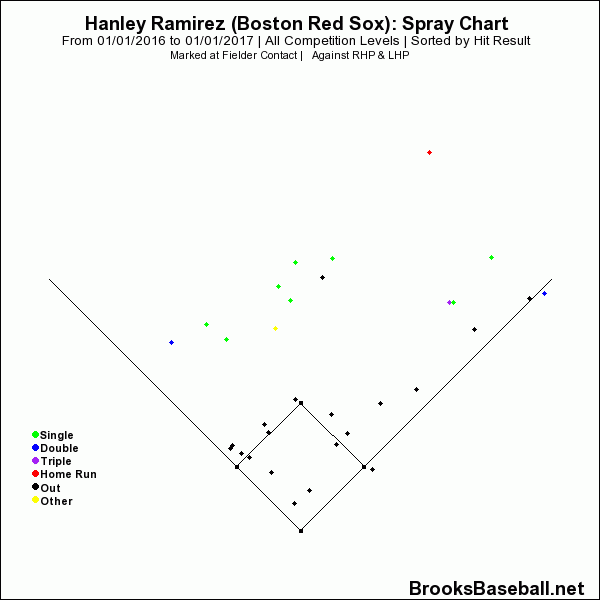 Ramirez is hitting for a higher average and he looks steadier and more consistent in the batter's box, making it easier to believe this kind of success is sustainable. But what exactly has brought about such change and success in Ramirez? BP scout Colin Young, who played with Ramirez in Double-A Portland in 2004, helped me answer just that.
According to Young, it all starts with Ramirez's hands. The image below is one of Ramirez in a game in Anaheim last season. His stance is almost completely upright and his hands are positioned past his back ear. Here his hands have to drop down before they can go back and load, taking him longer to get his swing around.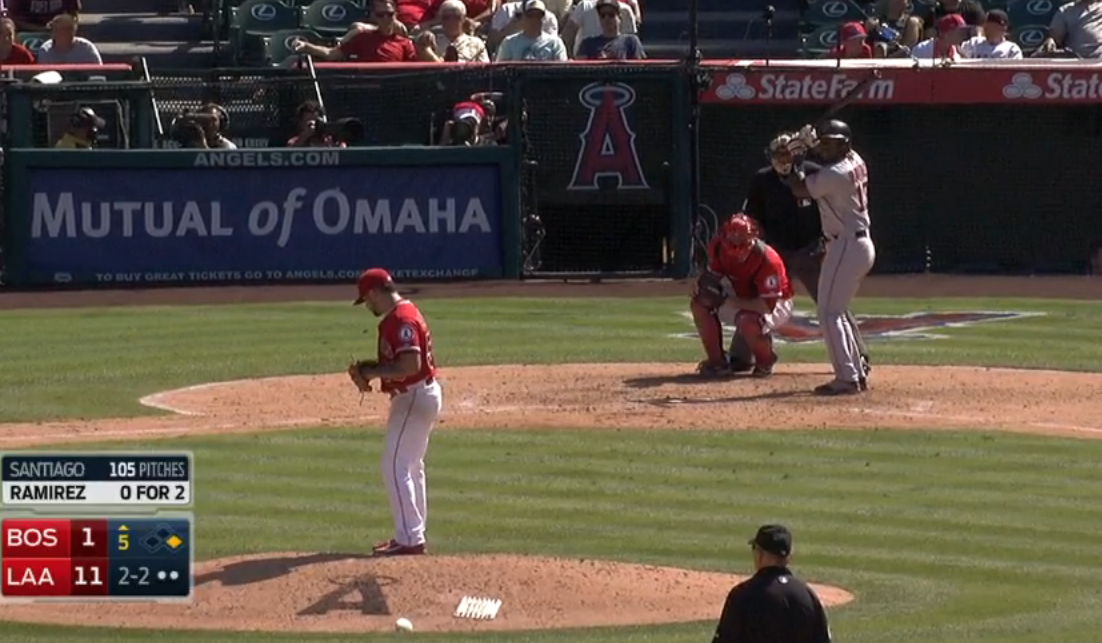 But that's not the only issue. You'll see in the video below a high leg kick that only slows the process, leaving him late on a 91 mph fastball from Hector Santiago.
"He's got a pretty extended, long leg kick, which kind of drives his body momentum forward," Young said. "What happens in that scenario is he's trying to create leverage with a high leg kick. He's trying to stay back but his body is drifting forward. What I noticed is his hands are so high, what they do is they drop down and then when the foot is about to land they have to go back to load. That's when you see that pitch blow right by him when it really shouldn't. You shouldn't be able to get a 90 mile per hour fastball by Hanley Ramirez."
This season has been far different mechanically. The next image is from a game in Toronto earlier this season. He's leaned over, more in the zone and his hands are closer to his shoulders, making it both easier and faster to load with a shorter swing.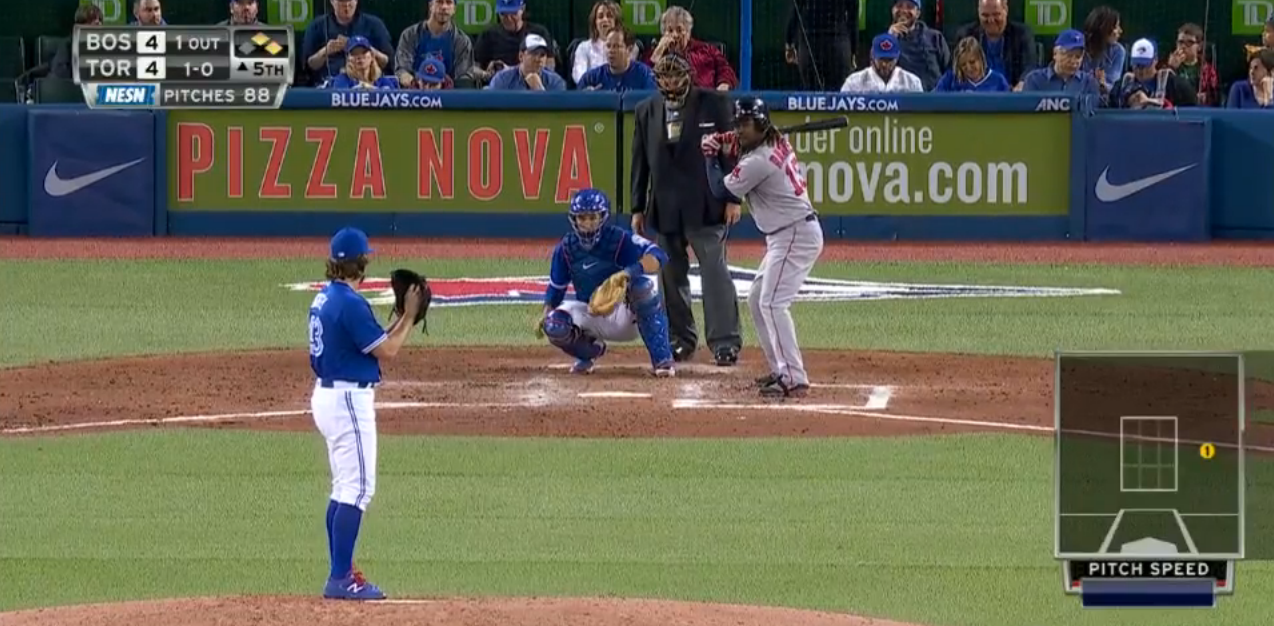 As Young points out, Ramirez leg moves in a straight up-and-down motion – as you'll notice in the video of the sequence – rather than the high leg kick, and his hands are "moving on one plane rather than dropping down and going back." He's still generating power with his load, but it's quicker and more conducive to solid line drive contact. The result is a two-run triple to the opposite field.
"What that does is he may sacrifice a little bit of power, but you're going to find that he's going to be way more consistent in getting the hands through the zone and keeping his head in the zone," Young said. "Everything is about efficiency with him. He's a little more compact, the timing is more efficient and his hands are getting right to the zone rather than having all this room for error."
Ramirez's stance has helped him eliminate the natural pull that was in his swing last year. It had its positives when it meant launching home runs over the left-field wall, but it also made his swing long and left him late on pitches. Young said it was a result of his straighter stance.
"If you stand up straight and you've got your hands back there, when you stride towards the pitcher you have a natural inclination for everything to have that pull mentality where the front side and front hip go way early, and everything comes around the ball," he said. "You develop a long swing that way.
"So what he's done is now he's got a little bit of a tilt, a little bit of a lean in. You're keeping everything over the plate now. Your head's got to stay in the zone. As you stride towards the pitcher, your hip is driving in a straight line, yet you're kind of on a tilted axis with your torso. But that's keeping you right in the zone, and your hands are going to stay in there as well. The hands want to stay on the path wherever the torso is."
Ramirez's stance has helped him eliminate the natural pull that was in his swing last year.
Those changes, of course, haven't helped reduce his strikeout rate. His K% sits at 20.5 percent thus far, but that's primarily due to an aggressiveness against fastballs that has persisted throughout much of his career. That's an issue that no change in stance or swing can fix.
Regardless, early evidence suggests Ramirez is on his way to a bounceback season at the plate. He's still dangerous when healthy, and a new approach has him hitting better and more consistently than he has in years. The Red Sox may still have uncertainties two weeks into the season, but it appears Ramirez's bat doesn't need to be one of them.
Photo by Dan Hamilton/USA Today Sports Images