Welcome to Price Check. It is a column about David Price. That's really all I know about it so far, which is the point. The only thing I can promise is that it will always be about Price. This is the first edition with real stats in it, so let's get to them. Behold, Price's season line:

Game-by-game, it breaks down thusly:

Which brings us to…
David Price's Starts 2016, Ranked [Updated]
1. 66, third start, 4/16 — Seven crisp innings against the Blue Jays on a lovely Fenway Saturday.
2. 61, first start, 4/5 — Six strong on Opening Day at the Jake.
3. 43 second start, 4/11 — Five innings against the Orioles at home, one of which was Trumbo'ed.
Of these three starts, the second one drew the most attention, given that Price was allowed an extra day of rest to provide Steven Wright his normal first turn through the rotation. This kept Price off the mound in Toronto on a Sunday, and put him on the mound for Fenway's home opener, away from his late-2015 stomping grounds, and he got got. Perhaps in response to this, John Farrell let Price pitch on regular rest for his third start, at which point the ace posted his best start of the year.
How is he doing it?
I was intrigued by the idea of doing a Price deep-dive so that I could familiarize myself with some of the more in-depth analytics that are available to me on the tubes; I mention this just to make it clear I'm feeling my way around in the early going, so feel free to skip ahead if you're caught up on Price's Brooks Baseball profile.
Three games isn't a huge sample size, but it's big enough to give us something. In this case, it's clear that Price's velocity is down across the board, even if just a tick: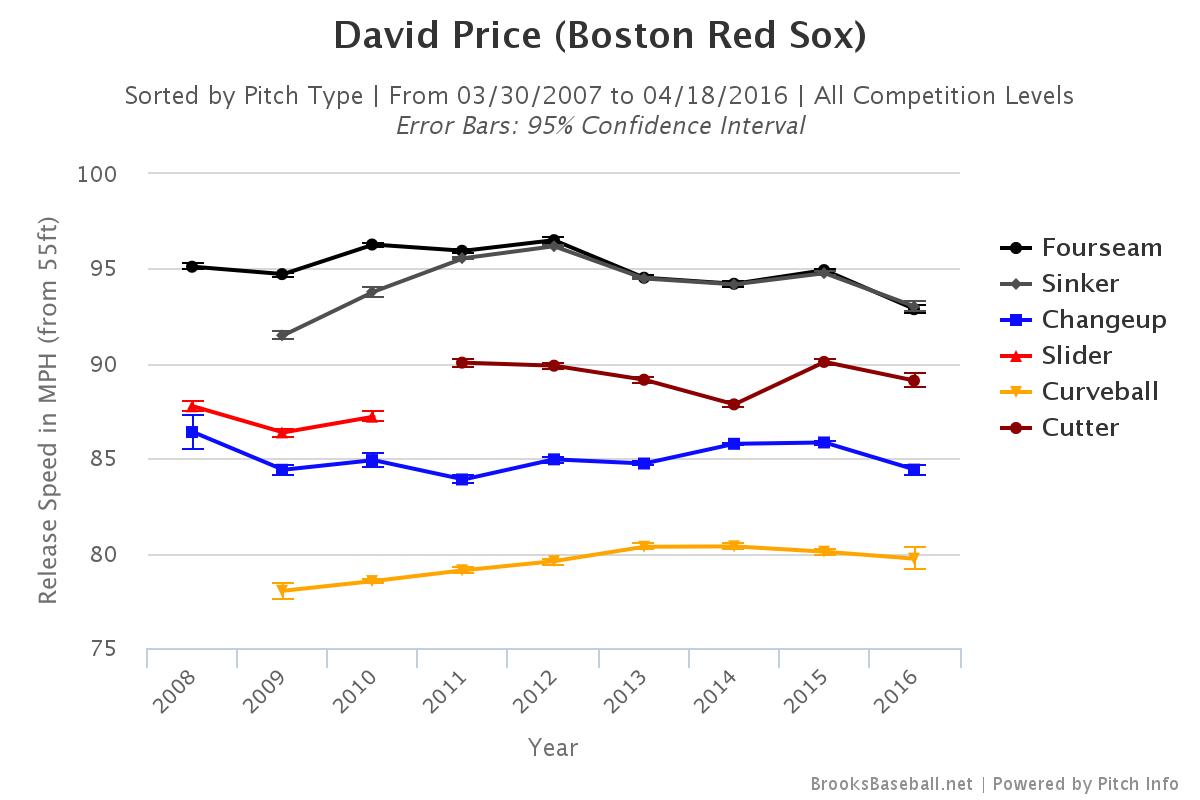 To that end, check out this craziness:
Noah Syndergaard average changeup this year: 91.5 mph.

David Price average fastball this year: 91.4 mph

— Brandon Warne (@Brandon_Warne) April 18, 2016
Which isn't necessarily a knock on Price, because, as Pedro said, "Thooooooooooor!" But it might be a little concerning. If he clocks in for April at 92.87 average miles per hour on his four-seamer (the sinker's at 93.01, the cutter 89.1), it would be the lowest mark of his career for any given month. He's only been under 93 for any month twice in his career — the last two months of 2014 — and he's never had an April under 94.
Sometimes, though, velocity isn't everything: The Trumbo homer, Price's only HR allowed on the year, came on what MLB.com calls a 2-seam fastball, but I'm gonna say was a 4-seamer, at 94 miles per hour. Speed most decidedly did not kill Trumbo, but the stage was set for a big hit before Price let go of the pitch, his 24th of the inning, and the most likely culprit was Price getting in his own head.
This is just one theory, at least, but after Price gave up a leadoff double to Joey Rickard to open the game (but escaped the jam), he looked extremely tentative to Rickard in the third, walking him on five pitches. Follow that with a HBP to Manny Machado and a single to Chris Davis, and there was something bad hanging over Fenway that manifested itself in Trumbo's impressive blast just to the right of the triangle.
This is most definitely armchair psychology, but even at the time he seemed so unnecessarily tentative to Rickard that it was clear the double was weighing on him. This time Rickard got him less directly, but was merely the first domino in a chain reaction that eventually led to Price's lone bad inning of the year. We will live. For now.
But enough about the bad stuff
The Price we saw on Saturday was the one we'd been waiting for, as evidenced by this video of him striking out, among others, Bautista and reigning MVP Josh Donaldson:
Yeah, the Donaldson pitch was three inches inside. We'll take it. That guy is a house on fire, and Price managed to put him out. It's worth mentioning that Price's last two starts have been against the lumbering offenses of Baltimore and Toronto, and he's merely managed to be pinched once, and in impressive fashion, no less. Starting with Thursday's game against the Rays (for whom he used to pitch, I'm told). Should be fun, especially because Price's presence means no Corey Dickerson, an no Dickerson leaves a neutered Rays line. Their current listed pitcher is listed as "TBA," but knowing the Rays, it'll be someone of whom we've never heard and who is amazing… but not as good as David Price.
Photo by Butch Dill/USA Today Sports Images