At this point, we've heard plenty about the miracles Christian Vazquez worked upon his return to the Red Sox. The starting rotation received a much-needed boost with Vazquez calling the shots. Now the hope is he can help transform a mediocre staff into one flirting with slightly above average.
Rick Porcello, however, is a Red Sox starter who deserves credit all his own so far this year. Through three starts, Porcello looks more like the middle-of-the-rotation arm the Sox acquired from Detroit than the club's biggest disaster behind Hanley Ramirez and Pablo Sandoval in 2015. Porcello has been far from spectacular, but he's been arguably the Red Sox's most reliable starter nearly a month into the season.
Some stats suggest Porcello is no better than he was last year. His FIP sits at 4.53, his groundball rate is an underwhelming 42.9 percent and he owns a whopping 2.33 HR/9. However, the Red Sox will take what he's given them thus far all season long. Porcello has posted two quality starts in three tries – the outlier was an outing in which he allowed four runs over six innings in a Sox win – and his K/9 is an impressive 11.17. He's been as steady as they come, which is all the Red Sox could ask for after last season's roller coaster ride.
Porcello didn't look like an $82.5 million pitcher last season. In fact, he looked nothing like the player the Sox thought they were trading for. He went from a sinker-ball pitcher who induced groundball contact at roughly 50 percent rates to a pitcher who attacked the upper half of the strike zone with a four-seamer (which he threw a career-high 26.9 percent of the time last season, per Brooks Baseball) and curve en route to in ugly first half in which he posted a 5.90 ERA over 17 starts. It was bad. So bad that five-, six- or seven-run nights were becoming the norm. But Porcello's turnaround over the final two months of the season offered hope. He once again made his sinker his premier pitch and the result was a 3.53 ERA through his final 11 starts.
That's the pitcher Porcello looks more like thus far in 2016. According to Brooks Baseball, Porcello has thrown his sinker 58.86 percent of the time this season. That's far more than his four-seamer (11.39 percent) and curveball (8.23 percent) combined. On top of that, he's done a better job of keeping the ball in the lower half of the zone. The result has been a lower LD% (18.4 percent), BABIP (.227) and opponents TAv (.241).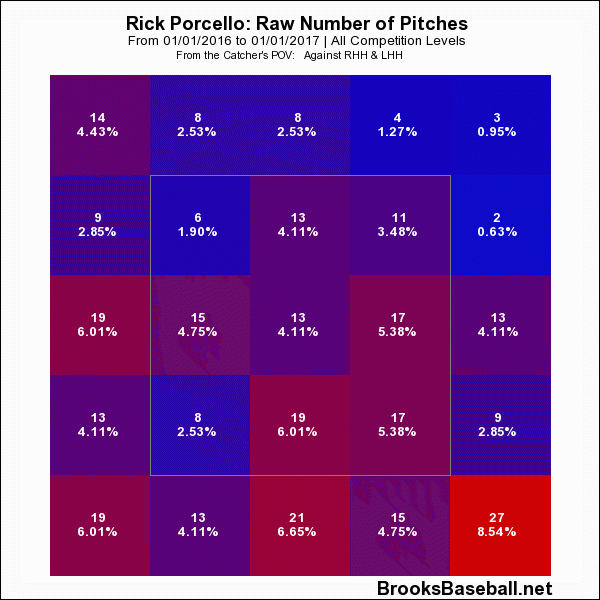 Here's the funny thing. Despite the improvements to Porcello's pitch selection and location, his groundball rate would mark a career low and his strikeout rate a career high. Such drastic numbers, of course, are a result of it being three starts into the season. However, it's still eye-catching. Porcello is seemingly doing everything right given his abilities, yet the results have been far from what you'd expect.
Although Porcello has relied heavily on his sinker, he's getting high whiff rates on his secondary pitches, particularly his changeup and his cutter. Batters are whiffing at a 27.59 percent rate against his change and 17.95 percent against his cutter, according to Brooks Baseball. Those pitches become especially tough to hit after being fed sinkers at the knees for a majority of the at-bat. Porcello has used his cutter in particular to jam hitters inside to create swings and misses.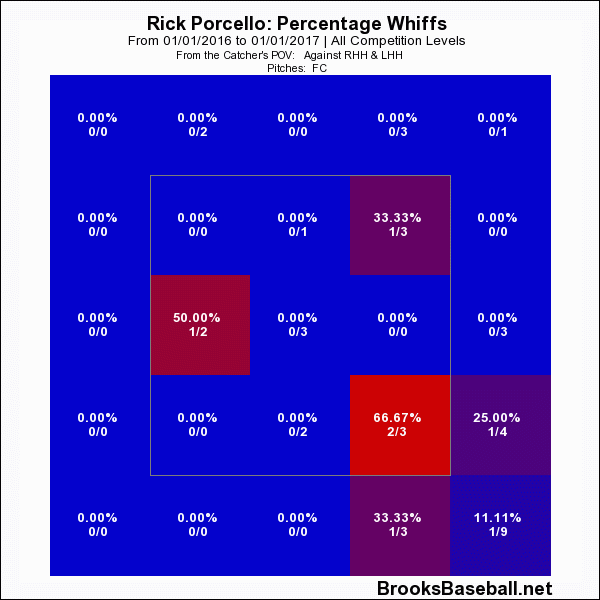 Take Porcello's debut in Toronto, for example. He jammed Kevin Pillar in the first inning with a well-placed 2-2 cutter on the hands to finish the at-bat with a strikeout, showing he can still put away hitters with his secondary pitches. Nine of the 12 whiffs Porcello got that night came from either his changeup or his cutter, according to PITCHf/x, and a majority of those swings and misses came low.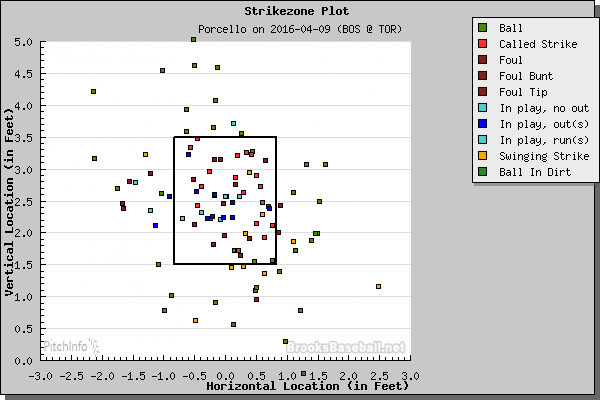 Porcello's second start of the season – his first with Vazquez on April 15 against Toronto – was similar to his first start in many ways. He struck out eight batters and forced two whiffs with his cutter, but he relied on his sinker even more, throwing it 62 times at a 67.7 percent strike rate. The results were what you'd expect. He induced grounders when he kept the ball down, and picked up strikeouts by attacking the corners.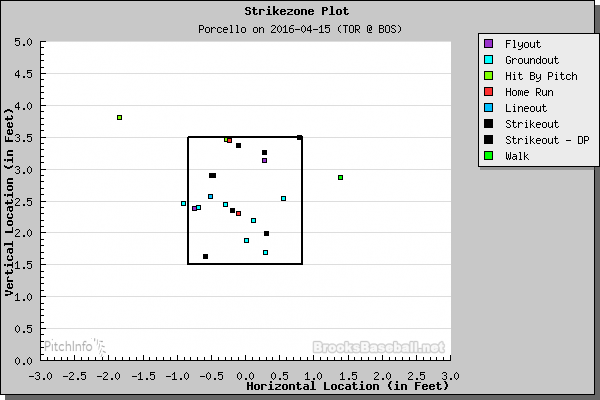 His most recent start against the Rays was arguably his most unique, but he still had a solid night, allowing three runs and striking out nine over seven innings. He remained sinker-heavy, but he also had a 33.3 percent whiff rate on his changeup and threw his four-seamer, which he allowed just one hit against, a season-high 17 times. He generated more flyball outs and got strikeouts with pitches out of the zone.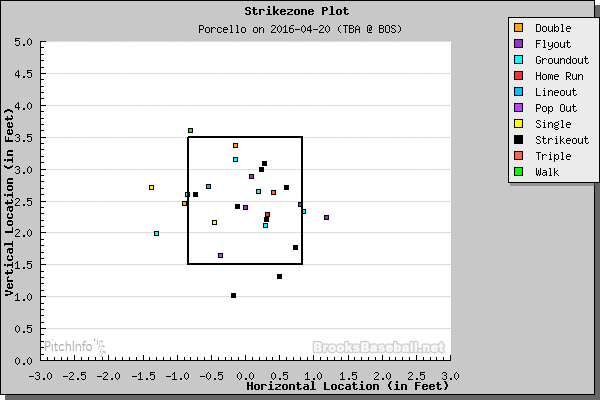 Porcello's reversion back to his sinker and keeping the ball down has been key. He's laid off the four-seamer and curve, pitches that hurt him last season, and has instead looked to his changeup and cutter on the corners to put away hitters. It's a welcomed adjustment, especially when seeing how hitters performed against Porcello on pitches in the middle-to-upper half of the zone last year.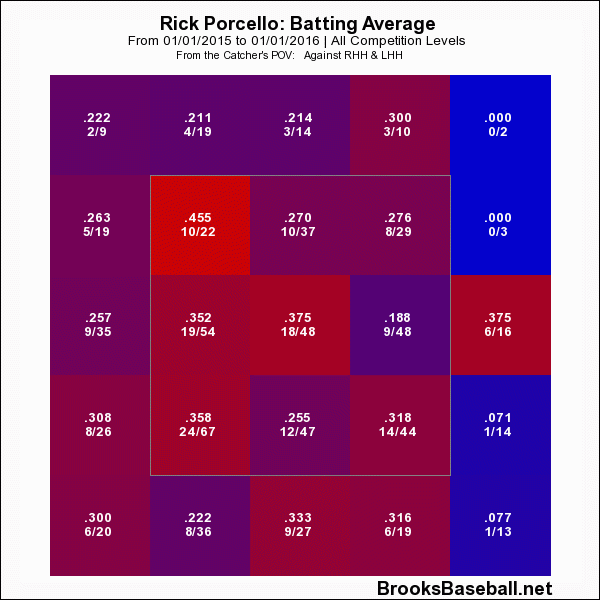 Three games is a small sample size. If this was enough to draw conclusions, David Price would be a bust and Steven Wright would be the ace. For all we know, Porcello could have the first of a string of 2015-esque clunkers in him Monday night. However, it's ok to feel hopeful about 2016 Porcello.

He's shown some of the same flaws, of course. He's given up homers at a 7.69 percent rate with his cutter, per Brooks Baseball, and he's still getting hammered on pitches up in the zone. But this season has been all about balance for Porcello. His sinker is certainly his go-to pitch, but he's mixing in the right secondary stuff in the right locations to get outs. And he's yet to let innings get away from him, which has allowed him to limit the damage and go deeper into games. That's the pitcher we were expecting to see last season. This is the pitcher the Red Sox are hoping to see over the next four seasons. 
Photo by Bob DeChiara/USA Today Sports Images