The Red Sox signed Chris Young mere days before David Price's mega-deal, so it was easy for the outfielder to go unnoticed. That's the way it should've been. Young was a low-risk, potentially high-reward player at two years, $13 million who would serve as a fourth outfielder and platoon player given his history of success against lefties. It was an ideal fit and would do nothing to harm the Opening Day lineup. End of conversation.
We're about five weeks into the season, and Young is still going unnoticed. This time it's due to a lack of production and limited playing time. Expectations may not have been high, but some did exist. Young was expected to be a platoon outfielder, likely with Jackie Bradley Jr., and start against lefties. It made sense. Bradley – as well as Rusney Castillo, who was projected to man left to start the season – was still unproven as a hitter and Young was coming off a season in which he had a .339 TAv against lefties. He would also add some pop to the lineup after a 14-homer, .201 ISO season in 2015, as well as be dependable at any spot in the outfield.
The Red Sox have yet to get any of that thus far. Young has only started in eight games and has posted an underwhelming .217 TAv. On top of that, he's yet to homer and is striking out at a 32.4 percent rate. Those aren't unusual numbers for a standard utility outfielder, but Young was expected to be a little more than that. His effort last season showed he's capable of being a productive platoon player and a valuable piece off the bench overall. That has yet to be the case this year.
Among the things going wrong for Young this season, the most notable is his production against lefties. As one might expect, Young hasn't hit righties well at all, slashing .118/.118/.176 in 17 plate appearances. That's not surprising given his career .224/.292/.410 line against right-handers. The problem is he hasn't been any more than average against lefties, hitting .250/.400/.500 against southpaws in just 20 plate appearances.
There appears to be two notable issues. The first is his inability to take advantage of the pitches given to him. Young crushed pitches in the middle of the zone against lefties last season. He hasn't seen nearly as many pitches this season, therefore he hasn't had as many opportunities to swing at balls in the middle of the zone. However, he's made little of those opportunities when given to him compared to 2015.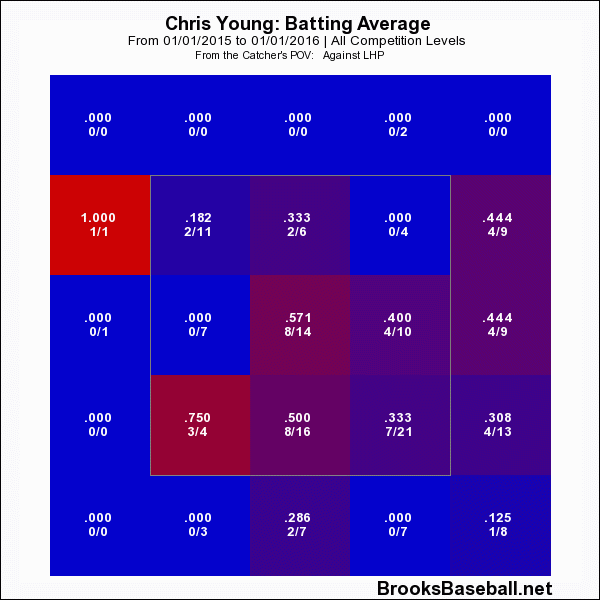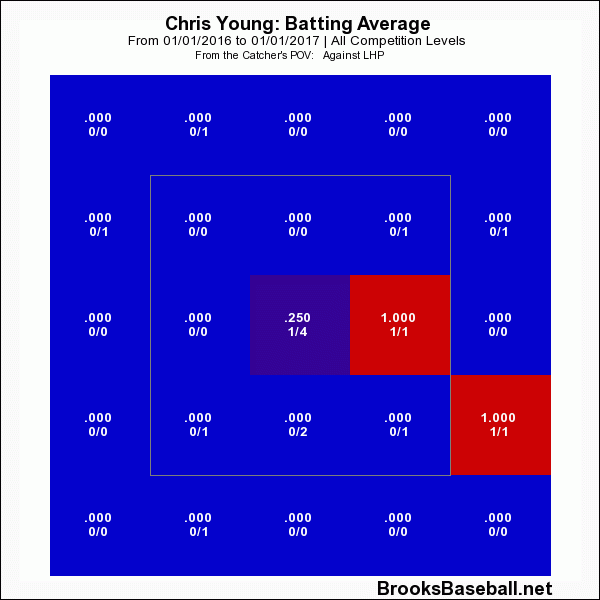 Young hasn't made the type of hard contact he made last season, either. He has a 61.9 percent fly ball rate thus far, but his zero home runs and .152 ISO suggests those fly balls have resulted in next to nothing.
That lack of solid contact has been present against lefties as well. According to Brooks Baseball, Young had a line-drive percentage of 6.47 percent against four-seam fastballs and 8.59 percent against sinkers from lefties in 2015. Young has only made line drive contact against sinkers from lefties this season, and at a 5 percent clip. The chart below does give us one encouraging sign. Young's line-drive contact reached its peak in the middle of the season last year, so there's reason to believe that will improve this year as well.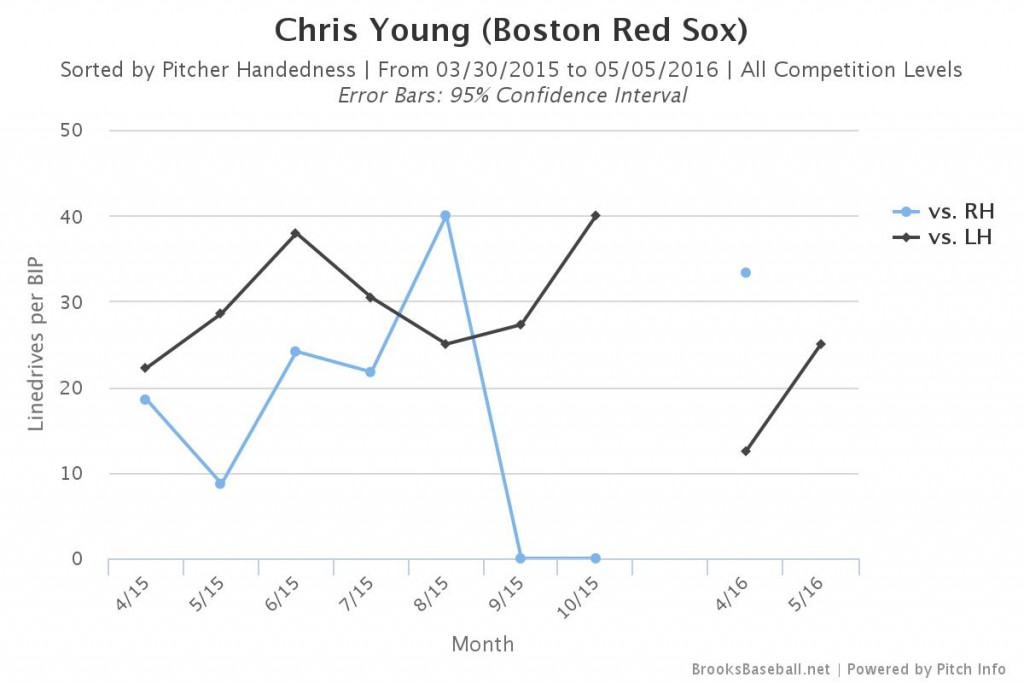 Then there's the strikeout issue. Young's strikeout rate would mark by far the highest of his career. He's especially vulnerable against changeups, which he's whiffed at 15 percent of the time, per Brooks Baseball. That's right in line with his 17.41 percent whiff rate against changeups last season – the similarities are present against other pitches as well – so perhaps it should be of little surprise. But the high strikeout rate becomes more frustrating when his .286 BABIP proves his value when making contact.
Young's struggles against pitches down the middle has contributed to his high strikeout rate. He's whiffed at 15.38 percent of the pitches down the middle that he's swung at, and has struggled to make contact against offerings in the lower half of the zone. That's especially problematic given he's not seeing many pitches in the upper half.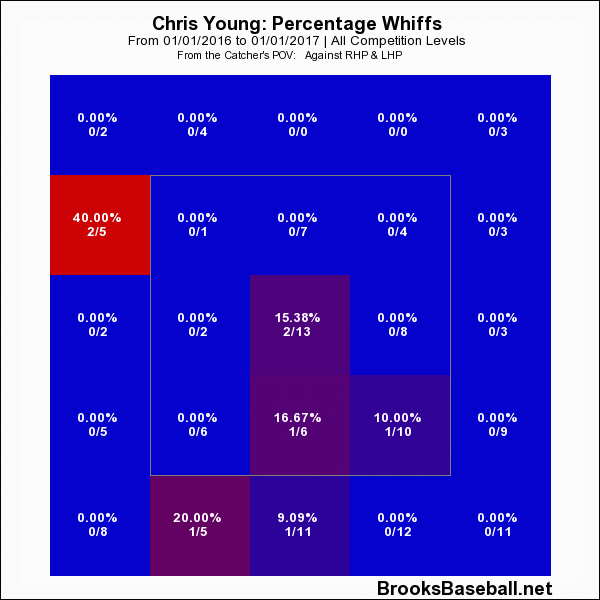 Young is certainly to blame for his lack of production thus far, but it's difficult to hit well when used so sparingly. He has just 37 plate appearances through May 7 and has had multiple plate appearances in only nine games. He had 78 plate appearances at this time last season, and a majority of those appearances came from starting 17 of the Yankees' first 27 games. Limiting Young's playing time the way it has been was the Red Sox's decision, not his.
Young has more or less been a victim of circumstance. The plan was for him to play behind Mookie Betts, and a pair of unknowns in Bradley and Castillo. Instead Brock Holt won the starting job in left and his production both offensively (.271 TAv) and defensively (2.1 FRAA) makes him valuable as an everyday player.
Bradley rode a 13-game hitting streak entering Sunday night's game and is proving to be reliable at the plate as well as a Gold Glove-caliber outfielder. Neither player is irreplaceable, but it doesn't help the Red Sox to replace either player with Young for offensive or defensive purposes, even against lefties. Holt is hitting .300/.462/.300 against left-handers and Bradley .263/.348/.368.
Young will need more plate appearances if he wants to near his 2015 form, but last season also could've been an anomaly.
Perhaps Young's most notable role came early in the season when he served as Travis Shaw's personal pinch-hitter against lefties late in games (only slight hyperbole here). That distinction was short-lived as Shaw has also excelled at the plate, posting a .295 TAv, and has become too valuable in the corner infield to be taken out of games despite poor numbers against left-handers.
That has essentially left Young without a defined role on the Red Sox – at least for now. John Farrell showed he hasn't given up on platoon possibilities after starting him against a pair of lefties in Chicago last week, but it may not be as regular of a move as we initially expected. Young will need more plate appearances if he wants to near his 2015 form, but last season also could've been an anomaly. Young is a modest .263/.362/.475 career hitter against lefties. Although those numbers aren't earth-shattering, it is better than his output thus far this season. That gives us reason to believe he will be better.
The Red Sox had nothing to lose by signing Young. That is still the case. At worst, he's the player that he is now, and the Red Sox are still a team in contention with depth throughout the lineup. At best, Young is what he was last season and he can go back to being a threat against left-handers. That would add an extra layer to that already-strong depth. Young may be disappointing so far, and his role may not be what we thought it would be, but that shouldn't impact what his potential value will be the rest of the season.