A little over a year ago, our fearless leader Ben Carsley asked the BP Boston staff and some other writers around the interwebs whether they preferred Xander Bogaerts or Mookie Betts. It's a really interesting question, and one that I still think about often. At the time, I picked Bogaerts and didn't really need to think too much about it. Since then, things have certainly changed, and in my mind, the gap between the two had grown much closer heading into the 2016 season.
Betts put together an incredibly impressive 2015 that made his floor look almost impossibly high for someone his age. For me, though, the change was more about what Bogaerts did in 2015. He was good last year — even I would not deny that — but he wasn't quite what we expected.
That's changing this year, and oh my goodness, this version of Bogaerts is super scary for his opponents. In the piece I linked to above, there were two broad and important issues with his 2015 campaign. He showed a lack of patience and a lack of power. We'll start with the patience, because it's first alphabetically and Alpha-Bits cereal is a real tasty snack. Last season, Bogaerts did manage a .355 OBP, which is clearly a good thing. However, it came on the back of a .320 batting average. His patience had waned incredibly, and he finished the season with a walk rate just under five percent.
This year, he's bringing back some of that patience and discipline with a 7.6 percent walk rate over his first 172 plate appearances. Put another way, he's already reached 40.6 percent of 2015's walk total in 26.2 percent of the plate appearances. That seems good.
Bogaerts' swing rate has stayed almost exactly the same as it was last year on pitches that come through the zone, but it has fallen significantly on pitches out of the zone.
If you read that piece I wrote back in September, I vaguely stated that he needed to find a happy medium between being too patient and too aggressive. It sure looks like he's found that. As of this writing, his swing rate is almost exactly in the middle of where it was in 2014 (when he was super patient) and in 2015 (when he was weirdly aggressive, at least relative to his track record).
That on it's own isn't always a good thing, however. We want Bogaerts swinging at good pitches to hit; we just don't want him taking hacks at pitches falling out of the zone. As you can probably tell by the complimentary tone of this entire article, that is exactly what Bogaerts is doing. His swing rate has stayed almost exactly the same as it was last year on pitches that come through the zone, but it has fallen significantly on pitches out of the zone.
The biggest reason for this appears to be improved pitch recognition. Intuitively, we know that fastballs are the easiest pitches to hit and also the offerings that end up in the zone at the highest rate. On the other hand, breaking balls and offspeed pitches are tough to barrel up and often break out of the zone (at least if the pitcher is executing his plan.)
Well, so far in 2016, Bogaerts is laying off the offspeed and breaking stuff, while jumping on fastballs a little more often.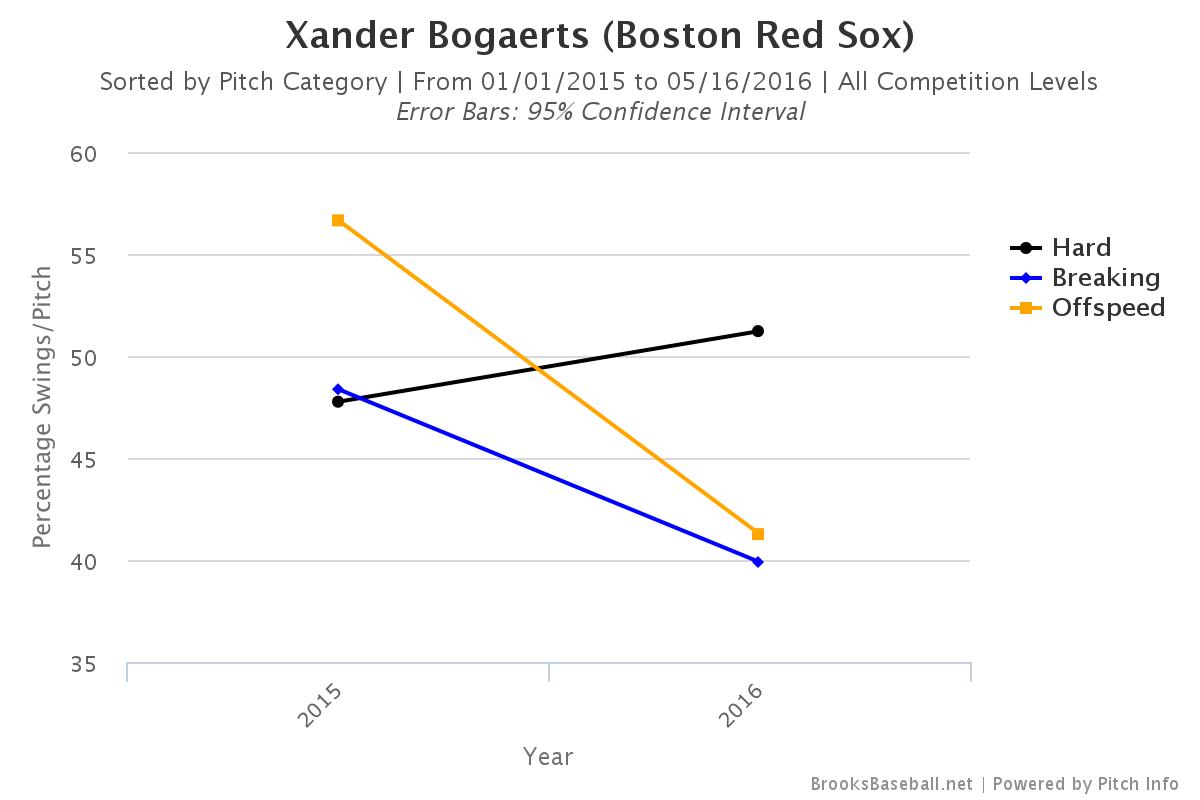 All this helps that walk rate, of course. It also helps the other part of his offensive game that needed to improve: his power. This was supposed to be Bogaerts' calling card when he reached the majors, but we've yet to see it on a consistent basis at the highest level. His 35 doubles last season were certainly encouraging, but the home runs simply weren't there. That's what leads to a .101 ISO that puts a player on the same power tier as guys like Cameron Maybin and Brandon Phillips. This year, he's continuing to hit the doubles while also sprinkling in four home runs (57.1 percent of last year's total), culminating in a much more encouraging .166 ISO.
Some of it is likely luck reversal. Bogaerts' 5.5 percent HR/FB ratio last year was too low, but as always, it's not quite that simple. He's hitting the ball a lot farther this year, which helps more of those fly balls leave the yard. To wit, his average fly ball in 2016, per Baseball Heat Maps, is 287 feet. Last year, it was 268 feet.
A big reason for that is the improved pitch selection outlined above. In addition to that, he's pulling the ball a lot more often this year than last. In 2016, Bogaerts has pulled 40 percent of his batted balls, according to FanGraphs, with the other 60 percent being evenly split between center and right field. We know from watching many, many baseball players hit baseballs that power is enhanced by pulling the ball. Last season, Bogaerts distributed the ball across all three fields evenly, per FanGraphs. That approach helped with his BABIP ability, but it hurt his overall power production.
Now, here's the really scary part for Red Sox opponents. Bogaerts improving in these two key areas is great! The expectation — at least from me — was that this improvement would come with regression in other areas. Instead, that BABIP ability I mentioned a few seconds ago hasn't gone away. As of this writing, he's the proud owner of a .389 BABIP in 2016. That's unlikely to last all season, but we're also talking about a guy with a .375 BABIP over a year-plus-six-weeks stretch. It's not at all unreasonable to expect him to be near the top of the BABIP leaderboard for years to come with a true-talent ability in the .335-.350 range. Oh yeah, and Bogaerts plays a legitimately solid shortstop and has turned into a near-elite base runner, too.
That Betts/Bogaerts conversation has always been more entertainment than anything else. They are both Red Sox, and should be for a long time, and that is rad as hell imo. With that said, I wavered on my stance for a little while, but I'm back fully on the Xander Train. That has nothing to do with Betts' relatively slow start, and everything to do with some more impressive adjustments from Bogaerts. He's now showing the potential to be a player who can put up .300/.400/.500 seasons in his prime while playing above-average shortstop. Even better is that ability he's shown to grow each and every year. It's a really fun time to be a Red Sox fan.
Photo by Winslow Towson/USA Today Sports Images