The David Ortiz Farewell Tour has been about as special as one could've hoped. Ortiz has been among the best hitters in the game, showing the kind of power and clutch hitting that made him a living legend in Boston. At 40 years old, he's defying the laws of aging as he's on pace to become just the second player in major-league history to hit 30 or more homers at such an age. He's projected to finish with one of the highest WARPs of his career. He's further etching his name into the Red Sox and MLB record books. Best of all, the Red Sox's strong start means we have a chance to see Papi's postseason magic one last time. In short, Ortiz has been an unstoppable force at the plate this season. And coming off a 13-game hitting streak that ended a week ago, he's shown no signs of slowing down.
The best way to beat Ortiz throughout his career has been to pit him against a left-handed pitcher. In most cases, it has worked, as is evidenced by Ortiz's .266/.336/.479 slash line, .269 career true average and 19.5 percent strikeout rate against southpaws. The pitcher has had the edge in the lefty-lefty matchup since the days of Abner Doubleday, so Ortiz's dropoff against lefties isn't surprising. That, however, hasn't been the case with Ortiz this year. Even lefties aren't stopping him from hitting everything in sight.
Ortiz is slashing .306/.375/.583 in 40 plate appearances against lefties this season. His .309 TAv trumps Albert Pujols and Adrian Beltre. His .958 OPS puts him just below Manny Machado and Josh Donaldson. He's hitting for a higher average against lefties than Donaldson and Nelson Cruz. These are players who generally hit lefties well. In an alternate universe where Ortiz only platoons against lefties, his TAv would be in line with those of Kyle Seager, Xander Bogaerts and Giancarlo Stanton. No matter how you slice these numbers, Ortiz's production against lefties puts him in some impressive company.
What exactly has gone well for Ortiz this season? This isn't the first year in which Ortiz has hit lefties well, but it's far from a regular occurrence. Here's a quick rundown of his numbers against lefties over the previous four seasons.
| | | |
| --- | --- | --- |
| Year | PA | Slash line |
| 2015 | 184 | .231/.277/.426 |
| 2014 | 195 | .275/.349/.544 |
| 2013 | 216 | .260/.315/.418 |
| 2012 | 138 | .320/.377/.608 |
Hey, maybe it's an even year thing, kind of like the Giants and their World Series titles. Unfortunately, my editors won't be satisfied with that conclusion, so let's look deeper. Perhaps the most relevant way is to compare his success against lefties this year to his shortcomings against them last year.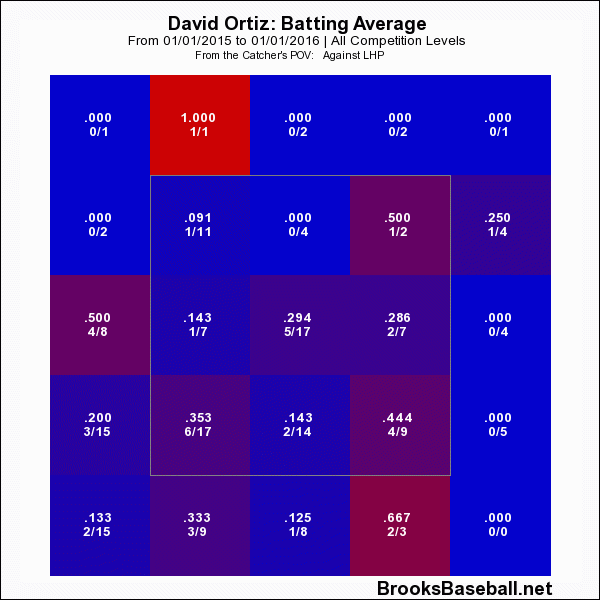 This should come as little surprise, but left-handed pitchers attacked the middle to outer half of the zone far more frequently than the inner half. It often gave Ortiz fits. This season is a smaller sample size, of course, but pitchers still appear to be targeting the same spots. The difference is Ortiz is turning those balls into more base hits.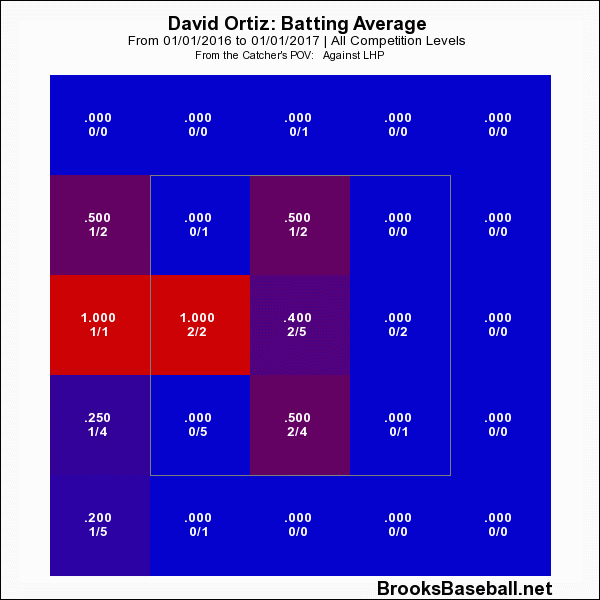 The only pitch that has given Ortiz trouble against lefties this season is the slider. According to Brooks Baseball, he's batting .111 against lefties' sliders, which he's seen 35 times this season. He's batting .333 or better against all other pitches he's seen 15 or more times against lefties this season, including the four-seam fastball he owns a .333 ISO against. Last season wasn't nearly as successful. Ortiz hit .273 against four-seamers and .079 against sinkers, per Brooks Baseball. It's worth noting that he had a .519 slugging percentage against sliders, but overall the discrepancy is clear.
Here's the interesting part: So far this season, Ortiz has a lower line-drive rate (19.2 percent) and a higher groundball (42.3 percent) and strikeout rate (25 percent) than last year. That's an indication that there might be a little luck involved. That's even more apparent when comparing his .248 BABIP against lefties last year and his .375 mark this year. When you're hitting as well as Ortiz is, luck does tend to find your way.
However, there's also the difference in power. Ortiz may only have two home runs and four doubles against lefties this season, but the relatively low number of plate appearances still gives him a .278 ISO. That's a big improvement from the .195 mark he posted last year. That may be a result of harder contact on Ortiz's part. Ortiz's exit velocity below 90 mph against lefties for most of last season. This season he's stayed well over the 90-mph mark for most of the way.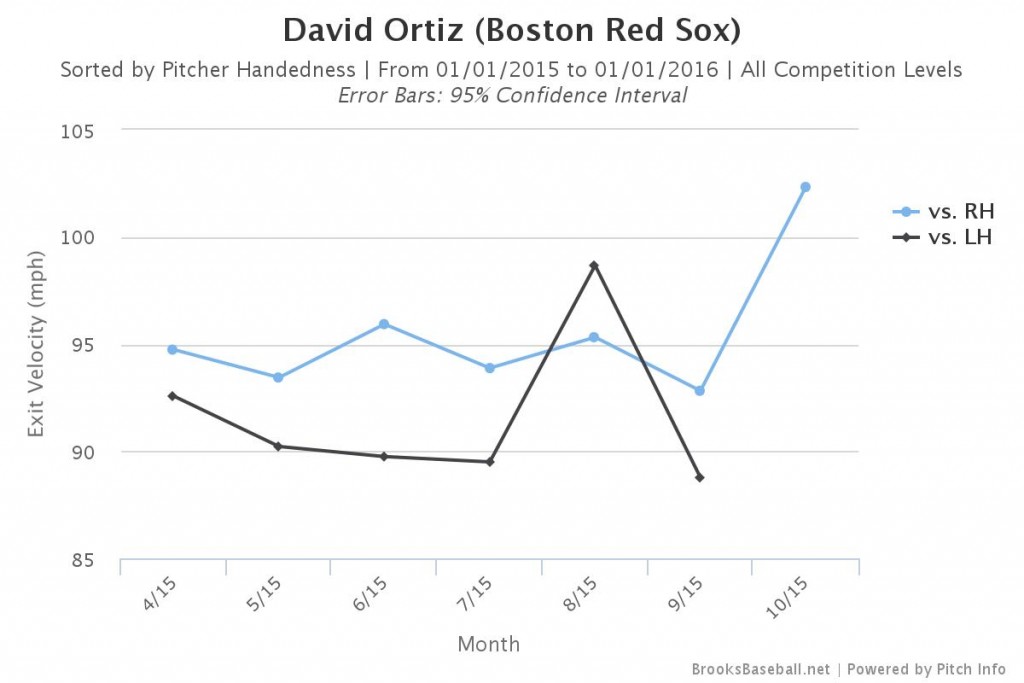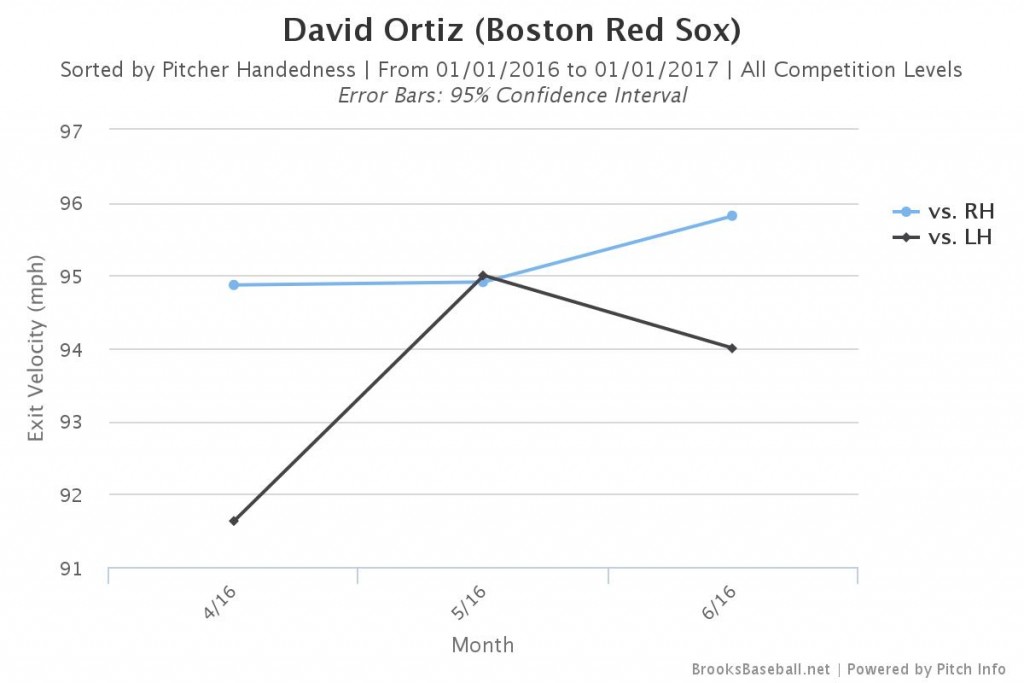 That harder, higher-quality contact may be enough to make much of the difference in Ortiz's production against left-handers this season, even if he's hitting the ball on the ground more frequently.
Regardless of the cause, one thing is clear: Ortiz is producing at an impressive against lefties this season, especially when considering his career averages. It's part of what has made everything he's done this year so incredible. Nothing – not even his weaknesses – appear to be slowing him down. The high BABIP and mediocre line drive rate make it appear this pace can't be sustained throughout the season. But as long as Ortiz is hitting the way he is now, he's still a safe bet against any pitcher thrown his way this season.
Photo by Tommy Gilligan/USA Today Sports Images