Look, it's no secret that the Red Sox starting pitching staff is mostly not great. You've heard it said many times in just as many ways. You have David Price, who has been decent at times but had a horrible start, and the probable All-Star in Steven Wright. Then there's a gap, and there's Rick Porcello. Then there's a huge chasm, and you have Eduardo Rodriguez, Clay Buchholz, and whatever the team can cough up from Triple-A.
What's weird is that just a month ago, the Red Sox were actually chugging along quite happily, thanks in part to this rotation. Sure, it wasn't great and needed improvement, but it worked well enough with an offense that could seemingly overcome everything. You score 182 runs in a month, you're gonna win a ton of games, regardless of how your pitching goes. To their credit, the pitching was more than competent.
Now, the bottom's fallen out from under them. The offense isn't there anymore and the pitching found a cliff from which to fling itself off. The most infuriating thing is that they've become extremely prone to the home run ball, and it's been a chronic issue throughout June. It never was before.
Early on in April, what killed the Red Sox was walks. The team had a 3.77 BB/9, and it was only remedied by a 9.79 K/9, good for second-best in the league that month. The homers hadn't really manifested yet – the Red Sox were well in the middle of the pack regarding HR/9, finishing 16th with a 1.00. In May, the walks lessened, but the strikeout rate returned to normalcy at 8.18. The HR/9 dropped slightly, going down to a 0.97.
The wheels came off in June. The walks slightly increased, but the strikeouts disappeared, further dropping that K/9 down to a 7.54. That's when the homers started happening. It's a bit skewed by the fact that they faced the Orioles and Blue Jays a bit, but there's something else happening when you rack up a 1.67 HR/9 in 21 days.
In the starting rotation, the major culprits are Price, Porcello, and Rodriguez. So let's start with Price. The southpaw has a 1.74 HR/9 for the month. That's really bad! That's a full home run higher than his career mark. He's been getting blasted because batters are keying into two of his pitches.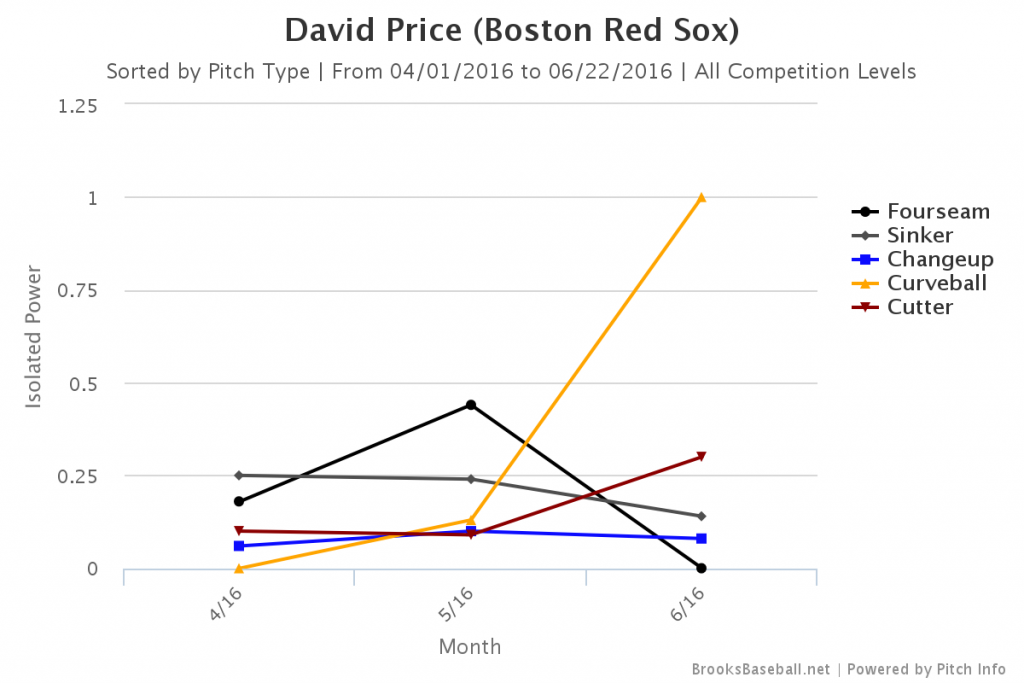 That's charting Isolated Power on Price's individual pitches. To state the obvious: batters are recording a 1.000 ISO on his curveball. Luckily for him, he's only thrown it 16 times. However, he's thrown his cutter 94 times. Batters only have a .300 ISO against that, so y'know, that's totally a relief. His main pitches – the sinker & the changeup – have only gone down in ISO, so there's hope for him yet.
With Porcello, his off-speed stuff has been getting hammered. His curveball, after being such an effective weapon in April and May, has been batting practice to opposing teams, seeing that they've knocked it around for a .600 ISO. Just ask Jarrett Parker if he likes it when Porcello leaves one of those bendy pitches up in the zone.
Hitters have feasted on his changeup too, and the ISO on his changeup has climbed higher and higher as the season's gone on. In April, he kept it around zero, but it jumped to .154 in May, and it's currently at .300 in June. For once, it's not his fastball getting wrecked, but two off-speed pitches, which is more than a little concerning.
Eduardo Rodriguez is, well, a disaster. Almost everything he throws is getting blasted to the moon, and he's lost all semblance of control as well. The Red Sox are going to tweak his mechanics and check if he's tipping pitches again, but the young southpaw is still a work in progress.
If it were April or May, the Red Sox would be scoring enough to make this a little bit less of a problem. Instead, it's June, and the Red Sox can't muster the runs they once could. Every home run hurts now, because you legitimately don't know if the Red Sox can come back from it. I've already talked about how Hanley Ramirez and Travis Shaw have slowed the Sox's roll, but injuries have done them in on top of it. What was once a decent bench is now the Organizational Depth Showcase. There's no depth and the guys on top of that depth chart aren't hitting like they were.
It's not like the pitchers have been helping themselves either. The Red Sox's pitching as a whole has the third-worst groundball rate in the league at 42%. They love letting the opposing team hit it in the air, which invites trouble if you're allowing any kind of hard contact, especially at Fenway Park. To add to that, they aren't striking out as many guys as before. They can't cancel out the damage that the dingers they allow do with gratuitous amounts of whiffs anymore. The staff has taken a step back.
Now they're stuck with a lot of homer-prone pitchers and an offense that seems allergic to most forms of scoring. There aren't any easy solutions here, but one would be wise to keep your off-speed and breaking pitches down in the zone when facing AL East opponents. Otherwise Mark Trumbo will destroy you. Or Edwin Encarnacion. Or Jose Bautista. The list goes on.
The Red Sox have faltered greatly against divisional opponents this month, and it's a small miracle that they're only a game out of first place. Granted, it's a small miracle every fly ball isn't a home run at this rate. You can only hope for so much.