Considering all the denials and wet blankets Dave Dombrowski threw on rumors about bringing up Andrew Benintendi, it was definitely a surprise Monday evening when news broke that he was headed to Seattle to join the team. The game – a close, exciting win – was an afterthought at this point. The Red Sox's second-best prospect was being called up from Double-A Portland to the big leagues. The future is now.
The Red Sox have been desperate for help in left field since May. Brock Holt's great start to the season faded quickly, Blake Swihart was being converted to an outfielder, and Chris Young hadn't defied his career splits for a month just yet – and even when he did, it all ended rather abruptly, thanks to a hamstring injury. Rusney Castillo was uninspiring yet again, then Bryce Brentz finally got his shot, and he's done relatively little with it. The lack of consistent left fielder has been an issue for the Red Sox since the trade deadline in 2009, which is roughly the point where pitchers stopped throwing Jason Bay first pitch fastballs, and he subsequently stopped hitting. It's been a black hole from then on, and you could make the argument that it was worse than the revolving door at shortstop the Red Sox had for a good part of the last 10 years.
This season, Red Sox left fielders as a unit are 15th in the league with a .739 OPS, and haven't been very good with the leather. Brock Holt has been trying to fill in for Chris Young's .288 TAv, but neither his .259 mark or Bryce Brentz's .257 TAv have come close to replicating that. It's been a long, gradual slope downhill for that position.
That's where Benintendi comes in. The Red Sox probably didn't want to bring him up this early, but with no clear options available to them and Chris Young still a ways off, it was worth a shot. He immediately gives the Red Sox an outfielder who can actually play the position. Holt's value comes in playing multiple positions acceptably, not a single one well, and Brentz, well…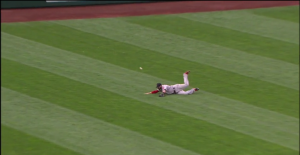 …let's just say fielding isn't his strong suit. Benintendi has much better chops than both of them in the field.
Speaking of Holt, Benintendi's call-up might have shown that the Red Sox have finally learned their lesson with Brock Holt in the second half. See, he's usually pretty good for three months, give or take a couple weeks. Once the second half starts, he's not so great:
| Year | 1st Half PA | 1st Half Slash Line | 2nd Half PA | 2nd Half Slash Line |
| --- | --- | --- | --- | --- |
| 2014 | 279 | .327/.371/.463 | 213 | .219/.278/.271 |
| 2015 | 279 | .292/.379/.412 | 230 | .265/.311/.341 |
| 2016 | 151 | .258/.327/.402 | 52 | .255/327/.383 |
It's not pretty. He's been worked so much that's he's worn down by August the last two seasons, and even with 120 fewer PA this year (due to a concussion that he still played through, partially), it's not smart to risk it for the third straight year. Thanks to Benintendi's call-up, Holt's now been relegated to a utility role, which not only keeps him fresh, but keeps the team from using Michael Martinez ever again. You can't lose there. That's a win-win in anyone's book.
Apart from the utility Benintendi offers the Red Sox as a dedicated left fielder, it gives the Sox a two-month window to see what he can do in the big leagues. The former Razorback never seemed to find it difficult to succeed during his campaign through the low minors, exhibiting a great grasp of the strike zone, terrifying pitchers, and looking like an outfielder you can dream on. As the prospect people over at BP said, he makes playing baseball look easy. He wasn't really being challenged much at whatever minor league stop he went to – hell, Double-A pitchers only kept him to a .295/.357/.515 line, only slightly less dominating than anything he did in the low minors.
With the Red Sox running low on competent outfielders, calling Benintendi up ended up being a viable option. At this point, it might've been the only option, seeing as Chris Young is still two weeks away at the very least. It's absolutely worth a shot, as the worst-case scenario for him being in the majors is that he can't hit right away. He can still field and run a little bit, but if that's the worst-case, then you've got something there. If Benintendi starts hitting, you've got another guy to add to the long list of Killer Bs the Red Sox are rolling out every day. There's real value and potential here, and he most likely becomes the solution to the years-long problem of finding a left fielder. All that would be left to fill in would be third base – the one position the Red Sox have a bottom-ten OPS in – and it looks like the front office already has a plan in motion for that.
Benintendi's a fine outfielder, and if he doesn't initially succeed, it's not a loss at all. He probably wasn't long for Portland, and was still hitting before getting the call. Him being on the team gives the Sox their Swiss Army knife back, minimizes plate appearances taken by replacement-level bench players, and gives them a look at one of their two top prospects. That's not too bad for a guy coming straight from Double-A, and that's with only having two PAs so far. Imagine what he could do with a couple hundred more.
Get excited, because the future is here, and the Red Sox know it.
Photo by Joe Nicholson/USA Today Sports Images