By far the best development in the second half for the Red Sox is their starting pitching. It's been stellar! As a unit, the Red Sox's starters are fourth in the majors in both ERA and FIP. You have David Price and Drew Pomeranz righting the ship after a rocky start with the team, Rick Porcello continuing his excellence, and while Steven Wright hasn't been the same, he's still been very good. Even Clay Buchholz has been great in his stead. Then we have Eduardo Rodriguez.
Early on this season, Rodriguez was quite a mess. His fastball-changeup combination was mercurial, making him prone to the long ball and susceptible to stretches of terrible control. When it worked, it worked well, but those times were few and far between, and Rodriguez hit rock bottom when the Rays pummeled him for nine runs on June 27th. He was sent down to Triple-A Pawtucket not long afterwards.
After that, things just seemed to click. His knee finally got a chance to fully heal, and the results showed. The walks didn't come down dramatically, but the home runs did drop, and the hard contact went down along with them. Sure, you can chalk it up to finally being fully healthy, and that's probably part of the it. But there's been something else fueling this surge, and it's been the emergence of his slider.
Back in May, Rodriguez wasn't the biggest fan of the pitch. In terms of times used, it usually came in fourth in raw pitch counts per game, and until his start in New York on July 16th, he hadn't even thrown it more than eight times in a game this season. However, he changed it all up after getting shelled by Tampa Bay.
E-Rod scrapped a cutter he had been using since the end of the 2015 season, and for good reason – he wasn't getting whiffs with it or weak contact with it. He went with a more slider-heavy approach in the game against the New York Yankees, and after his success there, he leaned on the pitch for quite a while.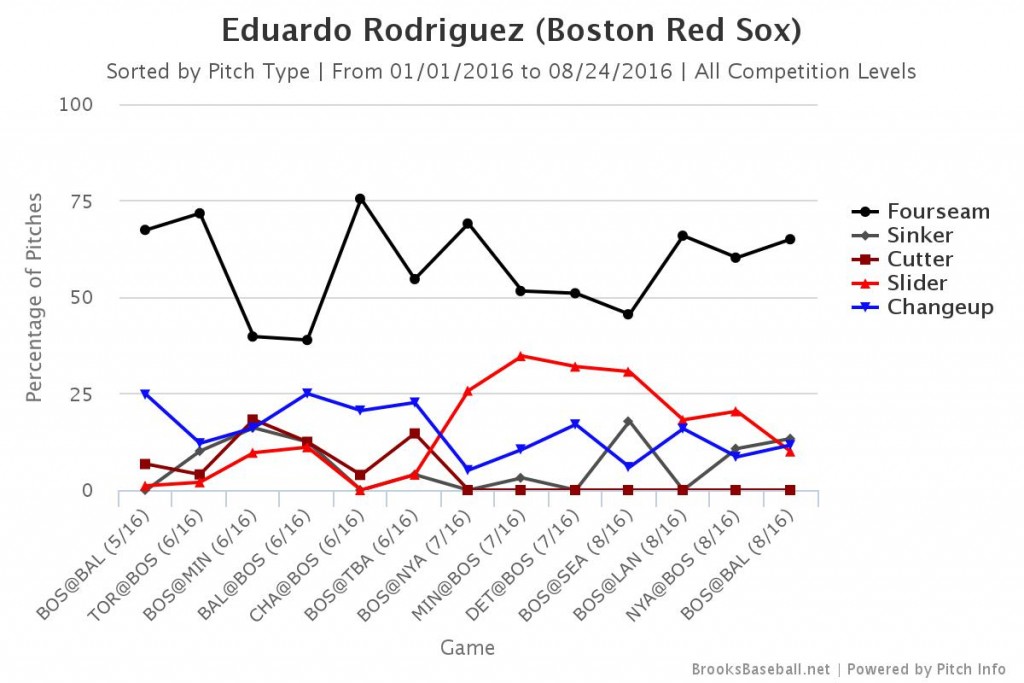 Something must've clicked when he was sent down after that fiasco against the Rays, because Rodriguez came back with a vengeance. With the cutter gone and a workable slider replacing it, Rodriguez found more consistency and success in going after batters with a fastball-slider combination.
For a while, that two-pitch combo worked. And it wasn't just left-handed batters falling for that slider either – even righties couldn't hold up against it, like Chris Iannetta.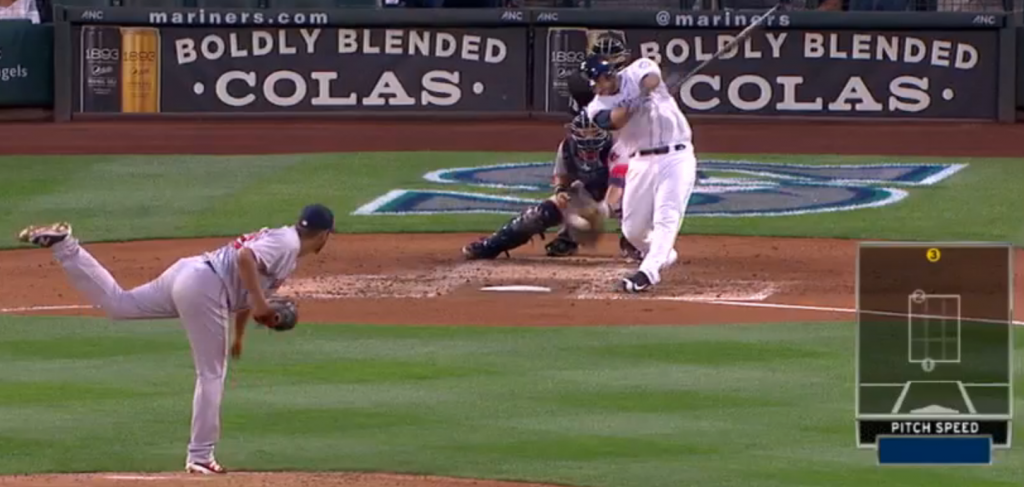 Boldly blended indeed.
Rodriguez had thrown him a changeup to start the at-bat that Iannetta fouled off, and then went higher with mid-90s fastballs before finishing him off with a slider that a batter from either side of the plate would probably swing at. That is a calculated, efficient way to pitch, and that wasn't something you saw from Rodriguez earlier in the season. Confidence in his knee is probably a factor as well here, sure, but a new approach can do wonders for a guy who has had issues with being effective in general.
Leaning on two pitches worked for about a month, until the Dodgers game, where he reverted back to his old self. Unsurprisingly, that was the first game since being called back up that he didn't prolifically use his slider – it wasn't used even 20 percent of the time, compared to the four games before then, where he used it over 25 percent of the time, if not over 30.
At that point, we saw Rodriguez switch to a more three-pronged attack, using not just the fastball and slider, but also his changeup. He didn't use his slider at a 30 percent frequency here either, but the opponent didn't require it. Against the Yankees, he went with a more fastball-heavy approach, as their lineup isn't exactly full of terrifying hitters, and Rodriguez could throw it around the zone with impunity. He used his sliders against lefties like Jacoby Ellsbury, and change-ups for the potentially troublesome right-handed batters in the New York lineup. While the Yankees aren't scary, it was promising seeing Rodriguez carve them up the way he did.
The interesting thing about his mastery of Baltimore is that it all came on the strength of his fastball. The Orioles have a putrid .679 OPS against left-handed pitching, and Rodriguez, armed with a fastball that touched 96(!!), burned right through them.
This is not to say E-Rod is without weaknesses. He still needs to induce more grounders, but with the improvements we've seen, that's nitpicking. Rodriguez has ditched something that was a net loss to him – his cutter – and used his slider more to replace it. Then, with that pitch in his arsenal, it allowed him to attack the zone in ways he couldn't before with just his fastball and change-up, and it gave him an effective pitch against left-handed batters, a group he's allowed a .805 OPS to in his career. That's a little odd for a left-hander, but now that he's got an out-pitch against them, we might see a major step forward.
Rodriguez is only 23 years old, and has a hell of a lot of room to grow. Now that's he's showing he can make adjustments to his repertoire, he's really starting to come into his own at a very opportune time for the Red Sox. Here's another one you can add to the Sox's incredible youth movement.
Photo by Bob DeChiara/USA Today Sports Images