The Red Sox's starting rotation has made notable improvements over the last month. Most of those improvements have been internal. Rick Porcello has continued to establish himself as the clear ace of the Sox's staff, and perhaps even a Cy Young candidate. David Price looks far more like the pitcher Boston signed in the offseason, owning a 1.93 ERA over his last four starts. Eduardo Rodriguez, before getting hurt, was back to 2015 form. Even Clay Buchholz impressed while Steven Wright was on the disabled list.
Despite the recent success, the rotation has been a major flaw throughout the year. However, the only outside addition came in the form of Drew Pomeranz, who was acquired from the Padres for top pitching prospect Anderson Espinoza. The deal drew mixed reactions from the locals (I'm still not sure how I feel about it). Pomeranz was having a great year to that point, but he was a former reliever in a pitcher-friendly ballpark. Who knew how that would translate to the AL East, especially at the cost of a player as hyped as Espinoza?
The backlash grew louder as Pomeranz struggled over his first four starts with the Red Sox. He struggled with his location, throwing strikes just 60 percent of the time and walking 13 percent of batters faced. That deficiency drove up his pitch count and made it difficult to pitch deep into games. His numbers weren't very good, either, as he posted a 6.20 ERA over that span, and the Red Sox were 2-2 in the first four games he started. It was an ugly introduction for Pomeranz, especially on a staff already littered with inadequacy and unreliability in its rotation thus far.
Thankfully, the trade looks drastically better now than it did a month ago. Pomeranz has a 2.25 ERA over his last four starts, putting him third among Red Sox starters over that span. He's getting more strikeouts – as evidenced by his 11-strikeout performance on Thursday in Tampa Bay – and fewer walks. Suddenly, he looks like the player the Red Sox were hoping they acquired last month. And he's done it consistently over this span.
The reason for this turnaround is more basic than you may think. There was no mechanical flaw spotted by Dustin Pedroia (that we know of). His pitch arsenal hasn't been overhauled.. It's simply been location. Pomeranz has thrown strikes at a 68 percent rate over his last four starts. Because of that, he's more successfully averted trouble, worked deeper into games and seen his strikeout numbers improve. Let's go back to his Aug. 15 start against the Indians, for example. This was arguably his best performance with the Red Sox. He allowed two runs on five hits over 7.2 innings – his deepest outing of the season – striking out six and walking just two. The reason he was so successful? He only needed 28 pitches to get through the first three innings. His strike rate was at 60 percent or better in all but one inning. Location was key.
That was by far his best performance numbers-wise, but perhaps his most efficient start came Aug. 20 against the Tigers. Pomeranz lasted just five innings, but that's because the rain cut his night short. The lefty needed just 51 pitches to get through the first five innings. He threw 39 strikes and induced eight ground balls. His location was better than it has been since joining the Red Sox.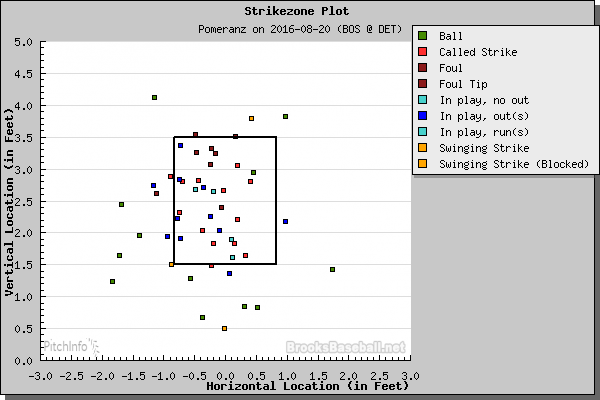 The problem, however, is that Pomeranz has struggled to do that consistently this season, even before being traded to the Red Sox. Over 25 starts, Pomeranz has lasted just 146.1 innings. That's an average of just under six innings per start. That's not surprising from a converted reliever, but that's problematic for a player who is likely to be in the postseason rotation for a team with as decimated and unreliable of a bullpen as the Red Sox's.
Take Thursday's start against the Rays. There was plenty to like about it. Pomeranz allowed just two runs and recorded a season-high 11 strikeouts, but lasted just six-plus innings. He threw strikes at a 69 percent rate, but still needed 93 pitches to get through the first six innings alone and 64 to get through the first four. Pomeranz was done in by some trouble to start the seventh. It's safe to assume part of the reason for that is because the high pitch count caught up to him.
Pomeranz's high pitch counts and inability to go deep into games is a concern, especially as the postseason nears. But there's still plenty to be encouraged by thanks to his increase in strike percentage and overall strikeouts in recent starts. Perhaps that could result in more starts like the ones against the Indians and Tigers and less like his debut against the Giants in which he gave up five runs and threw 80 pitches over three innings. That means he needs to continue to use his pitches the way he has lately. Pomeranz has stuck to a heavy fastball-curve mix with the occasional cutter mixed in. He's also seen more swings and misses on those pitches as his whiff rate has increased significantly over the last month alone. (It's worth noting that he's only thrown his changeup four times this month, according to Brooks Baseball.)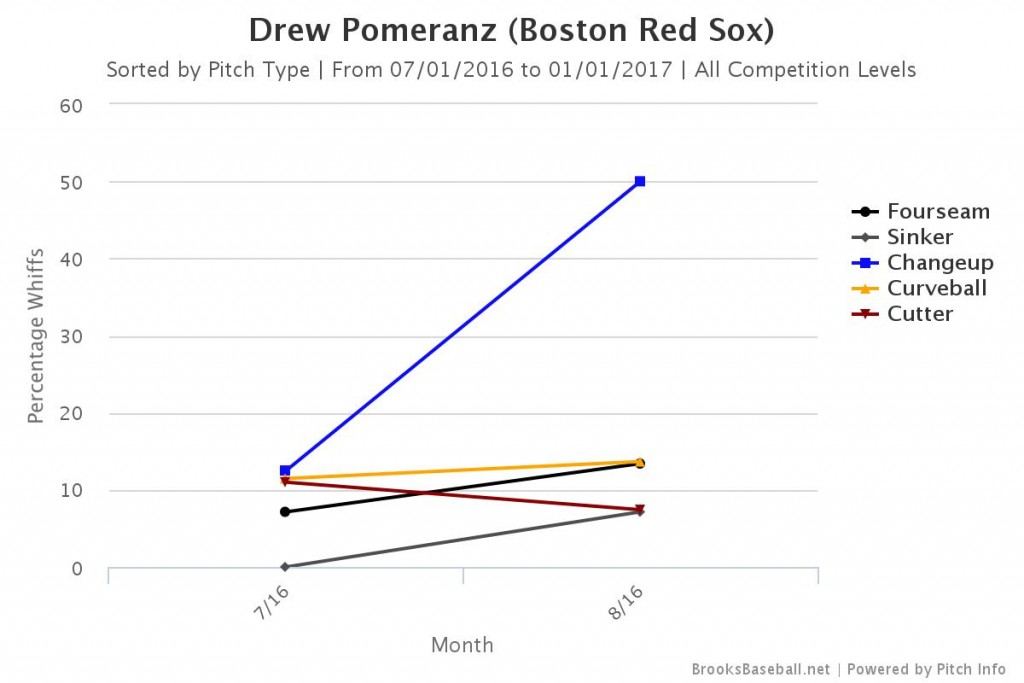 Overall, Pomeranz has become a great addition for the Red Sox – better than most people may realize. A 2.90 DRA and 9.34 K/9 is solid for a pitcher who is at best the team's No. 3 starter. However, there is still more to be desired for a team with a poor bullpen and postseason aspirations. There is still the need for fewer pitches, more innings and greater efficiency. There are signs that point to that as the next step in Pomeranz's turnaround. But then again maybe he's at best a six-inning guy. Either way, I'll take that over another spot start from Henry Owens.
Photo by David Richard/USA Today Sports Images