It's really hard to complain about the top offense in the majors. They're still scoring runs in bunches, winning games and beating teams by big margins. Being critical of the Red Sox's bats can seem a bit too picky. But something is very wrong, and while failures in other parts of the team have covered it up (coughBULLPENcough), it's been there for quite a while now – Jackie Bradley is simply not hitting at all. John Farrell's noticed it, and had him moved from the fifth spot in the lineup back to the ninth.
Over the last 30 days, Jackie Bradley has been through hell. He started August with a .295/.375/.540 line, and as of August 30th, he'll have a .269/.349/.492. That's nearly a 30-point drop in average, a 25-point fall in OBP, and 50 points in slugging. It becomes staggering when you realize one month of baseball significantly dragged down the numbers built up over four previous months. While that's stunning, you can't rack up a .175/.257/.324 line in August and expect nothing dramatic to happen to your line.
Despite a few ups and downs this year, it always seemed like JBJ had a good grasp of the strike zone and the ability to make contact on anything around the zone. He's made adjustments and continued to barrel up the ball well. His weakness, however, has always been the offspeed pitches – change-ups and sliders. Nothing too out of the ordinary for a left-handed hitter, but almost every bad run he's had has coincided with a major spike in whiffs against those pitches.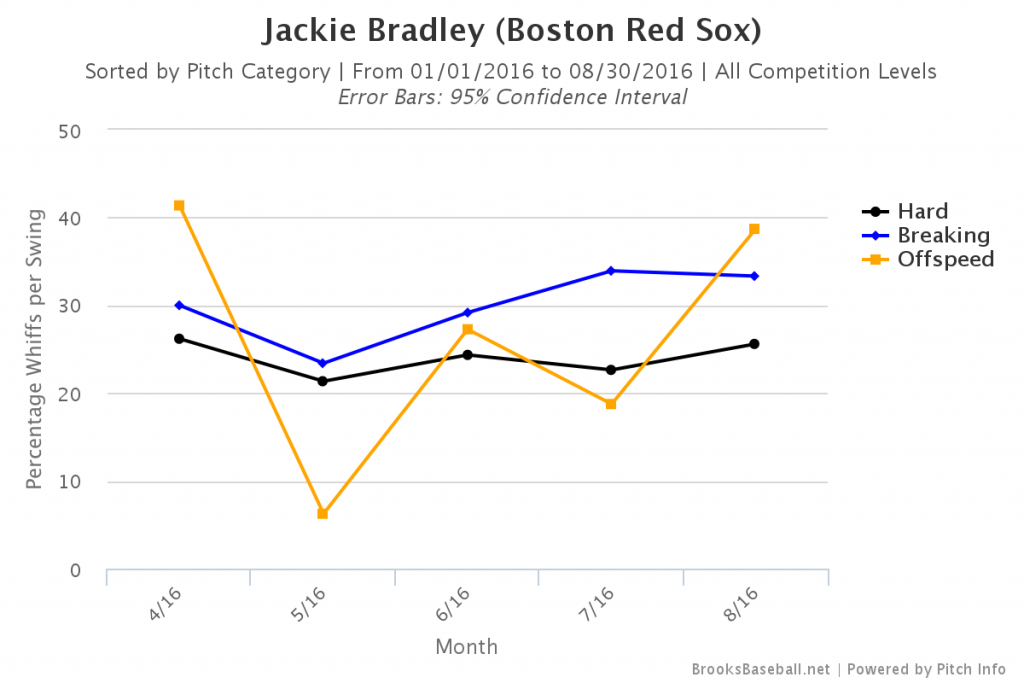 With April being the one exception to this rule, JBJ has done terribly when he decides to go fishing at the plate. He hit .218/.333/.471 in June, where his power – a .253 ISO! – was the only saving grace for him. And then you see August where the whiffs come right back up. Doesn't really help that he's seen a slight uptick in swinging strikes on hard stuff either.
Pitchers are starting to attack him low early on, primarily with offspeed stuff, and then pepper the zone with fastballs so he ends up being late on most of them. He'll swing and miss on changeups low in the zone, and when the 93-mph four-seam fastballs start coming in high, he'll whiff or foul tip on them. Sometimes, pitchers don't even leave the bottom of the zone anymore. Just look at how Danny Farquhar pitched him on Monday night: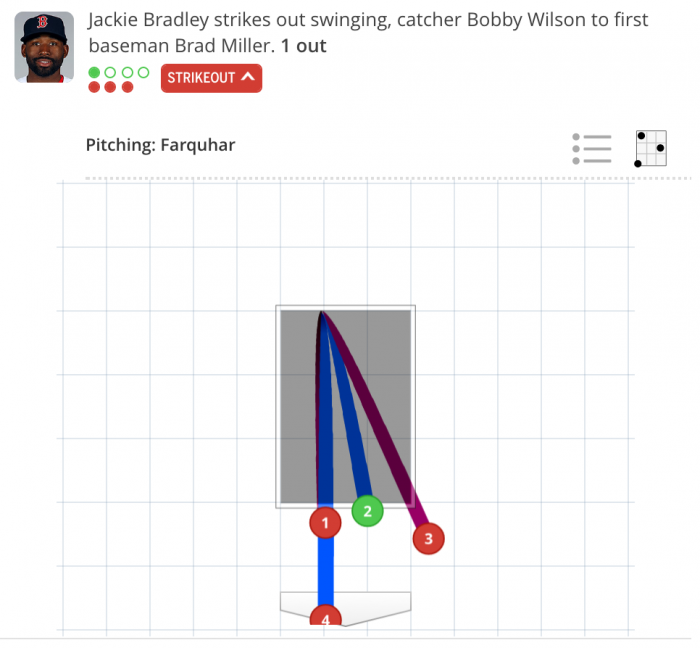 Pitch #1 was a cutter that probably shouldn't have been a strike, but we're using a static strike zone as judgment here, so I digress. Pitch #2 was one of those changeups, and while Bradley didn't offer, it still set the tone for the next two pitches. Pitch #3 was a cutter that drifted a little too far inside, but Bradley thought he could golf it out of there, and didn't. Swinging strike. Pitch #4 was a beautifully buried changeup that made Bradley look pretty silly. That's one way to attack him, and Farquhar exploited his weakness well.
What's worse is that last night against Jake Odorizzi, Bradley saw six fastballs – two of them splitters – and struck out swinging. Odorizzi started out with two splitters low and over the heart of the plate, and then went high in the zone with four straight four-seam fastballs. While the first four-seamer was a ball, Bradley proceeded to whiff on the next one, foul off the one after that, and foul tip into the mitt for a strikeout on the final. Odorizzi's been great, sure, but Bradley saw six hard pitches in that one, and failed to make any good contact. That doesn't help whatsoever, especially when you can't even connect on offspeed stuff.
Thing is, Bradley hasn't always been fishing for pitches like that. He's shown some good discipline on low pitches before August, and wasn't really missing stuff low and in the zone either. He controlled the lower two-thirds of the zone very well.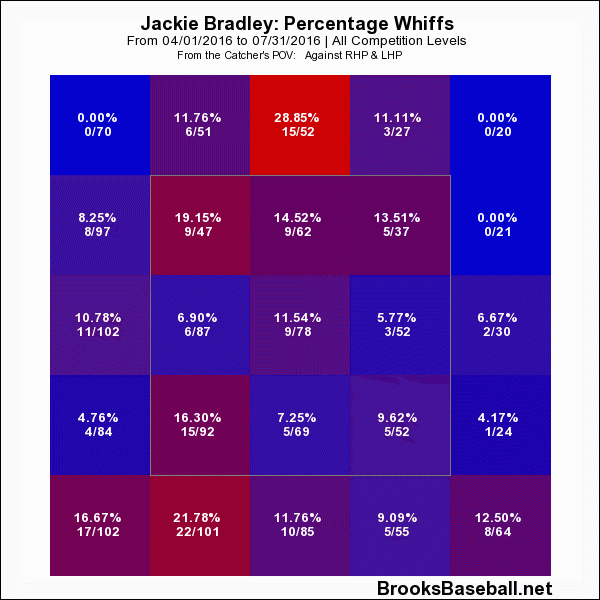 See? That's not too bad. There's some low and outside stuff but that's the slider effect. Left-handers just can't resist them sometimes. Bradley's a good low-ball hitter, and while the upper part of the zone looks rough, that was his one glaring hole. Bradley still hit .295 with that weakness, for what it's worth, and it's probably worth a lot.
Then came August. And all of a sudden, everything was red and bad and horrifying.
Not only did the ground turn into hot, strikeout-prone lava, everything that wasn't low in the zone got worse. High fastballs started to beat him, and sliders and changeups began to work him over. Then pitchers started painting the outside corner with fastballs as well. You'd think Bradley would start going the other way with those outside fastballs, but that hasn't happened with any consistency either.
Not only is the contact he's making weaker in August, he's gone the other way substantially less. He used to hit it toward left field about 23% of the time, but now it's dropped to below 16%. The drop in opposite field contact made his center field contact rise considerably. So Bradley's trying to pull everything low in the zone and ends up rolling over everything, resulting in a ton of weak grounders, all while trying to pull high fastballs and popping them up to center and right field. That's not going to get it done.
The reason Bradley was able to succeed in April while whiffing so much is because every time he made contact, it was hit hard and he used the whole field much more than he did now. Regaining that opposite field swing is a must for him, especially on fly balls and liners. The Red Sox can ill afford a prolonged slump from one of their outfielders, especially with Benintendi out. Mookie Betts can't be expected to be the entire outfield in offense, as much as we'd like him to be.
Maybe a lot of this is bad luck. A .237 BABIP is a pretty decent suppressor of almost any offense a player could have, and Bradley's hitting liners a 19% clip. There's some life still in his bat. And maybe the move to the nine-hole gets rid of some stress for him. Who knows? But the Red Sox need him back to being the JBJ of the first four months in September, because with the pennant race as close as it is, a good month of Jackie Bradley could make all the difference.
Photo by Mark L. Baer/USA Today Sports Images