The Red Sox's bullpen is like a Vegas wedding. More often than not, things are going to end poorly. The fun part is seeing just how disaster strikes. We've seen blown leads, an eight-run inning and a walk-off walk. We've seen Craig Kimbrel turn into Kraig Crumble in non-save situations. We've seen newcomers Brad Ziegler and Fernando Abad surrender crushing home runs late in games early on in their Red Sox tenures. Injuries to the likes of Koji Uehara and Carson Smith haven't made things any easier. Overall, it's been a tough season and a particularly tough second half for the Red Sox's relief corps, which owns the 15th-ranked bullpen ERA in the majors. And it's left the team scrounging all over for answers.
Perhaps that answer has finally arrived, and in a way you may or may not have expected. The turn to September also led to the expansion of rosters, which has led to opportunity for those shunned by the Red Sox for most of the season. One of those players has been Joe Kelly. Yes, he of the Great Stuff. Kelly's Red Sox tenure has been bad, but the start of this season was especially forgettable. He posted an 8.46 ERA in six major-league starts. Those struggles coupled with injury forced Kelly down to Triple-A, and eventually the bullpen. That transition to relief pitching may have been the best thing that could've happened to the Red Sox, and to Kelly's season.
Kelly to the bullpen has been a proposition made by talking heads for the past two years. He split time as a starter and reliever with the Cardinals in both 2012 and 2013, and never established a consistent spot in the rotation in his two-plus years in Boston. Joe Kelly the reliever is finally becoming a reality at the end of 2016. It started in Triple-A, where he posted a 1.54 ERA, 1.51 FIP and 11.8 K/9, allowing just one home run in 17 appearances – 13 of which came out of the bullpen. Now that success is translating to the big leagues. The right-hander owns a 1.17 ERA in seven appearances since making his 2016 relief debut on July 25, tossing 7.2 innings in which he's struck out eight and walked just three. He hasn't allowed a run in his last six appearances. It's easy to forget about that short three-outing stint in July. However, what he's done in the brief time since his Sept. 2 call-up should leave fans hopeful.
Kelly has made just four appearances since his latest major-league return. They've been low-leverage situations, but they've been very good. Good enough that he may see bigger situations sooner rather than later. He's tossed four scoreless innings, allowed three baserunners and struck out seven, making a case to take more of the innings once consumed by the likes of Junichi Tazawa, Matt Barnes and Robbie Ross. Meanwhile, he's given the Red Sox more depth and dependability out of the bullpen.
This success isn't by accident. Perhaps this is the role made for Kelly. As a starter, Kelly employed a balanced five-pitch mix that included a sinker and a changeup. He has since scrapped the sinker and change from his arsenal, and relied heavily on his four-seamer while occasionally mixing his slider and curve to put hitters away. He's become what some may call a power pitcher, throwing upper-90s fastballs and racking up strikeouts.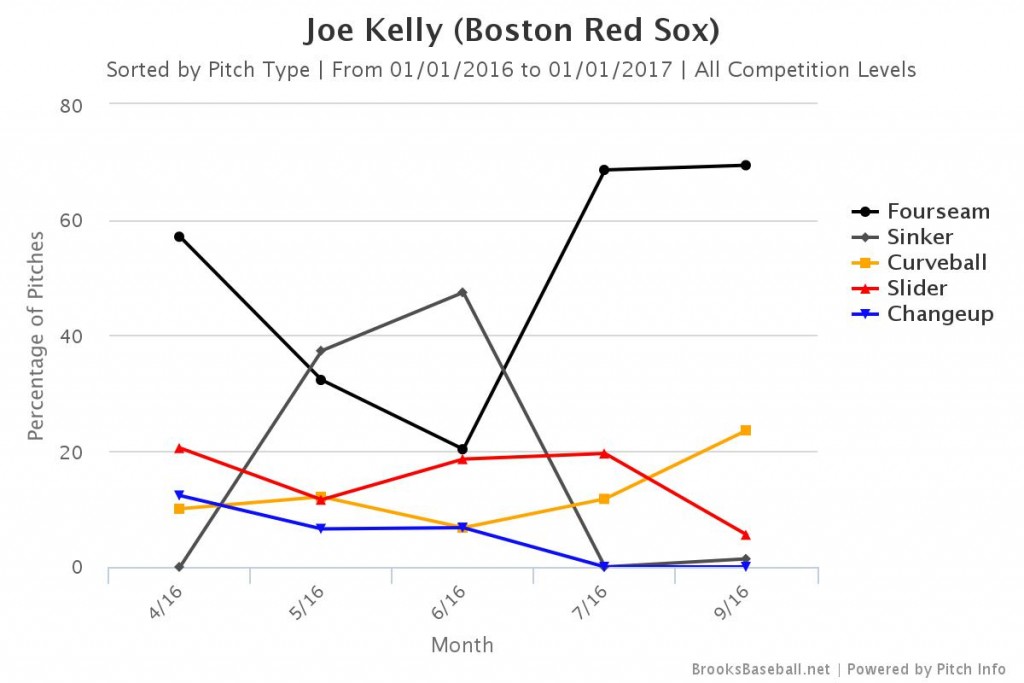 Take Kelly's Sept. 5 appearance against the Padres, for example. He needed just 15 pitches to get through three San Diego hitters. He threw 12 four-seamers and 11 strikes, while getting three whiffs and a pair of strikeouts. According to Pitch f/x, Kelly's fastball averaged 99.7 mph, reaching a maximum of 101. Meanwhile, his secondary pitches were in the mid-to-upper 80s. Here's what his performance looked like visually.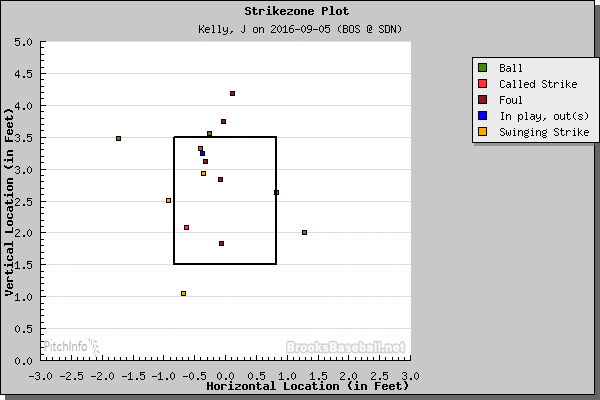 What the chart above also shows is an improvement in Kelly's location. He threw strikes at a 73 percent rate in this appearance, and kept the ball on the corners of the zone. Compare that to what he did in his May 27 start in Toronto and the difference is clear. Kelly threw strikes at just a 54 percent rate that day, allowing nine hits and walking three over 4.2 innings. He threw his sinker 63 times with only 34 for strikes. The low strike rate forced him to throw a combined 71 pitches between innings two through four. He was pulled in the fifth at 94 pitches. When he did throw strikes, he left pitches in the middle of the zone that went for hits.
Kelly's strike-throwing ability is more in the middle of those two appearances, as his strike percentage sits at 61 percent in his major-league relief appearances this season. But Kelly still looks like he may have transformed into the pitcher we all hoped he could be, just in the form of a reliever. His velocity is up, and he's using it to pick up strikeouts. Meanwhile, his command has improved drastically. This turnaround makes him a candidate for a solidified late-innings role out of the bullpen. Throw Kelly in with Ziegler and Uehara, and the Red Sox may just have enough depth leading to Kimbrel to feel good about their bullpen down the stretch.
That, of course, is contingent on Kelly remaining consistent, which is something he hasn't done well for much of his Red Sox tenure. He's shown flashes of excellence at multiple points throughout the past two seasons. Last year, he finished the season with a 2.35 ERA in his final eight starts. Then he was shelled in his 2016 debut in a start against the Blue Jays. He returned from injury on May 21 and threw seven shutout innings. He followed that up with a pair of clunkers and didn't see the major leagues again until July. Things are once again good with Kelly, and the Red Sox should ride that wave for all its worth to improve their bullpen. However, there's reason to believe Kelly's success can be sustained at least for the rest of this season. He's been pitching well out of the bullpen since the middle of the season – albeit in the minor leagues – and his fastball, both in terms of location and velocity, has been consistently good. Perhaps this was the change Kelly needed. It's certainly the one the Red Sox needed.
Photo by Kelley L. Cox/USA Today Sports Images