Good news, everyone! David Price is good again. That's not breaking news, obviously, but it's well received all the same. The $217 million dollar man is finally on the right track, with seven straight quality starts and a 2.99 ERA in the second half. There's really no need for superlatives. He's good, the team's good, we're all good. Good pitching is what this team desperately needed, and boy did they ever get it in Price, Rick Porcello, Drew Pomeranz (except for last night) and Eduardo Rodriguez.
The weird thing is, Price's peripherals don't jump out at you as fantastic relative to each other. In fact, they looked better in the first half of the year, with a 27 percent strikeout rate and a 3.38 FIP. His FIP in the second half is barely better, at 3.32, but his strikeout rate has dropped to 21 percent. There hasn't been a change in the walk rate, and while he's reigned in the homers a bit, he's not burning through guys like he was in the beginning of the season. I mean, sure, he's successful, but what gives? Why is he excelling with fewer strikeouts?
The answer lies in the cause for that drop in strikeout rate. Price, in the first half, really focused on getting that strikeout. He didn't want anything to be determined by where the ball went when hit into play, and considering how hitter-friendly four of the five AL East ballparks are, I don't blame him. The issue there is that whatever contact batters did make was loud. Price would get his strikeouts, sure, but they came at the cost of batters getting much more solid contact. Just take a look at how any time Price pitched in the zone – which, considering those strikeout numbers, was very often – he was demolished.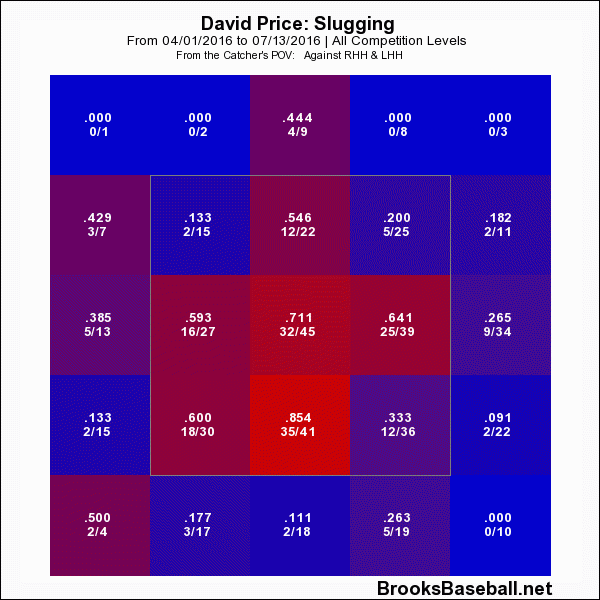 That's pretty bloody.
Going for strikeouts is normally good! But with Price firing away inside the zone like that, it didn't seem that way, and it ended up being bad, even though the FIP was over a full run lower than his 4.34 ERA. His sinker was getting hammered so badly he gave up eight dingers on that pitch alone, which is the same number of home runs given up on all of his other pitches combined.
There probably wasn't a sole cause for this. Could he have been more hittable thanks to his lower velocity, which was due in part to a leg kick that didn't go as high as it used to? Sure, that's plausible. Maybe it was plain bad luck, because when you mix a .321 BABIP with a strand rate 5 percentile points lower than your average, you tend to do worse. That's a nice theory as well. As with most things, it probably was a combination of all of that.
After a few months of Price saying he's better than what he pitched, the second half was like a redemption tour. Price stopped gunning for that K. But he still stayed efficient. The walk rate didn't spike, the home runs dropped, the sun came out, and world peace happened.
Turns out that Price was serving up hittable pitches a bit too often. He'd give up a line drive 25 percent of the time in the first half. The second half? 19 percent. He changed his approach to get a batted ball profile that didn't hurt him when someone would inevitably hit it into play. So what did a lot of those line drives turn into? The most harmless batted ball type imaginable: pop ups. Good things tend to happen when a lot of your fly balls don't go much farther than 100 feet.
Trading strikeouts for contact sounds bad at first, but with Price, it was necessary so he wouldn't keep teetering on the edge between untouchable and batting practice. Compared to his first half, his second half heatmap is distinctly less terrifying to look at.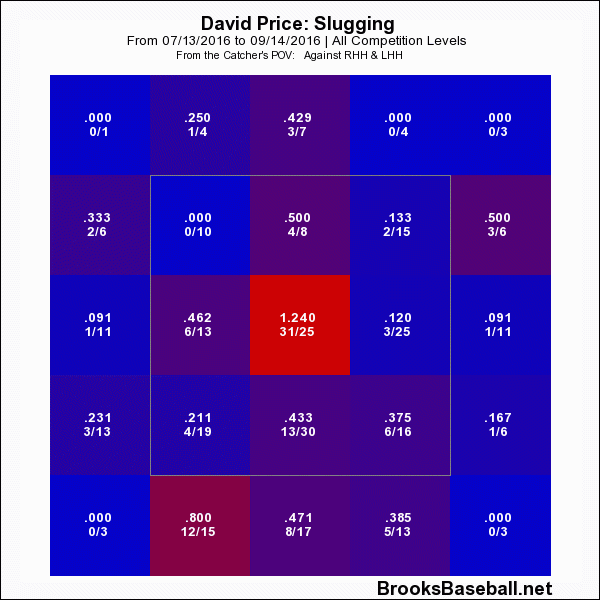 Like a breath of fresh air. That red spot in the middle looks bad, sure, but professional baseball players will seldom miss anything right down the pipe. The lack of red overall is very refreshing here.
The better news is that the strikeouts might be on the rebound as well. Remember that string of quality starts from earlier? Price has thrown 50 innings in that seven-start span. He's gotten 51 punchouts in those innings. Expect that 21 percent strikeout rate in the second half to start going up sometime soon if this trend keeps up.
So far, so good. Pitching to contact isn't the most reliable way to bounce back, but if it works, there's no reason not to do it. It's not like the strikeouts are gone forever either. As of right now, Price's strikeout and walk rates are virtually identical to what he posted last year. The only difference now is the home run rate, and a few dingers will throw everything ERA-related out of proportion a little bit.
The question will probably be asked soon, and no, Price probably won't start Game One of a playoff series over Porcello, but he's sure as hell going to match him step-for-step the rest of the season. With the batted ball profile fixed and the strikeouts coming back, there are few things scarier than a resurgent David Price.
Photo by Bob DeChiara/USA Today Sports Images