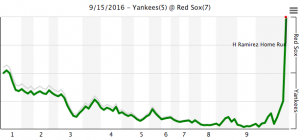 Top Play (WPA)
IT WAS HANLEY RAMIREZ'S WALK-OFF HOME RUN WITH TWO OUTS IN THE BOTTOM OF THE 9TH INNING TO CAP OFF A FIVE-RUN COMEBACK AND BEAT THE YANKEES. (.752)
It was, in a word, spectacular.
Bottom Play (WPA) 
Also in the same inning that HANLEY RAMIREZ HIT A WALK-OFF HOME RUN WITH TWO OUTS IN THE BOTTOM OF THE 9TH TO CAP OFF A FIVE RUN INNING AND BEAT THE YANKEES, Xander Bogaerts happened to hit a grounder to third and Chris Young – who pinch-hit for Andrew Benintendi – was tagged out trying to score (-.094).
Key Moment 
HANLEY RAMIREZ HIT A WALKOF-just kidding twice is enough. Let's take a look at the ninth again. It started off with Aaron Hill pinch-hitting for Jackie Bradley against old friend Tommy Layne, which, you know, whatever. If you want thoughts about the decision, www.Twitter.com is a great place to start.
Hill struck out in three pitches. Chris Young was then called on to pinch hit for Benintendi and reached base via hit-by-pitch on a pitch that more grazed than hit him. He then stole second.
The Yankees then bring in Dellin Betances after working him the previous two nights, and he walks Pedroia. Pedroia immediately steals second and Young goes to third. That pesky little Bogaerts fielders choice happens next and now men are on first and second with two outs and David Ortiz is at the plate. Ortiz bloops one into center (.057), Pedroia scores and Bogaerts heads to third.
It's now 5-3, Yankees. Mookie Betts comes up and pokes one through the left side, Bogaerts scores (.075) and Marco Hernandez, who's running for Ortiz, goes to second.
Now it's 5-4 Yankees. Mookie then advances on a passed ball and the Sox have men on second and third with two outs and Hanley Ramirez at the plate. He rips a 3-1 98mph fastball into the centerfield seats and the Red Sox have their first walk-off home run since Mike Napoli did it in June of 2014.
Blouses.
Trend to Watch
The bullpen had quite the task last night after starter Eduardo Rodriguez left the game with one out in the 3rd after allowing four runs on eight hits. Heath Hembree, Junichi Tazawa, Robby Scott and Joe Kelly combined for 6.2 innings of one run ball. It was another monster effort from a unit that's been sufficiently better in September. Joe Kelly even got a win!
Additionally, the Orioles lost in Tampa, so the Sox picked up a full game on Baltimore.
What's next
Watching Ramirez's homer again, that's what. But baseball-wise, the two teams face off again in the second of their four-game series. It'll be Luis Cessa vs. Clay Buchholz.
Photo by Greg M. Cooper/USA Today Sports Images