The pennant will have to wait.
Top Play (WPA)
When a pitcher can't get very many people out and you leave him in the game, bad things will happen. Tyler Austin's two-run homer came with a .247 WPA, and in retrospect, that really was the ballgame. David Price had one clean inning all game, and gave up four runs in his last three innings pitched. The Yankees, for the most part, weren't fooled by his stuff, and Price didn't have the command we usually see from him. That's a recipe for disaster.
Bottom Play (WPA)
It's the top of the ninth. The Red Sox had men on first and second, and Xander Bogaerts … popped out to shortstop on the first pitch. Only a strikeout could be more harmless than that. That's also good for a -.089 WPA in a game marred by missed chances. David Ortiz even had ton of negative WPA plays and left seven men on base. Really uncharacteristic night from the big fella.
Key Moment
This was the moment. The Red Sox had a huge chance at the end against a guy who kept leaving soft stuff high in the zone, and they couldn't deliver.
Yeesh.
On the brighter side, it's incredible that we all thought Ortiz would do the damn thing. That's how much we adore that man.
Trends to Watch
1. Looks like Rick Porcello is starting Game 1 in the playoffs.
2. How in the hell did Dustin Pedroia hit this pitch fair, much less send it the other way for an RBI single?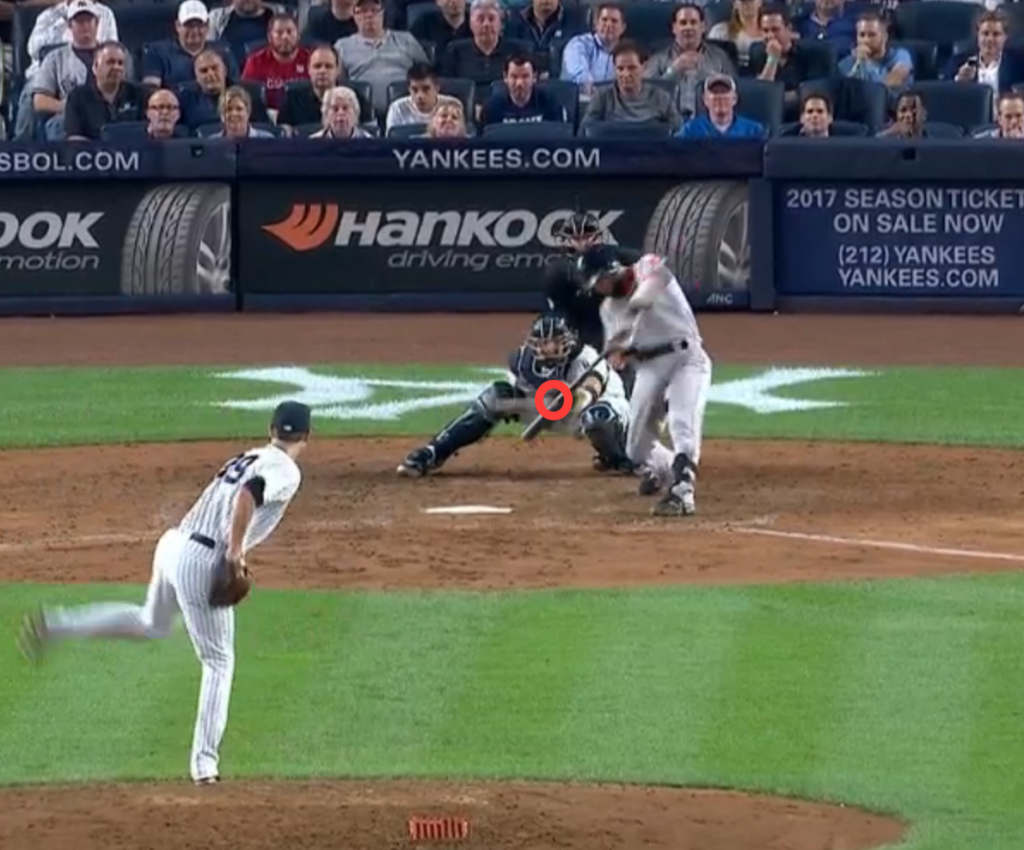 That's easily over half a foot inside. When you're hot, you're hot.
Coming Next
The Red Sox get another chance to pop bottles and dance on the Yankees' lawn, but this time Clay Buchholz is starting against New York's Bryan Mitchell.  Apart from one bad start in Toronto, Buch's been pretty solid. With how this season's gone, it wouldn't surprise me in the least to see him throw a CGSO for the pennant.
Okay, maybe I'd be a little surprised.