David Price could really use an eight-inning gem one of these days. Minus one lovely evening in Baltimore, Price's season has gone from bad to worse; starting with the elbow injury in spring training, followed up by a weird beef with multiple members of the media, with a handful of underwhelming starts in between. There were reports of a blister affecting his grip, but both Price and the team have downplayed it the entire time, meaning he'll end up on the 60-day DL in a week. It should also be noted that there's a real chance that Price rights the ship and makes this article look incredibly stupid. It's only been four starts. But so far, Price hasn't been close to the pitcher that everyone expected. So what's wrong?
As you've surely noticed, Price is walking a whole bunch of people. His current 3.71 BB/9 would be the second-highest of his career, second only to his 2009 season when he averaged 3.79 BB/9. Not only that, but he's walking almost twice as many batters per nine innings this season than he did in 2016 (1.98 BB/9). His walk rate has jumped four percentage points this year, the biggest jump of his career. Why such a jump? One answer might be that Price hasn't been able to rely on what was, last year, his best pitch: the changeup.
According to Brooks Baseball, his changeup was pretty consistently his second-most used pitch, and his go-to off speed choice: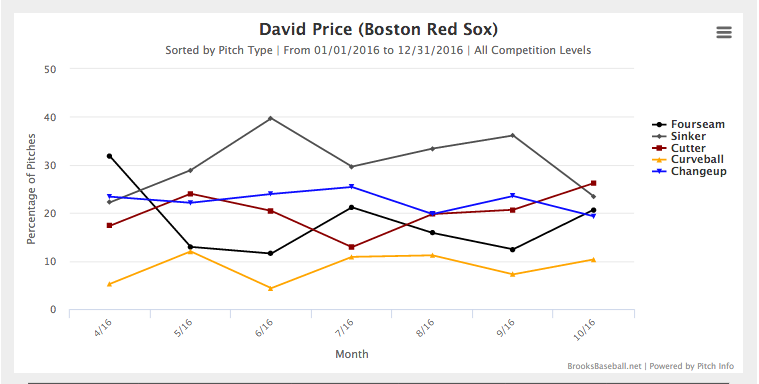 And for good reason. For a good chunk of the season, it was his most effective pitch. His changeup generated the lowest bating average against: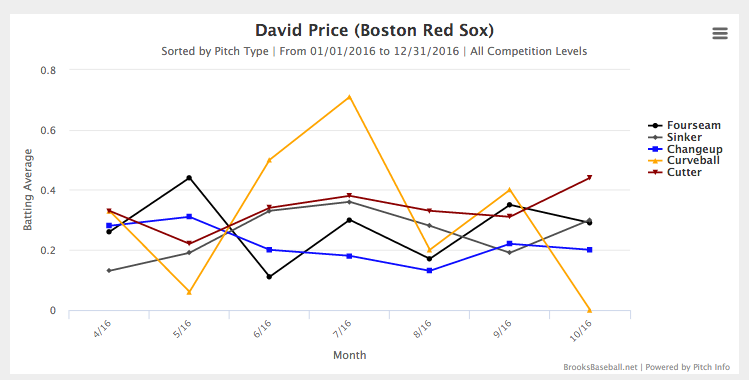 And missed the most bats:
To top it all off, it was his most accurate pitch. He only threw it for a ball 26% of the time, the lowest percentage of any of his pitches.
This year, however, is a totally different story. He went from throwing the changeup for a ball 26 percent of the time to 37 percent of the time. It's also been a significantly less sharp pitch for Price, averaging an inch less in both horizontal and vertical movement this year compared to last. Batters are swinging at his change ten percent less often this year (53 percent) than last (63 percent), too. He's also throwing it less, going from 22.8 percent usage last year to 15 percent this season. Essentially, Price's most reliable and effective pitch has gone missing. Given that Price's blister issue is presumably at least a bit larger of a deal than the team is making it out to be, some of these early-season struggles would be understandable. While Price said the blister didn't affect him, he also talked in that same press conference about his lack of feel for the change up. 
The glimmer of hope? It's still been an effective pitch when Price can get it in the zone. It's an unreliable sample size, but so far, opponents are only hitting .091 against his change this year. Despite Price shying away from using his change up, it's still generating whiffs at roughly the same clip this year (20.93 percent) as last (23.31 percent). There are encouraging signs that a Price turnaround might not be far away: his contact numbers have improved and his velocity hasn't dipped. If it's a matter of getting over a blister, or working out some early-season rust, then there's a not-insignificant chance that Price's season may start to look a lot like last year, when he stumbled out of the gate only to rebound to form by mid-summer. With Porcello, Pomeranz, and even Sale (to a certain extent) pitching poorly, the Sox better hope that Price regains his feel for what was one of his best pitches. Besides, everyone would be in a better place with Price pitching well. June is too early to be yelling at reporters.