The Red Sox have a share of first place on June 19. It was a fun and frustrating ride to this point, and yet it still doesn't seem like everything's clicking all at once. You've still got David Price and his lack of control, the putrid third base situation, and the fact that the bullpen is Craig Kimbrel and a lot of very okay pitchers. Teams will have weaknesses while playing at their best, sure, but there's still problems to be solved.
One issue in particular is Hanley Ramirez. Coming off one of his best non-Marlins seasons, the infielder-turned-designated-hitter has disappointed. He can't play the field very often to spell Mitch Moreland, and his hitting has been mediocre in general. Early on, his bum shoulder was keeping him from playing the field, but now it's mid-June, and he's seen a whopping 12 innings at the cold corner. To make matters worse, he currently sports a .162 ISO, which would be the second-worst of his career if this continues. Is there something wrong with him?
Healthy is a relative term when it comes to Ramirez, and right now, he's healthy. But go ahead and knock on wood, just in case.
The first thing to check for is injuries, and there doesn't seem to really be a nagging one here. He played a full game in Philadelphia last week, and there doesn't seem to be a struggle to play through an injury like there was in 2015. He'll pick up his fair share of nicks and dings, like his neck pinch recently and a back spasm earlier this year, but there's been nothing severe here. Healthy is a relative term when it comes to Ramirez, and right now, he's healthy. But go ahead and knock on wood, just in case.
Next, let's look at his batted ball profile. It's not uncommon for aging, injury-prone sluggers to have a shift in their profile in the wrong directions, such as more grounders and less fly balls. However, Ramirez is essentially the same guy he was last year, minus the absurd 21 percent HR/FB rate – it's only 16 percent in 2017. Woe is Hanley for not being able to hit one out of every five fly balls out of the park anymore. The biggest change here isn't even in the batted ball results, it's in the quality of contact. Using Fangraphs' Soft/Med/Hard hit percentages, Ramirez is actually hitting it harder this year than he was in 2016. Over 48 percent of his batted balls fall under the Medium category, up over eight percent from last year. That jump came at the expense of the Soft hits, which has dropped to a minuscule 13.8 percent. That is an all-around good thing, but the results just aren't there.
Since we're talking quality of contact, let's go one step forward and look into the contact rates. Contact rate? Pretty much the same as the one he posted in 2016. Swinging strike rate? Identical to last year's. Hell, there's even an improvement here too – he's swinging slightly less at stuff outside the zone, swinging more at pitches in the zone, and making more contact on those pitches in the zone. All solid, not-at-all-detrimental things.
Ramirez's walk rate has risen to 12 percent, while his strikeout rate has stayed level at 19 percent. At a glance, it's very hard to see what he's doing wrong. That is, until you throw him a slider.
That's not a good look, Hanley. The slider has been his mortal enemy this season, and he's not helping his case with how much he offers at it. Sliders are designed to go down and away from batters, so it's not hard to see what Ramirez is flailing at.
That is one bright red square. He's swinging and missing nearly 90 percent of the time on stuff down and away. Ramirez won't normally miss anything in the zone, but if it's in the dirt of the opposite batter's box, he'll strongly consider it. He's hitting .204 with a .327 slugging against sliders, and the only reason the .123 ISO on the pitch is that high is because he's run into a couple homers on sliders that didn't slide all the way.
It's really hard to throw a worse slider than that.
To Ramirez's credit, his hitting woes aren't solely because of his complete inability to make contact with sliders. He's having some pretty bad luck on batted balls in the zone too, most notably the ones coming off pitches high in the zone: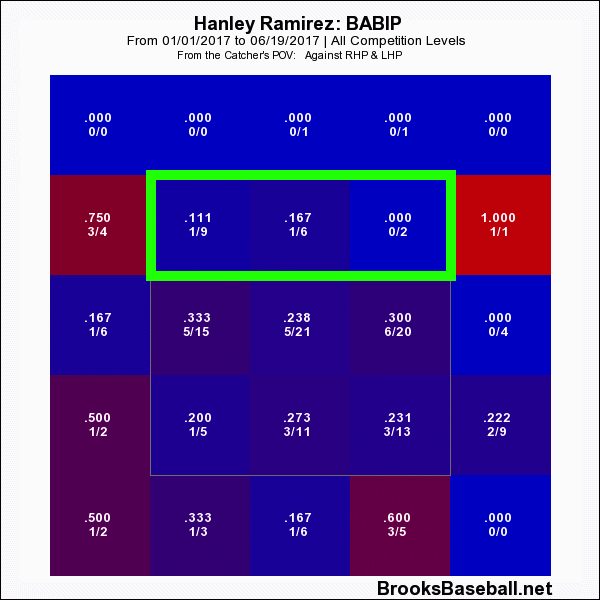 Two measly hits in the chest-high area of the zone. In 2016, Ramirez had a .400 BABIP from that part of the zone. This year, it's dropped to a .118 mark. The bad luck doesn't end there – he was phenomenal against LHP last year as well with a 1.097 OPS, but now he's got a .136 BABIP against them in 2017 and a .567 OPS. It's just terrible all over, especially as a right-handed hitter. Ramirez should be destroying southpaws, but has drawn the shortest stick possible.
There's no real solution to this. Ramirez really needs to lay off the sliders, but the bad luck on high strikes and against lefties isn't readily solvable. You just have to wait for him to snap out of it. Ramirez is indeed a second-half guy – his OPS and ISO jump by over 20 points each once the All-Star break passes – but you also have to hope he stays healthy enough to bounce back.
So, once again, we're just waiting for Hanley Ramirez to come back. Injuries and ineffectiveness have plagued him, but if there's one guy on this team that can go from ice-cold to white-hot in a matter of plate appearances, it's him.
Photo by Patrick McDermott – USA TODAY Sports