It's dawned on me over the past week or so that I'm old. As old people do, let me tell you how it is. Two things from my experience: bullpens are weird; and, never pee into the wind, though that one is less germane to this article. The thing about bullpens though, that is germane, because the thing about bullpens is they never end up where they start. They're like toddlers that way. Put one down on the floor, close your eyes, count to 10, open your eyes, and uh… oh! There he is under the sink drinking window cleaner. Recall a few years back that the Red Sox had that exact same issue with Alfredo Aceves. That's bullpens.
The 2017 Red Sox bullpen is no exception to Matt's Predictable Rule of Bullpen Unpredictability. Think about where we were with Boston's pen before the season started. Back then the pen featured (from back to front) Craig Kimbrel, Tyler Thornburg, Carson Smith (we hoped), Joe Kelly, Matt Barnes, Robbie Ross, Heath Hembree, and maybe Fernando Abad, if we were all collectively unlucky. We're almost three months into the season, which is to say a few games away from half way done, and the Red Sox bullpen is missing 40 percent of that expected bullpen. Maybe Carson Smith will find his way back at some point this year, but Thornburg is gone, and Ross is gone with no timetable for return. That means the rest of the bullpen needs to step up.
Oddly, they have. Mostly. The Red Sox have one of the best bullpens in baseball by WAR, and one of the best by ERA. DRA tells a different story though and it's perhaps the one that, to me at least, feels the most accurate. The bullpen has been a source of success for the Red Sox this season for certain, but, as is the nature of bullpens and this bullpen in particular, things often feel shaky. Perhaps the most shaky of them all is, to me at least, Matt Barnes. Coincidentally, Barnes is also the one who was thrust into the vacant eighth inning role leading to closer Craig Kimbrel during games Boston found itself with the lead going into the eighth inning. Of Barnes 36 appearances (through Wednesday), 20 have come in the eighth inning. This is all to say Barnes has been manager John Farrell's choice as the second most important man in the bullpen, a role that often makes him, when WPA is factored in, the most important man in the bullpen. The closer gets the saves and the game ball but it's often the eighth inning guy who faces the harder competition. That's the role Matt Barnes found himself in, and it's not a particularly good role for hiding one's self from failure.
So now, finally, we get to the point of all this: Matt Barnes and his problems and the solution to those problems. Onward!
We'll start with some dates. On June 14th Barnes pitched a scoreless inning against the Phillies. He struck out two and walked one. On June 16th Barnes pitched another scoreless inning against the Astros. He struck out one and walked one. On June 18th Barnes entered the eighth against Houston with the Red Sox up 6-4. Barnes walked the first two hitters then got Carlos Correa to line out hard to left field. Those walks combined with the very hard contact was enough for Farrell and he replaced Barnes with Robby Scott. Barnes had tried to set that game on fire but luck, Farrell's quick hook, and some good pitching by Scott saved him. He wasn't so lucky three days later against Kansas City. Again he entered for the eighth inning and again it was with a two run lead and again he walked the first two hitters. This time Farrell didn't wait for the hard contact to happen and pulled Barnes immediately and brought in Scott. This time the move didn't work as Scott walked the third consecutive batter and then gave up a grand slam home run to Salvador Perez. During this sequence of games, Barnes pitching was getting worse and worse. He couldn't locate his fastball, repeatedly leaving it up in the zone in a non-competitive location. Take a look at this zone plot from that game.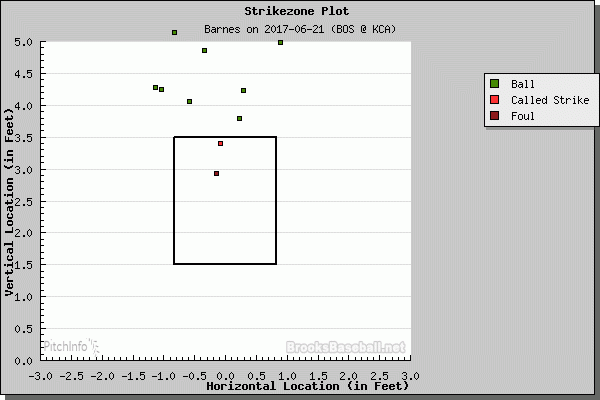 Often times a player goes through a rough patch and doesn't change anything substantial, focusing instead on doing what they've always done in the hopes that success will come as it always has (these are major leaguers, after all). Barnes, to his credit, didn't do that. Instead he altered his delivery, making it more like former teammate Andrew Miller's. The change has to do with his leg lift. Instead of bringing his knee up to his belt as he had before, instead he barely lifts his foot off the ground then sweeps his leg along the ground.
Barnes made the same comparison to Evan Drellich of CSN New England after that game. "I just simplified the mechanics," Barnes said. "Two days ago, I was trying to get with more of an up, down, and out approach. And then just kind of went into a slide step, doing what Andrew Miller was doing."
The change suits Barnes, who now has more time for his arm to get over the top on his pitches, hopefully leading to better command.
For a visual, here's Barnes pitching against the Phillies.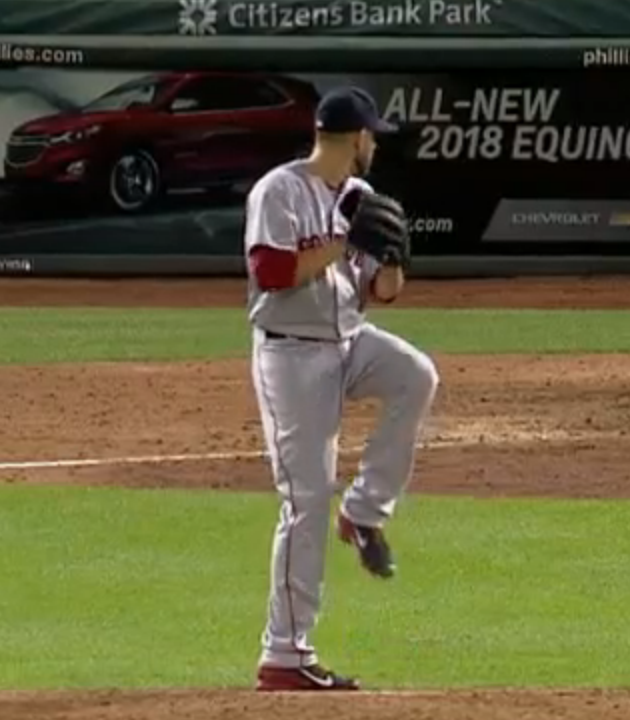 And now here's Barnes against the Twins.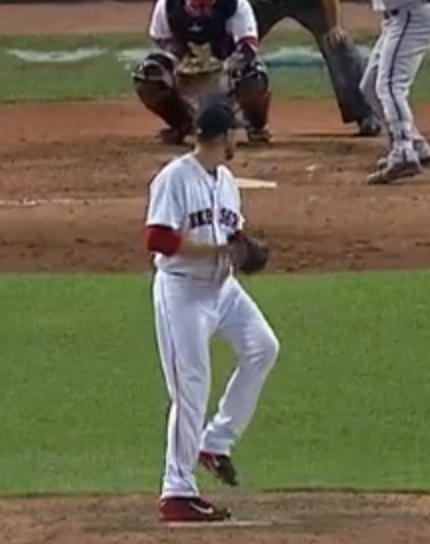 Since making the change, Barnes has thrown just two innings, but in those two innings he's struck four hitters out while not giving up any hits or, most importantly, walks. Compare that to his previous five outings where Barnes totaled 3.1 innings pitched, four runs allowed, four strikeouts, and seven walks.
Two innings against the Twins aren't enough to determine if Matt Barnes is now the next Andrew Miller, or more likely, a slightly improved version of Matt Barnes. But it is interesting to note that even before the mechanical change, Barnes was getting lots of strikeouts. He's now striking out over 30 percent of the hitters he faces. The problem is he was walking more than 12 percent. It's hard to trust a guy in the late innings who is putting runners on for free at that rate, even with the impressive strikeout rate. Barnes has the bones of a guy who, with a bit more command, could be the eighth inning lockdown reliever the Red Sox have been repeatedly trading significant pieces of their farm system in search of. Perhaps this mechanical alteration can be the fix that unlocks Matt Barnes.
Photo by Patrick McDermott – USA TODAY Sports