Since there's a very good chance that a year from now this article will look totally wrong, this feels like the opportune moment to sing Drew Pomeranz's praises. The same trade that pissed every single person off last July all of a sudden is getting significantly more praise – Pomeranz is pitching great for the Sox right now and, as you may have heard once or twice or eleven times, Espinoza hasn't pitched in a game this year. The agony of watching Espinoza become an ace with San Diego is still very much on the table, but Pomeranz continuing to pitch like he has this year would go a long way towards softening that blow. For now, let's just appreciate that it isn't looking like the worst trade Dave Dombrowski has made.
Interestingly enough, for all the positive attention Pomeranz is getting, his numbers don't look that different. Here's a comparison of 2016 Pomeranz vs 2017 Pomeranz.
2016: 3.80 FIP, 3.32 ERA, 88 cFIP, 1.18 WHIP, 9.8 K/9, 3.4 BB/9
2017: 3.61 FIP, 3.64 ERA, 87 cFIP, 1.32 WHIP, 9.9 K/9, 2.9 BB/9
Granted, Pomeranz's San Diego/Boston splits are ugly, but it's nice to see Pomeranz return to looking like a savvy investment. When you take a look at what's different, one thing immediately stands out.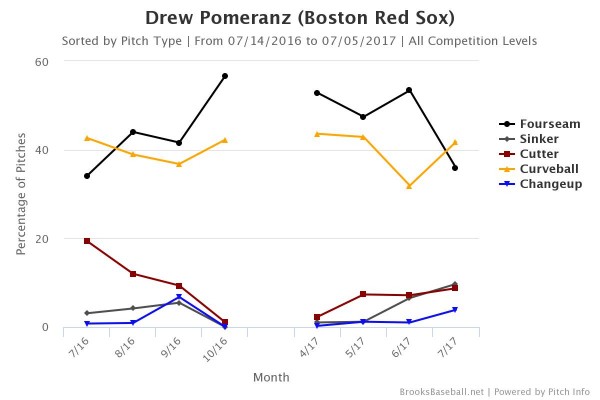 From the moment Pomeranz came to Boston, he almost exclusively leaned on two pitches. It's actually kind of remarkable how quickly he gives up on his cutter, sinker and change up. This year's a different story, though, and he's never thrown his fastball less with the Red Sox than he is now.
While he's not generating many more swings and misses than last year, Pomeranz is getting batters to chase more often. Over the last year, he's raised his O-Contact percentage five percetange points, while his Z-Contact percentage has dropped two. Those changes would help explain why his soft-contact percentage jumped four percentage points from his overall number last year, and six percentage points than the clip he had in Boston.
There are a few warning signs that are worth taking a look at, though. Pomeranz's BABIP is hanging out in the .330's, which be the highest of his career, not to mention well above league average. Despite the uptick in soft contact, his hard-hit percentage (31.5 percent) is identical to last season. It is down five percentage points from his time in Boston last year, if you're into optimism. He's doing a better job of keeping the ball in the park (13.8 HR/FB this year as opposed to 19.7 in 2016), but he's clearly benefiting from better luck on similar opportunities. A lot of good contact coupled with above-average luck is worrisome.
To his credit, however, Pomeranz has done a great job adjusting and settling into his role in the rotation. He's made it through six innings in three of his last four starts. Despite his well-earned reputation for allowing a dinger or two, he hasn't given one up at in three straight games – a span of 17 innings. He's allowed more than two runs just once since May 5th. While Porcello, Rodriguez, and Price continue to struggle, Pomeranz has become a much more reliable pitcher, and that's more than anyone could say last year.
Photo by Adam Hunger – USA TODAY Sports