With the non-waiver trade deadline now behind us, the stretch run begins. The Red Sox did not make huge, flashy moves at the deadline to improve the club, but they did add players at two spots on the roster in desperate need of an upgrade: high-leverage reliever, and third base. Getting Addison Reed and Eduardo Nunez in exchange for players who were not exactly critical parts of the Red Sox's future is great, but I am surprised that nothing else was done to enhance the offense. We cannot know if they tried to make something happen but felt the cost was too much – unless of course Dave Dombrowski tells us otherwise – but based on the trades that did happen it doesn't seem that was the case out there on the trade market. The Rays got Lucas Duda for a song. And then there is this, from Alex Speier's 108 Stitches Newsletter:
Major league sources throughout the game said that the Red Sox had been focused on bullpen help, showing little interest in some of the available bats on the market. The team believes that its offense will be adequate so long as players perform to their track records.
At this point, that is a pretty huge 'so long as' hanging out there. Simply put, the offense is a mess. Since hitting their high point in the standings at 49-35 on July 4 (with a 4 game cushion atop the AL East standings), they are 8-14. This is primarily because the offense as a group is slashing .217/.285/.323, and averaging only 3.45 runs per game. That is not enough to get it done. Mookie Betts has not been the Mookie of 2016 at the plate, Andrew Benintendi is in the midst of another rut, and Xander Bogearts, Mitch Moreland, Hanley Ramirez, and Dustin Pedroia are all playing through injuries that are clearly affecting their performance. Couple that with my finding that many of the current Red Sox players have a history of weaker second halves, and the outlook is not so rosy.
With that said, they have shown glimmers of breaking out over this rough stretch. As an example, from July 19th through the 21st, they scored 5, 6, and 6 runs. That is not exactly lighting the world on fire with offensive might, but it was something positive for this group. They then followed it up with 3, 2, and 0. Lunchbag letdown. This sort of (relative) boom or bust aspect has been there for the Red Sox all year. Have a look at a simple histogram of their runs scored totals: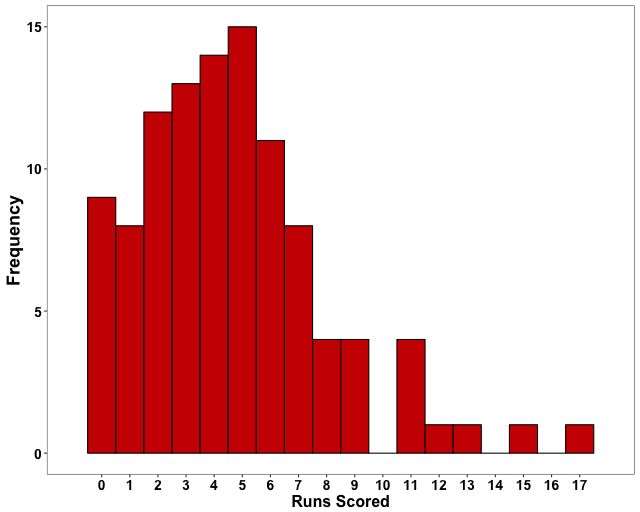 Something of interest: if you add up the totals of the 10+ bins and compare that number to the zero bin you will find the Red Sox have been shutout more times than they have scored 10-or-more runs in a game. They are one of nine teams for whom that statement is true. If the totals for those categories were four and two, as they are for the Blue Jays then maybe this would not be that big a deal – although the Blue Jays only getting to the ten-runs scored mark twice is not something I expected. But the Red Sox's nine scoreless nights are more than any other team and the eight 10+ run nights is middle of the pack.
It is not breaking news that a team will not score its average runs per game total every night out. After all you cannot score 4.65 runs in a game, right? The point is that teams will vary around their average, and some will vary more than others. I suspected that the Red Sox were one of the more variable teams, as they have seemed to exhibit this roller coaster of run scoring over the course of the season. By coefficient of variation, which is a standardized measure of dispersion around an average, the Red Sox are the eighth most variable team in their run scoring:
| | | | | |
| --- | --- | --- | --- | --- |
| | Team | R/G | sd(R/G) | CV |
| 1 | WSN | 5.57 | 4.24 | 0.761 |
| 2 | SFG | 3.91 | 2.94 | 0.752 |
| 3 | CLE | 4.89 | 3.57 | 0.730 |
| 4 | KCR | 4.41 | 3.22 | 0.730 |
| 5 | PIT | 4.25 | 3.10 | 0.729 |
| 6 | ATL | 4.60 | 3.29 | 0.715 |
| 7 | DET | 4.88 | 3.49 | 0.715 |
| 8 | BOS | 4.65 | 3.32 | 0.714 |
| 9 | BAL | 4.64 | 3.30 | 0.711 |
| 10 | SEA | 4.72 | 3.33 | 0.706 |
So my suspicion about the all-or-nothingness of the Red Sox's offense was not far off. Relative to the rest of the league, they have dispersed their run scoring quite a lot. From night-to-night it is difficult to anticipate what we are going to get. Not as difficult as it is for the high-scoring Nationals, who have 18 10+ run games, or for the low-scoring Giants, who, with eight shutouts, are on the Red Sox's heels in that undesirable department. But the Sox are still up there in run scoring variability.
Now, I am not exactly sure what to make of this. There is no relation between variability in run scoring and winning percentage, which should be fairly obvious as run scoring is only half the battle of a baseball game. Run prevention is just as important. On offense, ideally you score a lot, all of the time, or at least more often than you don't. But the Red Sox have not been able to consistently score runs. It is not really a luck or sequencing thing either. For example, BaseRuns has them as a 4.57 R/G group. The Red Sox just have not had long stretches of games where opponents can't get them out. It seems like as soon as a couple of guys get going, a couple of other guys start to struggle. Or the group only clicks as a unit for a few games. This will contribute to the ups-and-downs in run scoring that we have seen thus far.
Having Rafael Devers in the lineup rather than the Deven Marrero/Tzu-Wei Lin/Pablo Sandoval/Josh Rutledge carousel should help. Having Nunez as Devers' complement at third and a threat off the bench should help. Having Brock Holt (and Nunez) around to give the regulars a day-off here and there should help. Getting those regulars healthy should help (a lot). There is no doubt that is a lot of shoulds, but add them all together and I can see why the front office was content to roll forward with the current group. Ideally they get rolling in the same positive direction, and post big run totals night-in and night-out. There's no two ways about it: the bats need to wake up if this team is going to fight off the Yankees and Rays for the division crown.
Photo by Bob DeChiara – USA TODAY Sports