Three weeks ago I lamented how variable the Red Sox offense had been through the first 107 games of the season. As a group they just couldn't seem to get unstuck and it was frustrating to watch. Just when you thought they were putting together the pieces of a strong run, they would throw up a sequence of duds. But then the calendar flipped to August, and then Game 108 happened. Game 108: the middle contest of a three-game series against the American League Central leading Cleveland Indians that ended like this:
Glorious. A fantastic moment to end what was probably the most exciting game of the year. The game's win probability chart looks like the roller coaster ride metaphor I used to describe the Red Sox offense that morning. While I don't love the turning point narrative that came out of that win, it is easy to see why it exists. Christian Vazquez's blast off Cody Allen propelled the team to a half-game lead in the American League East, which they have pushed to five by going 13-3 in August (through Sunday's game), and the offense has been anything but a roller-coaster.
Over the Red Sox's 16 games in August, the offense as a group is slashing .278/.352/.466, and averaging 6.0 runs per game. Six runs a night is solid output and can certainly take some stress off the pitching staff. When stacked up against every other team's output in their last 16 games, the Red Sox's mark ranks as the fifth highest, which is more in line with where this group was expected to rank as an offense. Sixteen games is obviously a much smaller sample than the entire season, so this could just be an oddity of this grouping of games. But looking at the team's run scoring in 16-game groupings reveals that this latest run is the third high-point for the team this year: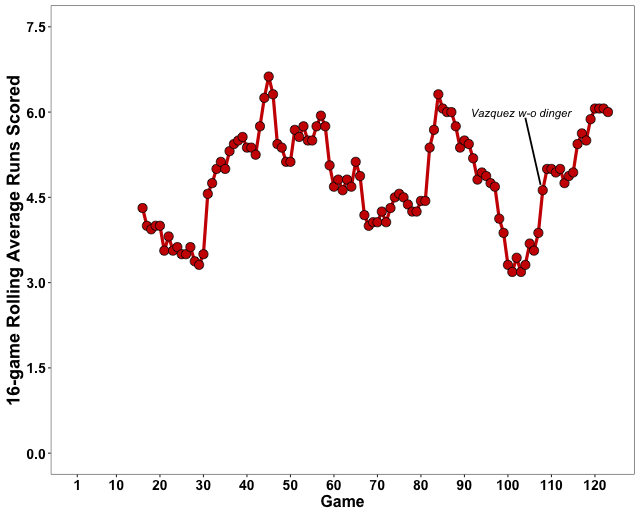 The weak pitching of the Oakland Athletics and Texas Rangers was a real boon for the offense around the quarter-mark of the season (Games 43-46), as was the trip to Toronto followed by another series with Texas (Games 81-84). Now around Game 120 we see another peak. Maybe this team just works toward being at high points every 40 games. But really, it is clear how things have been on a steady climb around that awesome game against Cleveland. The 12 runs they posted that night pulled up the (somewhat arbitrary) 16-game average, and it has continued upward since.
Critically, it is not just the increased average output over the last 16 games. It is the consistency with which they are doing so that has also been important. Relying again on coefficient of variation (CV), which is a standardized measure of dispersion around an average, the Red Sox's offense has been the sixth least variable in their run scoring over the team's last 16 games. And of the five teams who have been more consistent in their run scoring, only the Cardinals' 6.88 runs per game is better than the Red Sox. Basically, the Red Sox have put together a stretch where they are scoring a lot, and are doing so with great consistency: this last 16-game run is the least variable the Red Sox offense has been this season. That is a potent combination and a welcome change from the ups-and-downs of the season to this point.
The Red Sox have put together a stretch where they are scoring a lot, and are doing so with great consistency: this last 16-game run is the least variable the Red Sox offense has been.
An interesting aspect of this run in August is that it comes without Mookie Betts (66 wRC+), Xander Bogaerts (72) or Hanley Ramirez (64) contributing much. Each has had critical hits in big moments, which is excellent, but they have not been leading the way this month. Rather, Vazquez (184), Andrew Benintendi (181), Rafael Devers (169) and Mitch Moreland (153) have been carrying the load. I suppose this fits with my statement three weeks ago that it seems like as soon as a couple of players get going, another couple of guys struggle. Only lately, as with two other times this season, they are producing a lot of runs. Ideally, even if the who's hot-or-cold shifts around, the run scoring aspect holds, or at least does not falloff as terribly as it has the two other times the Red Sox have posted similar high run-scoring peaks.
August has been a fun month so far. The cosmic ballet has continued. The Red Sox have consistently scored runs, often by way of the home run (1.44 per game in August through Sunday, up from 0.98 per game through the end of July), and won games, including three walk-offs. Their top prospect has risen to stardom at the big league level and rattled a rival's end-of-game weapon in the process. Their previous top prospect is a strong candidate for Rookie of the Year honors. Chris Sale and Craig Kimbrel are on the Red Sox. Rick Porcello might be figuring things out. Their division lead has continued to increase, allowing important players, Dustin Pedroia and David Price, to avoid rushing back and risking further injury. This is all good stuff. Of course things are always more fun when the team is winning and playing good baseball, but it sure makes all of the nonsense about this team being unlikeable look even dumber now. The bottom line is that this team is really good, and has shown it over the last three weeks.
Photo by Bob DeChiara – USA TODAY Sports