We're kicking off our Roster Recaps here at BP Boston, and hell yeah, we're gonna start with Fernando Abad. There's a collective outrage among Red Sox fans when anyone takes the opportunity to us Abad's name as a pun, but they'll miss it when it's gone. Baseball season is too long not to be entertained by the fact that one of the Red Sox worst pitchers is named Abad.
The A-good news is that Abad, by most standards, improved this season. His FIP (3.68) was down ever so slightly from 2016 (3.98). While that doesn't look like that significant of an improvement, it should be noted that Abad's 2016 FIP doesn't accurately represent his performance in Boston. He was, after all, acquired mid-season last year after putting up solid numbers with the Twins during the first half of 2016. After he came to Boston, Abad posted a 5.44 FIP. That 18-game stretch for Abad was among the worst "seasons" of his career, posting numbers not dissimilar to the actual worst year of his career – 2015 in Oakland. To see Abad post numbers closer to the pitcher that the Red Sox thought they were trading for was, if not exciting, encouraging.
What Went Right in 2017
At first glance, his improved control jumps off the page. After walking close to six batters per nine innings during in 2016, Abad cut that number in half this year (2.89 K/9). His 7.7 percent walk rate this year looks a whole lot better than 2016's 13.3 percent. He doesn't really strike people out – his strikeout rate has been below the MLB average in four of his six seasons – so he couldn't really afford to walk 13 percent of the batters he faced again (although, can anyone?).
Another interesting aspect about the improvement is that Abad really didn't change much this year. Take a look at his pitch selection in 2016 vs. 2017: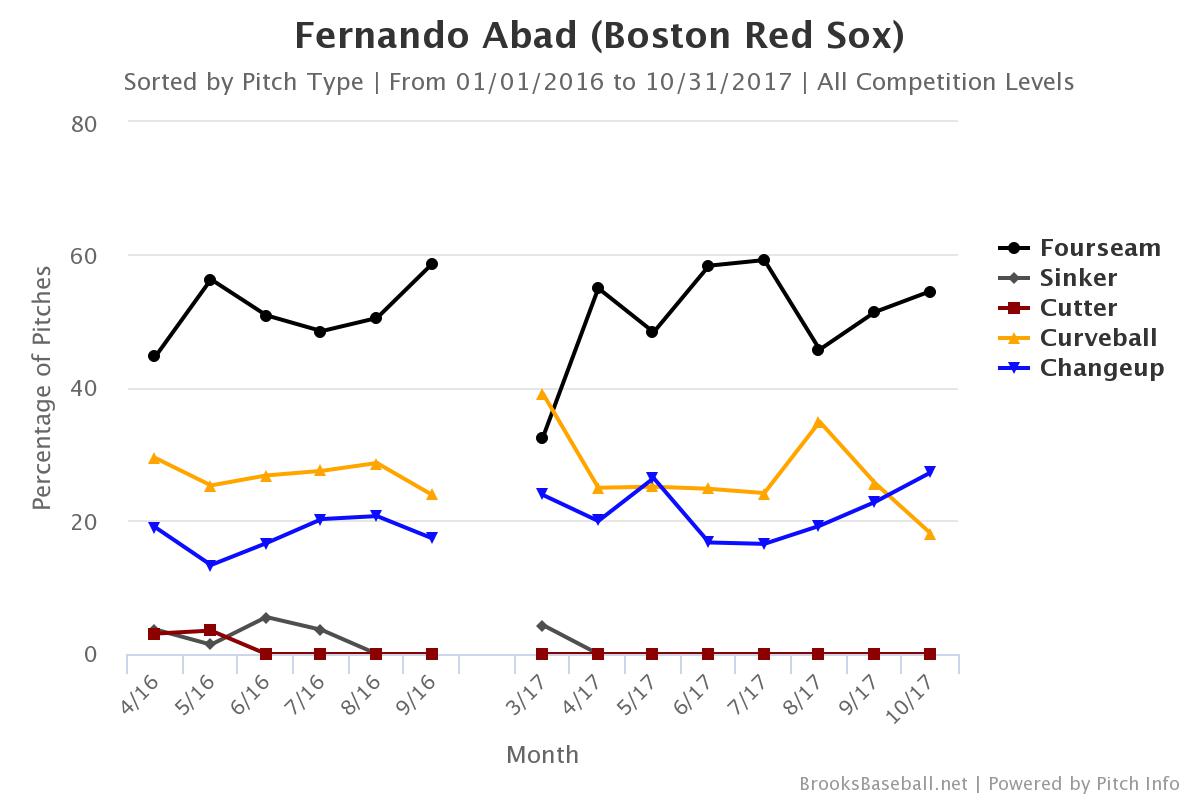 The two seasons look pretty similar. Abad ended this year throwing more changeups than curveballs, but he generally kept his approach the same.
His contact numbers also looked more like Twins version of Abad than what we've seen from the Red Sox version. Last year in Minnesota, he put up Soft-, Medium-, and Hard-hit percentages of 14.7, 54.7, and 30.5, respectively. Those numbers changed to 23.1/38.5/38.5 during his time in Boston. This year, his numbers normalized, as he posted a 16.9/56.9/26.2. It was his lowest Hard-hit rate in three years. He kept the ball in the ballpark this year and finished this season with an above-average groundball rate (45 percent) for the first time in his career.
What Went "Wrong" in 2017
A lot of these silver linings exist because Abad wasn't trusted with high-leverage moments at any point this year. He threw 43.2 innings of relief pitching for the Red Sox this year, and 4.1 of them were classified as high-leverage. For what it's worth, he allowed three earned runs on seven hits over 19 total batters faced in those situations. He didn't even really get any medium leverage innings either, as he only pitched 5.1 innings in that category. Of the 43.2 innings he threw this  year, 34 of them came in low-leverage situations.
What To Expect in 2018
Personally, I don't see a world where Fernando Abad is back with the Red Sox next season. He's an unrestricted free agent, and the team has more than enough middling starters that they can toss into the mop-up role. Why pay Abad two million dollars (or more) per year to do exactly what Brian Johnson or Roenis Elias can do for a fraction of the cost. Abad – and the Red Sox to a certain extent – benefited from Abad's role this year. Unfortunately for Abad, it's not a role that holds a lot of value, even when done well. He probably earned himself a shot with a major league team next year, but it doesn't feel like it'll be with the Red Sox.
Photo by Jesse Johnson – USA TODAY Sports