Welcome to Read Sox, a weekly column in which the BP Boston staff will aim to highlight some of the best Red Sox-related writing from around the web. From game stories to podcasts to player profiles to odds-and-ends pieces and more, any piece of Red Sox content that caught our eyes or ears, made us laugh or had us considering a new point of view is fair game for this column.
For our first installment, we'll take a look at Clay Buchholz's impressive first start, Hanley Ramirez's history of slow starts, Shane Vicotrino's triumphs in right field and more:
Clay Buchholz as the rotation ace
This will be a big season for Clay Buchholz. John Farrell named him the Opening Day starter, thereby subtly naming him the ace of the "aceless" rotation the Red Sox will use this year. Curt Schilling may think Buchholz is not an ace, but Pedro Martinez thinks that he has what it takes to be elite. These opposing views on what Buchholz can be fits with his performance over the last couple of seasons. 2012 was not good (4.65 fielding-independent-pitching (FIP) in 189.1 innings pitched(IP)), 2013 was great (2.78 FIP in 108.1 IP) before injury derailed his season, but then last season he was pretty bad (4.01 FIP in 170.1 IP). As any Red Sox fan knows, Buchholz can be quite the enigma on the mound. He discussed his evolution as a pitcher, and frequent fights with confidence, in a really fun article in which he revisited his 2007 no-hitter with Tim Britton of the Providence Journal.
Having Buchholz as a consistently effective pitcher every fifth day will do wonders for this team. His performance on Monday in Philadelphia was an excellent beginning to the season. Yes there is the Phillies caveat, and yes it was only one start, but Buchholz looked really good. Against a lineup that was almost entirely left-handed, he went seven innings, struck out nine, walked only one batter and gave up three hits. He had all of his pitches working, but perhaps none more than his curveball. It was a dandy on Monday. His curve was his second most frequently thrown pitch and when batters swung at it (24% of the time) they mostly whiffed (60%).
Ideally this start was a sign of what is to come from Clay this season. We will know more about Buchholz when he has to work through an order multiple times against an actual major league-caliber lineup.
Hanley Ramirez is a "slow starter"
Jason Mastrodonato of the Boston Herald wrote about how Hanley Ramirez has been prone to starting slow in his career. A needed addendum for that sentence is: "for him." Ramirez is an elite hitter, so his performance in any given month is likely well above average. But it is true that he tends to perform better in the second half of the season than he does in the first half. Here is a figure of his career wOBA monthly split: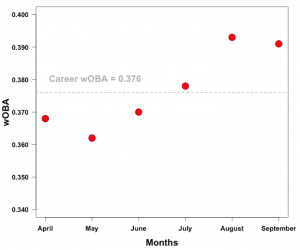 The trend is remarkably obvious. Hanley's performance runs counter to Max Marchi's research suggesting that after controlling for temperature, pitcher performance is behind hitter performance in the first few months of the season, but then catches up in July and August. Maybe he is a warm weather guy and takes some time to get himself locked in at the plate, although the rocket he hit off Cole Hamels on Monday may suggest otherwise. Regardless, his slower start is a real trend and, as he tells Mastrodonato, Hanley thinks finishing strong is more important than starting strong.
Rick Porcello, Red Sox agree to extension
Similar to what happened with Jon Lester last season, it was reported that the Red Sox and Rick Porcello had agreed to hold off on negotiating a contract extension until after the season. Porcello had informed Rob Bradford of WEEI.com that he wanted to focus on pitching without any distractions during the season. That was Sunday night. Then, after the game on Monday, the two parties announced a 4-year $82.5 million contract extension.
Porcello outlined his reasoning for agreeing to stay in Boston in an article on The Players Tribune. Porcello is a young, consistently productive pitcher, but at this point, $20+ million average annual value (AAV) seems high.  In his article, Bradford said that the few baseball executives he polled said that with another good season Porcello would be in line for a $90-100 million deal. In February, Mike Petriello suggested the same in an article at FanGraphs. However, that good season has not happened, which is likely why the deal is shorter than what Porcello may have commanded as a free agent after this season.
As mentioned, Porcello was in a place where another good season – especially one pitching for a team that is a legitimate championship contender – would have made him very attractive on the free agent market. For the last three seasons he has been a ~2.7 win pitcher, and next opening day he will be just 27 years old. There would have been many teams interested in signing a pitcher like him. But, as Porcello outlined in his article, Sox players and coaches made a real impression on him and Boston is where he wants to be for the foreseeable future.
The Shane Victorino vs. Rusney Castillo decision
The wealth of outfielders available to be on the Red Sox 25-man roster was a consistent story this spring. Hanley Ramirez in left field and Mookie Betts in center field seemed certain, but right field was to some extent an open question. Would the Opening Day starter be Rusney Castillo, Jackie Bradley Jr., or Shane Victorino? In the end, the Red Sox decided to option Rusney Castillo and Jackie Bradley Jr. to AAA Pawtucket, going with Shane Victorino as the starter. Peter Abraham examined the decision in his article in the Boston Globe.
John Farrell had been consistent in saying that, if healthy, Victorino was his starter, but it was not clear if that was his actual stance or rather a ploy to quell the media. Castillo had an excellent spring, and Bradley Jr. appeared to have things turned around at the plate after a miserable time in 2014. But for now these players will serve as depth and the veteran Victorino will have right field duties, which is a perfectly reasonable decision.
As we all know, Victorino is an excellent defender. In 2013, when he was playing regularly, he was the class of the position, recording 21.3 FRAA, while the next closest right fielder was Hunter Pence with 14.8. Unfortunately, injuries limited Victorino to 133 plate appearances in 2014, so we did not get to see how he would back up the 2013 performance. The decision to go with Victorino will be discussed often over the next couple of months, especially if Victorino struggles. Fortunately, the Sox have the depth to replace him if he struggles.
More Feats of Mookie
The Boston Globe reporter Alex Speier published a very interesting article on how Mookie Betts' professional debut was miserable but helped shape how the young player has approached the game. After an interesting day in the field at shortstop, a conversation with his coach helped him understand how to manage frustration with himself and his teammates. A few years later, he is now a player with near-untouchable status in the Red Sox's organization.
While rumors swirled all offseason about the Phillies demanding Betts be included in any deal for Cole Hamels, Betts has not shown any adverse effect from all the attention. Indeed, Betts homering off of Hamels in the first game of the season seemed to emphasize that point. It was certainly a great start to the season for Betts, and, as he told Speier, he is ready for the scrutiny of the Boston market, and ready to handle any success and adversity as best he can.
Photo by Kelly O'Connor, sittingstill.smugmug.com