The Red Sox re-acquired Justin Masterson this offseason after a 2014 season that could be described as "disappointing" or "ineffective" or even "poor", depending on your point of view. Since his last time with the Sox, Masterson threw 982 and 1/3 regular-season innings, with some being good (2010 and 2011) and some being average (most of the rest of his career). After a rough 2014, the Sox are hoping that Masterson can return to league-average production in 2015. But to do that, he may need to pull a Marty McFly and travel back in time to a period when he was a slightly different pitcher with more velocity and better command.
For years, the song has remained the same on Masterson: he's the reigning king of ground-ball starters, pairing his heavy sinker with a sneaky-effective slider and a four-seam heater. When you think of your prototypical sinker-slider starter, Masterson's your man. He's murder on righties, but lefties just feast off the guy, thanks to his lack of an effective pitch against hitters from the opposite side.
(Seriously. Don't let this guy face left-handed hitters, if at all possible.)
The results of this approach have been great in the past, especially taking into account a dynamic 2011 campaign. Even the recent past has been solid, as his 2013 was an All-Star campaign (1.8 WARP), though 2014 was decidedly not (0.8 WARP). Masterson started off okay — down from the previous season, but still moderately effective — before missing time with a knee injury in July of '14. After that, things went downhill in a hurry. After being traded to a weaker league (National) and division (Central), Masterson went from meh to maybe we shouldn't have traded for this guy. Opposing hitters put up a .311 True Average against Masterson while he was wearing Cardinals colors, which is to say he was effectively facing a lineup of nine Lucas Dudas or David Ortizes every game. To add insult to injury, he wasn't even used in the post-season by the Cardinals after his acquisition.
BP's Mark Anderson provided a detailed scouting report on Masterson at the close of the 2014 season. Within it, you can see a lot of warning signs. Anderson comments on Masterson's decreased fastball velo, the way his cambio has kind of fallen apart, and his inconsistent follow-through on his delivery. Despite only moving into his age-30 season, there's been a falling off recently.
But there was a reason why Ben Cherington and company may have thought Masterson was a good bounce-back candidate, or at least a fair value on the starting pitching market. What we saw from Masterson in 2014 could certainly represent the worst-case scenario, a pitcher who lost a little velocity, as well as a little command. It's not crazy to think that a new organization — especially one with other pitchers who fit Masterson's style — might believe that they have the solution to his issues. Especially when you could potentially ascribe some of his issues to an injury, and not even an arm injury at that.
Then again, if you were hoping to see Masterson's heater reach back up to the 92-mph range where he lived between '09 and '13, then I have bad news for you. In his first two outings of the season, Masterson has actually seen his velocity drop further, down even from his flaming dumpster of a run in St. Louis last season.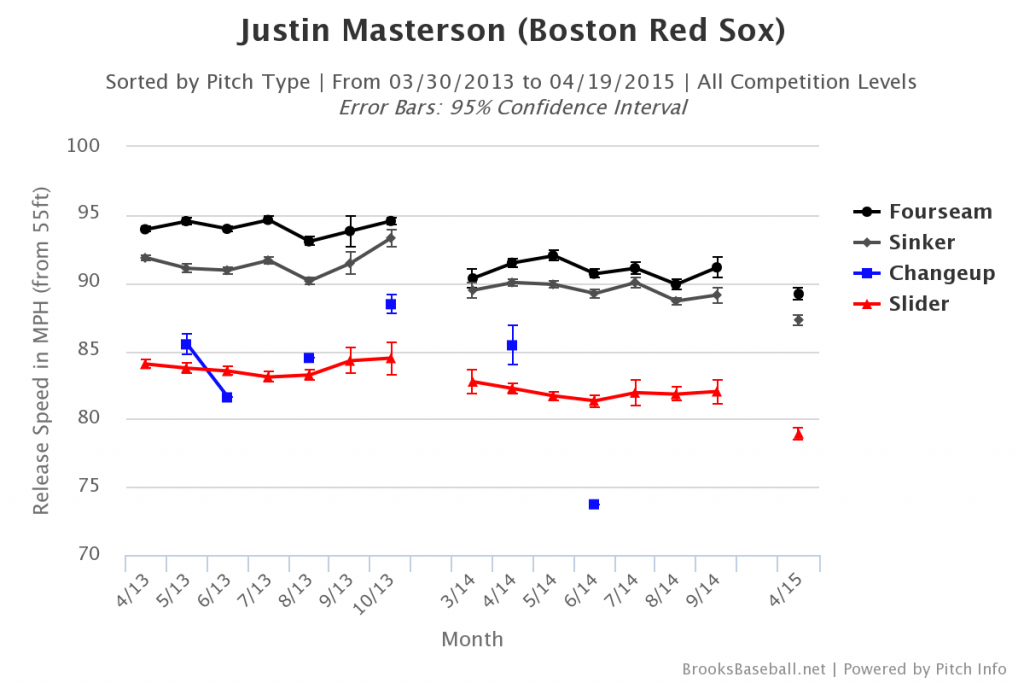 Yes, it's only two outings into his 2015 run. Yes, sometimes velocity ticks up a bit as the season goes on. Yes, he's shown a much-improved strikeout rate in his most recent 2015 innings. But we hear all the time about small samples, and what does and doesn't stabilize so quickly during the start of the season. Fastball velocity, however, tends to stay pretty constant. So we're off to a bit of a rough start here.
On the bright side, strikeout rate stabilizes fairly early too. According to BP's Russell Carleton, it stabilizes at or around 70 batters faced. As of today, Masterson has a tasty 22.5% strikeout rate against the 49 guys he's faced, and it would be awfully encouraging to see that stick around for much of the season. Will it? I'm not sure. It's not like his swinging strike rate (6.4%) is high. Instead, it's still below his career average.
In the last few paragraphs, I've thrown a lot of data at you. And we haven't even really talked about the outcomes … the things like how many runs he's given up, or even his fielding independent numbers. So, let's try to simplify.
Masterson makes his living off weak contact, specifically ground balls. To get those grounders, he's relied on his plus sinker and a plus slider that works as an out-pitch and a real weapon against right-handed hitters. The slider's still there, but it doesn't play off the sinker quite as well as the velocity has dipped on that fastball. His four-seam fastball has diminished as well.
Without a pitch to beat lefties (his changeup is a mess), and with the decrease in velocity, you can expect his strikeout rate to dip. At the same time, Masterson seems to be struggling with his command and control, seeing his walk rate rise.
The ERA-level results have been bad so far, but he is pounding the zone, getting contact, and the contact is going down into the dirt. His BABIP (.355) has been high to start the season, but that's the way small samples work. With the solid Boston defense behind him, inducing ground balls is not the worst strategy in the world, especially if he can manage to get every hitter to ground the ball to his Gold Glove second baseman. That was likely the line of thinking before signing Masterson to rejoin the Red Sox this winter.
In a vacuum, there's lots of bad, terrible, no-good news. But as Anderson noted in his scouting report, there's hope that some things could come together in a positive way, and his current FIP is sitting pretty at 2.96. The Red Sox must believe that there's some hope — though maybe not for this level of peripheral performance — or else they probably wouldn't have inked him to a nice little free-agent deal.
To go back to what he was, Masterson needs to do one of two things: he needs to reach back and find some of his old velocity, or he needs to reach back and find some of his old control. The only other alternative for improvement is to find something new: a new pitch or a new way of pitching. I don't think that anyone's seen anything new from Masterson yet.
There's a cliche that says "time heals all wounds," but that's not true of the fatal ones. While Masterson would be best served turning back the clock to his prime, he'll have to find some way to keep this up, despite the diminishing quality of his offerings. Otherwise, he could find himself falling down to the depths of the bullpen, and taking the Red Sox team pitching stats down to the basement with him.
Photo by Kelly O'Connor, sittingstill.smugmug.com