The name of the game is adjustment. Actually the name of the game is baseball, but for young hitters, they won't be playing baseball at the major league level for long if they can't adjust. Sooner or later Major League pitchers figure out the weaknesses in a young hitter's swing. Then they exploit them relentlessly. At that point it's up to the young hitter to adjust back, to learn to hit or at least deal with the pitches he was susceptible to before.
It happened to Xander Bogaerts last year, and it's happening to Mookie Betts now. I wanted to look at Betts, how they're pitching him, what he's hitting, and how he's trying to adjust, but first it seems intuitive to look at Bogaerts journey through the same crucible Betts is now experiencing.
On June 3rd of last year, Xander Bogaerts was hitting .304/.395/.464. He had a silly high BABIP (.395) but he also had five homers and 16 doubles. He had a 20 percent line drive rate over the first half of the season. It wasn't all luck. He was hitting the ball hard. Then, for the remainder of the season, he hit .199/.232/.299. Why?
Look at these four heat maps. This first one is Bogaerts' Whiff Rate (the number of times he swung and missed over the total number of swings) from the start of the year through June 3, the date his OPS peaked.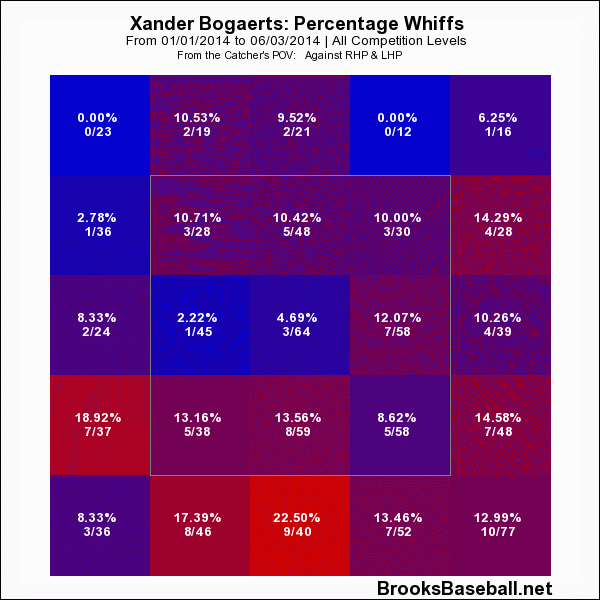 This next one is his Whiff Rate from June 4 through the rest of the season.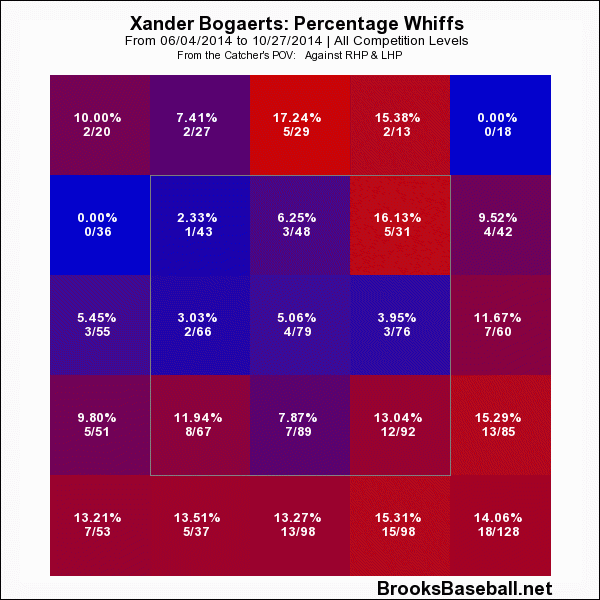 He swung and missed a lot more later in the season than he had earlier, and especially so up and away and down and away (these plots are from the catcher's point of view so outside to Bogaerts is on the right side of the plot). It looks like the biggest jump is up and away, which went from blue (good) to red (not), but look at the numbers and you can see that low and away was actually a much bigger problem.
Let's break it down a bit more. Here's the same data, but only for sliders and curveballs.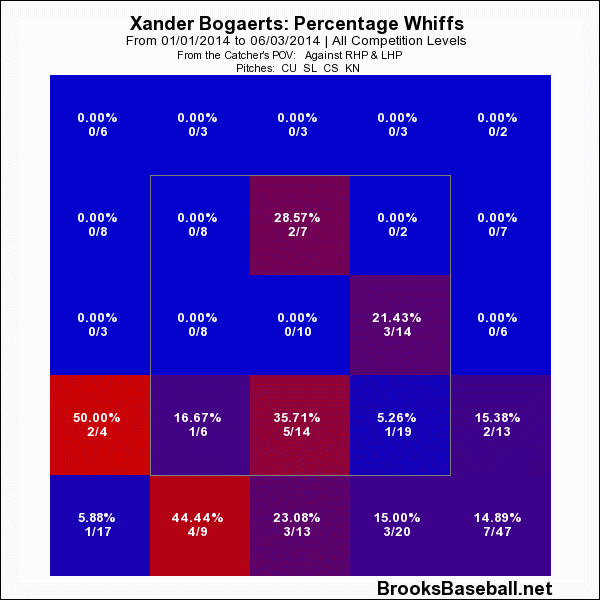 Some swings and misses low as you'd expect, these are major league sliders and curveballs after all, but nothing overly dramatic through June 3. Now look at the plot for June 4 through the rest of the season.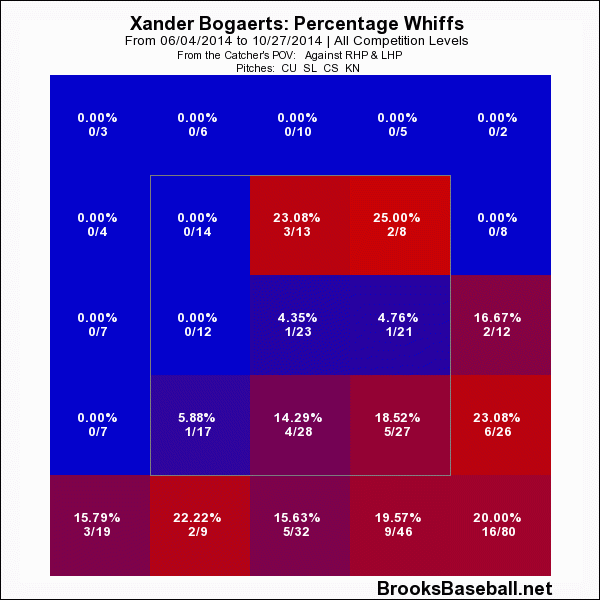 Good gosh. This is the adjustment major league pitchers made to Bogaerts and the adjustment that Bogaerts wasn't able to make back for a long period of time. Look at all that red in the lower right corner. Pitchers were burying him low and away with breaking stuff and he couldn't touch it.
Bogaerts hasn't been fantastic this year but if you want some semblance of optimism, here's the same plot again for this season (Whiff Rate on curveballs and sliders).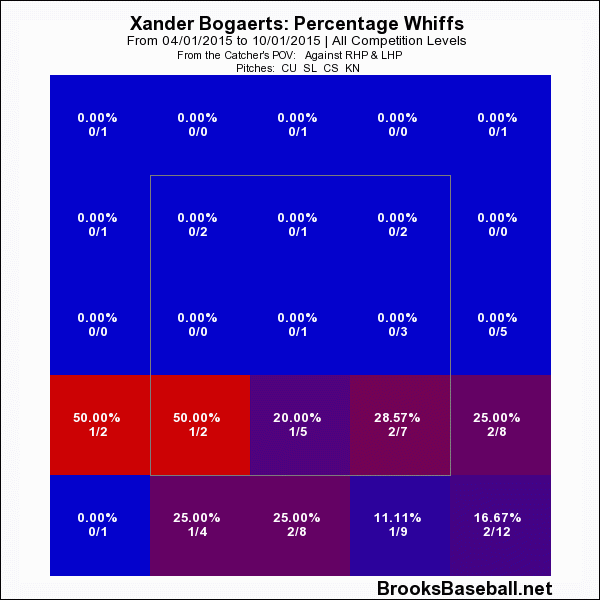 That's a big improvement. Pitchers are still going there, but Bogaerts isn't accommodating them on nearly the same scale as last season.
You wouldn't know it but this article isn't about Xander Bogaerts. It's in fact about Mookie Betts. It's about the developing book on how to pitch to Betts and how Betts is adjusting to that pitching.
Betts came up mid-season in 2014 and ended up playing 52 games and getting 213 plate appearances and hitting .291/.368/.444. This season he's at 20 games and 96 plate appearances and is hitting .229/.316/.349. That's a significant drop off in his slash line. Something must be up!
The good thing is if you look at the same Whiff Rate heat maps for Betts… well, they say it's better to show than tell, so here: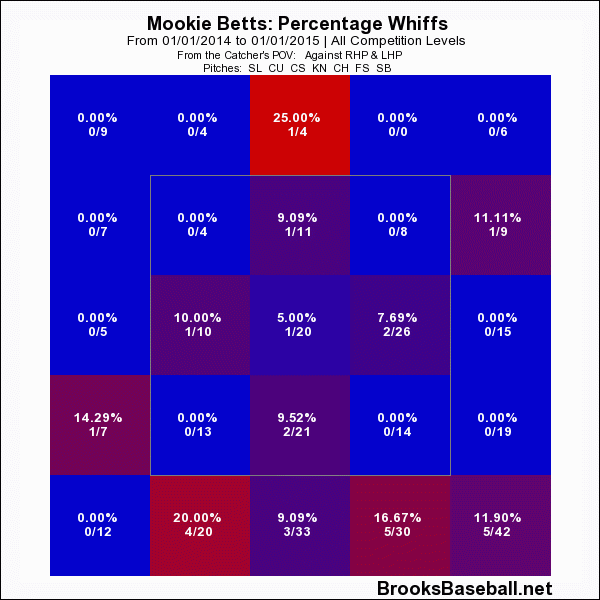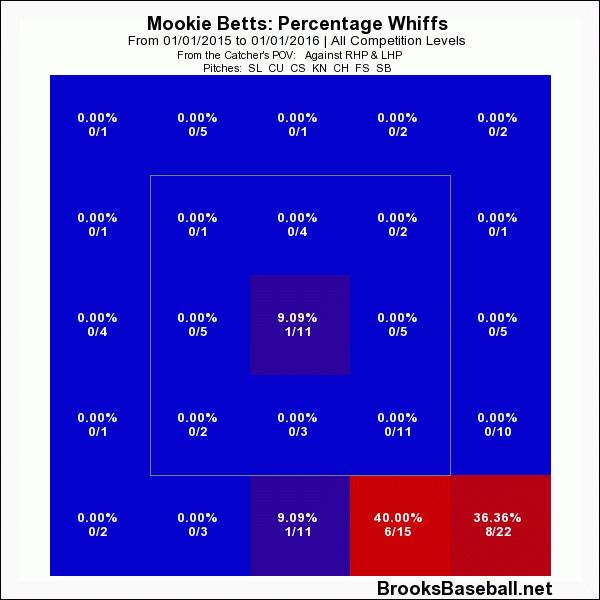 The top one is the 2014 season and the one below is the 2015 season and they both show Betts' Whiff Rate. The good news is Betts isn't swinging and missing in the zone anymore, or above it, or inside either. I don't want to call it "bad," so we'll go with the non-good news is that the bottom chart might remind you of one of the Xander charts.
I'm cheating a little bit because the above heat maps don't include fastballs. Betts has missed a few fastballs up and a few inside, but mostly those haven't been a problem. The problem, if indeed there has been one, has been the same as that which confounded Xander over the majority of the 2014 season, namely sliders low and away. The thing is, every major league hitter is confounded by sliders low and away. A good slider low and away is a very effective pitch against anyone! Often times a well executed slider will get even great hitters to whiff. The trick is to not do it too often, like Xander last year. Don't offer at pitches outside the zone frequently, and if you can hit a few of them as line drives the other way to put a bit of fear in the pitcher, so much the better. Betts has a few hits off sliders, even low and away ones, and a homer that came off a slider that was middle in.
It's no secret, as the NESN crew have been discussing it during Red Sox games, but Betts is crushing middle inside pitches, especially hard stuff. Not including last night (where he went 2-for-5) Betts is slugging 1.429 on fastballs middle in. That's the pitch he's been looking to get and the pitch pitchers are trying not to throw him.
Betts isn't perfect, he'll chase a good slider low and away or a fastball up in a two strike count like many hitters, but he'll also make hard contact a lot of the time.
This season Betts is swinging at more pitches outside the zone and, as you'd expect, missing a slightly higher percentage of the pitches he swings at outside the zone, but it's not to the point where you'd call it a problem. Like almost any hitter, you can get him out with good pitches, breaking balls that break hard for example, but conversely he'll turn around inside fastballs and weak junk with the best of them.
What's more, Betts is hitting the ball very hard. According to Baseball Savant, Betts has the fifth highest average velocity off the bat of any player. (Not shockingly if you've watched many Red Sox games, Hanley Ramirez is first.) Betts is pretty close to second place as well. He's hitting the ball hard with frequency, but his line drive rate is down a bit. Or up a bit. It really depends on where you're getting your data. The salient point is that, at least so far, Betts is hitting the ball hard and pitchers haven't figured out a formula for getting him out beyond "pitch well." He isn't perfect, he'll chase a good slider low and away or a fastball up in a two strike count like many hitters, but he'll also make hard contact a lot of the time. Right now his BABIP is a very un-Mookie-like .258, much lower than you'd expect for a line drive hitting speedster. I think he's hit into some tough outs. His approach hasn't been negatively effected either as he's still walking over 10 percent of the time and striking out a bit over 15 percent of the time.
Betts is, for all intents and purposes, a rookie, and we're only a month into the season. Right now he's hitting the ball hard on a line, he's not getting himself out too much, he's selective at the plate, but not overly passive. Maybe pitchers will figure out he's particularly susceptible to sliders and will pound him low and away until he gets all out of whack. But with each passing day and with each Mookie line drive I doubt that scenario just a bit more.
Top photo by Bill Streicher/USA Today Sports Images