The Red Sox entered the season with a bevy of groundball pitchers in their rotation, or so the narrative went at the time.
Foremost among them was Rick Porcello, newly acquired from Detroit where he had earned his reputation as a heavy sinker-baller. From 2012 to 2014, Porcello's groundball rate sat above 50%, and his sinker was a big reason why. The right-hander turned to his sinker in 43% of his offerings during that time span, far more than any of his other pitches, including his four-seam fastball.
As this zone chart from Brooks Baseball shows, Porcello pounded the lower and outer-left portion of the strike zone with his harder offerings from 2012 to 2014: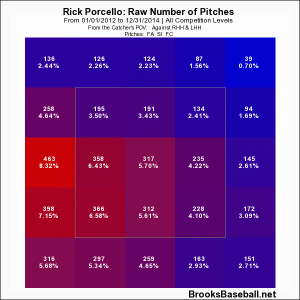 Porcello's strategy during this time was clearly to churn out grounders by attacking the bottom parts of the zone. He didn't generate all that many strikeouts as a result, and a notoriously poor Tigers infield defense didn't do him too many favors either.
Yet in 2014, Porcello's results finally improved, and after the Red Sox traded for him this offseason, many viewed the 26-year-old as the poster child of Boston's groundball-oriented staff.
As many observers have pointed out, however, the Red Sox aren't exactly keeping the ball on the ground with regularity like many expected. For his part, Porcello has turned far more to his four-seamer than in years past. Per Brooks Baseball, he has thrown his four-seam fastball 31% of the time through 44 innings this season, far more than the 19% he averaged in the six years prior.
As a result, he has begun attacking the upper portions of the strike zone, a reality that becomes more apparent when looking at this zone chart of his harder offerings so far in 2015: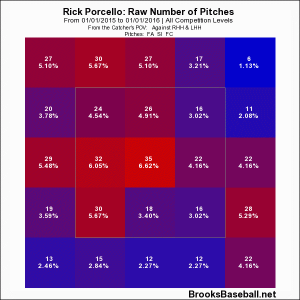 Interestingly enough, Porcello's results have changed mightily through his first seven starts in a Red Sox uniform when compared with the rest of his career. His groundball rate, long sitting north of 50%, has dropped to 41.9% this year, which would represent the lowest single-season mark of his career by far.
Porcello's strikeouts have gone up in turn, with the righty garnering more whiffs as he uses his four-seamer more aggressively up in the zone. His current 20.1% strikeout rate would represent a career-high as would his 3.5 strikeout-to-walk ratio.
Most intriguingly, Porcello's four-seam fastball has been among the best of any pitcher in baseball. His current Whiff/Swing% with the offering sits at 30.1%, the third highest mark among MLB starters and above guys like Johnny Cueto, Max Scherzer and Matt Harvey.
From a results standpoint, Porcello's four-seamer has been impressive as well. The pitch has yielded a .190 true average through his first seven starts, fourth best in all of baseball and better than pitchers like Scherzer, Gerrit Cole and old friend Jon Lester.
These are pretty remarkable results for a starter who just two months ago was known mainly for his heavy sinker and little else. That Porcello is striking batters out at career-best levels with an aggressive fastball approach is certainly a positive for the Red Sox and the pitcher they recently invested four years and $82.5 million in.
Still, Porcello's altered approach might leave him more susceptible to hard contact. Pitching up in the zone can certainly help a pitcher garner more whiffs, but such a tactic can also leave a hurler more vulnerable to the long ball.
That notion is especially noteworthy given Porcello's early-seasons issues with surrendering home runs. He hasn't given up a home run in any of his last three outings, but Porcello has allowed six long balls in 2015, which is one-third of his full-season total from a year ago. His .311 BABIP is well above the league's average and might also indicate that batters are squaring up the ball against Porcello more than you'd like to see
Considering Joe Kelly has also used his four-seamer more frequently this season in lieu of his sinker, Porcello's pitch usage is worth monitoring as the season continues. Kelly himself has had issues with giving up hard contact, though Porcello has certainly pitched better than his rotation-mate. Generating more strikeouts is rarely a bad thing, and it's certainly odd to talk about the potential drawbacks for both Porcello and Kelly despite their improved strikeout and walk numbers.
Porcello's ability to evolve as a pitcher and develop an effective four-seamer is a positive step for his development.
But will Porcello's increased number of strikeouts ultimately lead to better results? Will he continue to attack the upper portion of the strike zone and turn further away from his sinker? Will the departure of Juan Nieves and the arrival of Carl Willis as Boston's pitching coach have any effect on how the club's starters approach opposing hitters the rest of the season?
We don't have answers to these questions just yet, but they'll worth monitoring as the 2015 campaign continues.
At the very least, Porcello's ability to evolve as a pitcher and develop an effective four-seamer is a positive step for his development. More strikeouts likely give him a better opportunity to become the mid-rotation starter Boston is paying him to be.
Yet it could come with a cost, and one that sees his overall performance on the mound grow a little more volatile. Balancing this new approach with Porcello's knack for working down in the zone and generating weak contact with his sinker will be key for the righty's outlook moving forward and the long-term future of the Red Sox rotation.
Photo by Greg M. Cooper/USA Today Sports Images