Note: This post was written prior to Wednesday's oddly effective outing by Miley. The stats below only reflect Miley's first six starts of the season.
Of the new pitchers added in the last calendar year, Wade Miley is the one I was the most excited about coming in to this season. Although he didn't have intrigue of Rick Porcello, the overwhelming stuff of Joe Kelly or the past performances of Justin Masterson, he had the skills to be an exciting addition. He's had seasons with huge ground ball rates, low walk rates and high strikeout rates. He just hadn't been able to put it all together. If everything clicked at the same time, however, the Red Sox had a strong starter on their staff.
This is what I get for being excited. Before his weird-yet-effective start yesterday, the first six starts of Miley's Red Sox career had been disappointing the say the least. In his first six starts, he threw  just 28.2 innings, an average of just over 4.2 frames per start. He had a 6.91 ERA, a 4.31 FIP and is allowing a .287 TAv before Wednesday's start. While he's been better in his first couple few this month, it's been a really rough start for the 28-year-old.
To get a good look at just what's gone wrong for Miley in 2015, it's helpful to take a quick look at his 2014. Although the final numbers didn't look great, we saw a new Miley last season. While his walk rate jumped up above three batters per nine innings, he countered that with a newfound 8.2 K/9. This season, unfortunately, the strikeout rate has fallen back down to his normal 6 per 9 range, while his walk rate has only gotten worse since last year. So, what exactly has been going wrong for him?
The first thing you notice with Miley is that his plate discipline numbers are taking a tumble.
The first thing you notice with Miley is that his plate discipline numbers are taking a tumble. After getting his swinging strike rate up to 21 percent last season, it's fallen back to 19 percent in 2015. Relatedly, he's not getting opponents to chase pitches. Batters are swinging at just 24 percent of pitches out of the zone against Miley this year, compared to his career average of closer to 30 percent.
When you see numbers like that, the first instinct is to look for a velocity drop, but per Brooks Baseball, that hasn't been the case for his fastball. He's still throwing the four-seamer around 92 mph, with the sinker coming in just a tad below that.
The next step is to look into pitch usage, and there's actually a small glimpse of sunlight here. As I mentioned above, Miley has been better in his first couple starts this month. Coinciding with those starts has been a bump up in curveball usage. While he's typically used the pitch very sparingly throughout his career, he's thrown it 11 percent of the time this month. It's worked out, too, as the pitch has resulted in a whiff one-third of the time while holding batters to a .167 AVG without an extra base hit.
There is some good news and some bad news when we look at the way Miley has attacked the zone. The good news is that he's still pounding the bottom of the zone in a similar fashion to how he's always attacked it.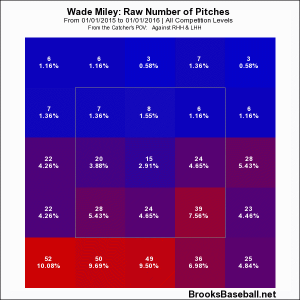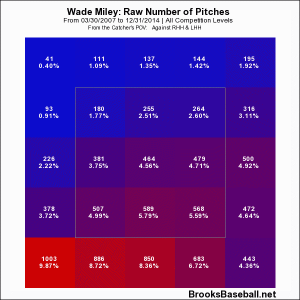 The bad news is that he's not getting the same ground ball results has he has in the past. In fact, he's struggling in one area of the zone in particular.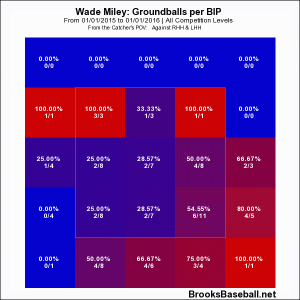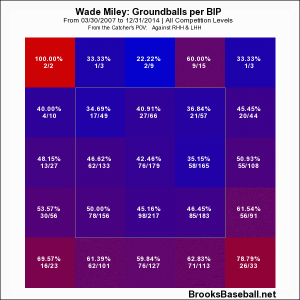 So far this season, opponents are not turning over on pitches to Miley's arm side. He's typically gotten grounders on around half of these pitches, but everything to that part of the plate is being hit in the air right now. The lefty relies on a ground balls as a big part of his success, but he's watching his GB% fall from 52 percent last year down to 47 percent in 2015. If he's going to get that back up, he's going to have to force batters to hit balls on the left side of the plate on the ground.
For one last thing I noticed, I move back to the decreasing whiff rate I mentioned above. Miley turned into an entirely new pitcher last season, one who relied on strikeouts and ground balls. With that being said, take a look at where in the zone his whiffs are coming compared to last season.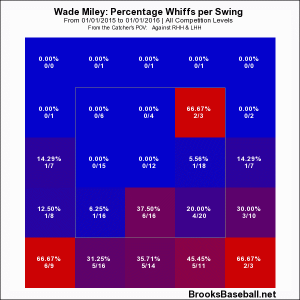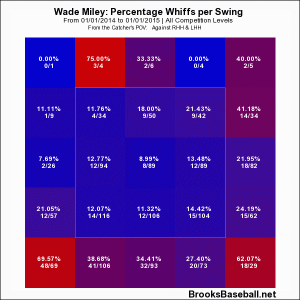 What's abundantly clear from looking at these plots is the lack of swinging strikes in the upper-third of the zone. Last season, Miley was able to frequently blow these pitches by batters. This year, however, players are making contact much more often. Since his velocity hasn't fallen off from 2014, the main culprit here is likely a failure to keep hitters off balance. If batters can guess where the pitch is going to be thrown, they're typically not going to swing and miss.
There have been a lot of negative developments to start Miley's first season with the Red Sox. His plate discipline numbers are down across the board, his grounders are down — especially on pitches to his arm side — and he's not generating whiffs on pitches to the upper part of the zone. The good news is he hasn't suffered a dip in velocity and he's made successful adjustments in his last few starts. If he's going to continue to improve his performance, the adjustments will have to keep coming.
Photo by Kim Klement/USA Today Sports Images