The Red Sox didn't expect to have the league's best starting staff in 2015, but Wade Miley was supposed to at least bring a calming influence for the team's rotation.
That wasn't the case in the month of April when Miley hardly resembled a major league pitcher, his performances instead akin to throwing gasoline on the runaway fire that was Boston's rotation. Miley made four starts in April and finished with an 8.62 ERA and 4.79 FIP. In two of those outings, Miley failed to get out of the third inning. He walked more batters (11) than he struck out (10) over 15.2 frames.
Yet as awful as Miley's April was, the left-hander's May has been equally as impressive. Through five starts this month, Miley has posted a 2.60 ERA and 3.28 FIP. He's thrown at least seven innings in three of those outings, and last time out against the Angels, Miley allowed just one run over eight frames in his best performance in a Boston uniform thus far. In 34.2 innings this May, Miley has struck out 21 batters and walked only seven.
Miley's strong month has come at just the right time for the Red Sox, who are struggling for any type of consistency up and down their roster. His improved performance has coincided, most notably, with better control after he oddly compiled a 14.9% walk rate in April, which was far above his career average of 7.3% entering 2015.
An erratic Miley is something the Red Sox should hope they never see again. The 28-year-old is at his best when he can get ahead in the count and spot his fastball to either side of the plate. Given that he'll never be one to overpower opposing batters (he's averaged 92.2 mph on his four-seamer this season), Miley can't exactly afford to hand out walks on a regular basis.
For whatever reason, be it mechanical changes or improved confidence on the mound, Miley's control has returned, with the lefty's walk rate sitting at just 5.0% in May. Miley has really excelled at commanding his fastball to either side of the plate, and he's pounded righties inside with his four-seamer with increased success.
This zone chart from Brooks Baseball demonstrates how aggressive Miley has been with his fastball inside to righties: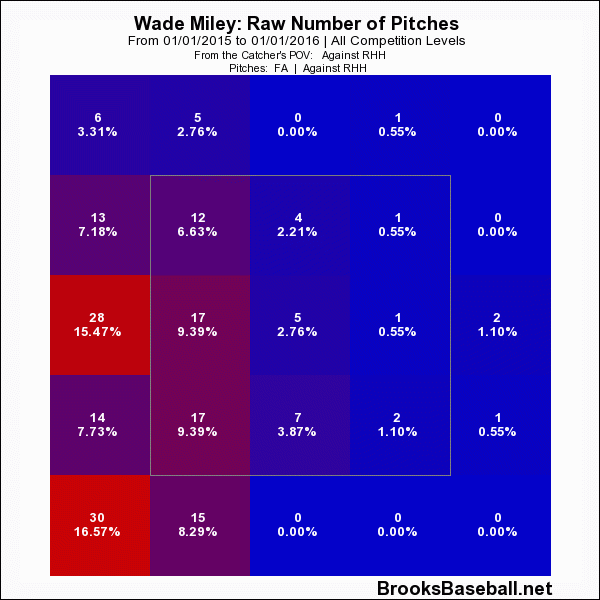 Miley has used the inside fastball to generate weak contact and freeze opposing batters, who aren't expecting the pitch. In his May 19 start against the Rangers, Miley kept going back to the inside corner, helping him pick up seven strikeouts in Boston's 4-3 win.
The four-seamer has been a big part of Miley's improvement in May, as he's used the offering 32% of the time this month (more than any of his other pitches) after turning to the pitch just 20% of the time in April. The offering hasn't been a big strikeout pitch for Miley, but it has helped him garner plenty of weak contact and keep the ball in the park.
Indeed, Miley's allowed just three home runs all season, and being able to keep hitters honest with a fastball he can command to either corner is likely a big reason why. Sure, he'll probably give up a few more long balls in the coming months as his home-run rate normalizes a bit, but seeing Miley put his homer issues from a year ago behind him is an encouraging sign.
In any event, Miley's strong month of May makes the three-year, $19.25 contract the Red Sox signed him to back in February look that much better. Ben Cherington knew he wasn't acquiring an ace when he traded for Miley in the offseason, yet the southpaw's recent performances have demonstrated his ability to give the Red Sox dependable starts in the back of the rotation.
That's well worth the roughly $6.5 million Boston will be paying Miley on an annual basis over the next three years.
Miley's impressive May has come at a time when the club's rotation continues to battle inconsistency. Clay Buchholz has been the only other Red Sox starter to truly pitch well on a regular basis over the last few weeks, and Boston will have to hope that Miley can continue to build on his recent success.
Considering the struggles throughout the rest of the team's roster, the Red Sox need Miley to remain the reliable starter they thought they were trading for.
Photo by Gregory Fisher/USA Today Sports Images