Welcome back to another Fenway's Future. This week we look at some pitchers on the upswing and a pair of position players going through roller coaster stretches. Oh, and Brian Johnson strikes again.
Triple-A Pawtucket: Brian Johnson, LHP and Deven Marrero, SS
Brian Johnson was just highlighted in last week's post, but it's hard to ignore Friday's dominance and where it leaves him among the Red Sox' top pitching prospects. Pitching in place of Eduardo Rodriguez, who made his major league debut Thursday night, the southpaw struck out nine batters over six perfect innings to lead the PawSox to a 1-0 win over Louisville. Johnson worked under a pitch limit and was pulled after 74 pitches. According to a tweet by Alex Speier, Friday was Johnson's third perfect outing of his professional career.
Johnson has allowed one run or fewer in four of his last five starts and in all but two of his 10 outings this season, and he's upped his K/9 to 9.27. The lefty should be next in line to get called up upon the next Sox starter implosion. Although it's unlikely Johnson will match Rodriguez's dazzling debut, it's not unreasonable to think the Red Sox will be more inclined to give another young arm a shot thanks to Rodriguez's effort Thursday.
Deven Marrero's adjustment to Triple-A pitching through half of last season and this season has been a difficult one. This season alone he's hitting .252/.318/.364 with a 25.1 K%. Although was drafted in the first round in 2012 more so for his athleticism and arm strength at shortstop than for his bat, Marrero hasn't shown the offensive effectiveness necessary to be major league ready in the near future. However, as Marrero has quick hands and a compact swing and the potential to be a competent line-drive hitter. In fact, he's shown improvement at the plate as he's in the midst of a five-game hitting streak in which he's gone 6-for-19 (.315). But the strikeout rate is still a glaring flaw that is likely to get worse at the next level.
Marrero is projected to be a traditional everyday shortstop. He's a plus fielder – although eight errors through 41 games at short isn't encouraging – who will be a bottom-of-the-order hitter throughout his career. But in a perfect world for the Red Sox, Marrero will never be an everyday shortstop in Boston – that's Xander Bogaerts' job to lose. The 24-year-old's seen time at both second base and third base, but those positions are locked up long-term with Dustin Pedroia's recent extension and Pablo Sandoval being signed through 2019. Marrero may be a trade chip more than anything else.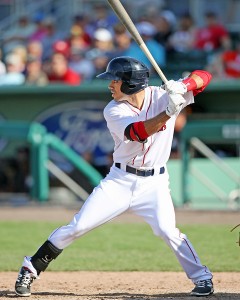 Double-A Portland: Carlos Asuaje, 2B/3B
The Red Sox appear to have another super utility man – Brock Holt 2.0? – in Carlos Asuaje. He's primarily a second baseman, but has also played at third base and throughout the outfield this season. His versatility will likely be his ticket to the big leagues given his average everyday hitting and fielding potential. Asuaje caught fire over Memorial Day weekend, going 6-for-12 with two homers, four runs and four RBIs in three games. But the 23-year-old has struggled since, going 1-for-13 and striking out three times in his last game Thursday.  Asuaje won't be asked to put up ridiculous offensive numbers, however. At least not in this organization. He has a solid 12.9 percent walk rate to go with his .372 wOBA and .313 BABIP, which is good enough to suggest he's going to advance through the minors in the next few years. The only uncertainty is when and where his opportunity will come.
High-A Salem: Trey Ball, LHP
Trey Ball's professional career has had an underwhelming start. The 2013 first-round pick struggled with his control and was hit hard in rookie ball in 2013 and Greenville last season. He hasn't been much better in High-A, sporting a 5.47 FIP and 1.37 strikeout-to-walk ratio through nine starts this season. Ball showed signs of potential before another setback in his most recent outing. After allowing just one run over his last 10.1 innings, Ball was tagged for five runs (three earned) on eight hits Friday night, surrendering three walks and a homer.
It's hard to give up on the 20-year-old so quickly despite the difficulties. The Red Sox probably feel the same way. Ball is a tall left-hander with decent fastball velocity and an improving changeup. He's 6-foot-6 with a 185-pound frame that is bound to fill out with proper training. Ball's biggest issue is his command, as his 3.64 BB/9 suggests. But that's a fixable problem for a young, athletic pitcher.
Single-A Greenville: Michael Kopech, RHP
Michael Kopech may be the most powerful pitching prospect in the Sox' minor league system. He possesses an explosive fastball that tops out at 98 miles-per-hour and a hard slider to put away hitters. He uses those two pitches primarily to get swings and misses, while his changeup still needs work. As Alex Skillin wrote last month, these attributes make Kopech a high-ceiling pitching prospect. Kopech has been especially overpowering as of late, averaging seven strikeouts over his last three outings and giving up two runs over 14 innings. One of the notable concerns about the 19-year-old heading into 2015 was his command. Kopech posted a 5.93 BB/9 over eight starts in rookie ball last year. He's down to 3.03 walks per nine innings through his first nine Single-A starts, boasting a 3.45 strikeout-to-walk ratio in the process.
Command will continue to be a work in progress for Kopech. But like with Ball, it's something that comes over time with young pitchers of his potential. Besides, when you're striking out 29.2 percent of the batters you face, any criticism can shrugged off as nitpicking for now.
Photos by Kelly O'Connor/www.sittingstill.smugmug.com