Welcome back to another edition of Fenway's Future. This week we look at Henry Owens' ongoing adjustment to Triple-A, as well as a pair of former independent league pitchers making their mark in the minor leagues.
Triple-A Pawtucket: Henry Owens, LHP
After yet another baffling Red Sox loss Thursday afternoon, NESN aired that night's PawSox game against Rochester. With Henry Owens on the mound, it seemed like a perfect opportunity to inject some optimism back into the hearts of ever-frustrated fans. The left-hander hardly did that, allowing four runs over five innings in a 4-1 Pawtucket loss. It was the second straight start in which the 22-year-old gave up four runs. It dropped his ERA to 3.49 and FIP to 4.41 through 11 starts this season.
Owens came into the year as one of, if not the, Sox's top pitching prospect and a hopeful to reach the big leagues as early as September. Although that all may still be true, it hasn't looked that way for parts of 2015. Owens' walk rate (5.76 BB/9) and strikeout rate (7.43 K/9) are both at their least productive in his professional career and he's still prone to getting himself into trouble. However, the dropoff is not as concerning as it appears. Owens hasn't dazzled like many hoped or expected, but he hasn't had any major clunkers either. The high walk numbers and shortened outings are simply part of a young pitcher adjusting to a new level of competition, while Owens is also trying to improve his secondary stuff, most notably his curveball which is still a work in progress.
Owens is still just one year removed from cruising through the Eastern League. He needs to develop better command and his secondary pitches, but he's still a potential middle-of-the-rotation starter in the coming years. No need to panic.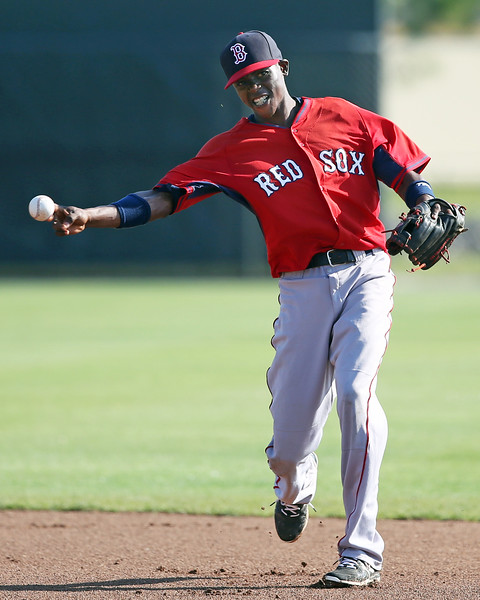 Double-A Portland: Jose Vinicio, 2B and Jorge Marban, RHP
Jose Vinicio was signed as a 16-year-old out of the Dominican Republic, and has made a gradual rise through the Red Sox system since. Last week, a month before his 22nd birthday, Vinicio was finally called up to Double-A Portland. He's a rangy, above-average infielder who played exclusively at shortstop before this season. This year he's seen more time at second base, including in his first two games in Portland.
While his glove and speed are his strengths, Vinicio's bat is still a work in progress. He posted a .223 TAv in 31 games in High-A Salem. He's a switch hitter with good bat speed despite a lack of power. But Vinicio finished strong at the plate before his promotion, going on a seven-game hitting streak that included five multi-hit games. Vinicio has three hits in his first eight Double-A plate appearances.
Jorge Marban's journey to the Red Sox farm system is a unique one. The right-handed pitcher started off in the Rangers organization before spending the last three years in the independent leagues. The Sox discovered Marban during winter ball in Australia, and he's turned into a nice signing this season. Between High-A and Double-A, Marban's worked 10 straight scoreless appearances out of the bullpen over 16.2 innings. He's yet to give up a run in his six Double-A outings, posting a 2.63 FIP and 9.28 K/9.
High-A Salem: Aaron Wilkerson, RHP
Aaron Wilkerson isn't a typical Carolina League pitcher. The 26-year-old right-hander was signed out of the independent leagues just last year with limited hope for a fruitful professional career. But if Wilkerson's performance last month showed anything, it's that he won't be disappearing any time soon. Wilkerson had perhaps the best statistical month of any Sox minor league pitcher in May, posting a 0.71 ERA in 25.1 innings in which he allowed just 11 hits and six walks. His strength is compiling strikeouts, which was evident in the 38.2 percent strikeout rate he boasted in those five appearances, three of which were starts.
Wilkerson didn't pick up where he left off in his first start of June Friday night, allowing four runs on six hits in 2.1 innings of relief. Despite Wilkerson's rough outing, the numbers suggest he's been strong overall. He sports a 1.44 FIP and is an impressive strikeout pitcher with decent velocity  –  his fastball usually hovers around the low-90s. His 11.39 K/9 and 5.83 strikeout-to-walk ratio are notable enough to assume he'll continue to advance through the system, although he may need to settle as a full-time reliever if he wants a shot at the major leagues in the future.
Low-A Greenville: Mauricio Dubon, SS/2B
Few players in Greenville have hit the ball better of late than Mauricio Dubon. The 20-year-old is coming off a six-game hitting streak and has a hit in seven of his last eight games, including three multi-hit games. The streak upped his TAv to .281 and his wOBA to .352. At 6-feet, 160 pounds, Dubon's smaller frame makes him primarily a contact hitter, but he's turned his plus speed into runs, scoring 13 times over this eight-game stretch. A 26th-round pick in 2013, Dubon appears to be surpassing expectations so far. Along with his hitting coming around, Dubon has been a reliable fielder at both second base and shortstop, using his range and above-average arm strength as assets.
Photos by Kelly O'Connor, www.sittingstill.smugmug.com