Welcome to another Fenway's Future. This week we look at Rusney Castillo's performance since being optioned to Triple-A Pawtucket and provide an update on a pair of right-handers seeing mixed results as starters.
Triple-A Pawtucket: Rusney Castillo, OF and Zeke Spruill, RHP
We've all seen what Rusney Castillo can do at the major league level at this point in the season. Given the $72.5 million price tag, it isn't pretty. The 27-year-old Cuban outfielder sported a .180 true average combined with some shaky defense through 26 games with the Red Sox before being optioned to Pawtucket last weekend. It appeared long overdue. Castillo was striking out at a 19.5 percent rate and had showcased none of his power.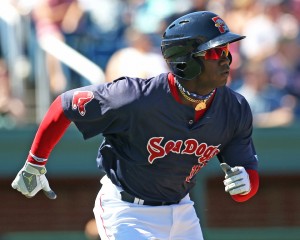 Castillo appears comfortable back down in Triple-A. He went 4-for-10 in his first two games back and had two hits, a double and a walk on Saturday, improving his TAv to .306 with the PawSox this season. The fact that Castillo is in the minor leagues despite his age and contract is another example of how maddening this Red Sox season has been. He's joined Allen Craig and Joe Kelly in that category, although the expectations for Castillo are astronomically higher. But the positive spin is that Castillo is still technically a rookie, and still very new to Major League Baseball. If he can continue to hit like he has in Triple-A this season, it won't be long before he's given another chance to prove he was worth the hype – and the money.
Lost among pitching names such as Henry Owens, Brian Johnson and Pat Light in Triple-A this season has been right-hander Zeke Spruill. The 25-year-old was acquired from the Diamondbacks in the offseason for Myles Smith, and came into the year with 12 major league appearances and three starts under his belt. Last season he had a 2.56 FIP in 22.2 innings for Arizona before being traded in December. At 6-foot-5, Spruill is a tall, lanky pitcher who's good at keeping the ball down and forcing weak contact. His fastball sits in the low-to-mid 90s, while his secondary stuff tends to tail off in velocity and effectiveness. He certainly won't pile up overwhelming strikeout numbers.
Spruill has spent most of his first season in the Sox's organization pitching out of Pawtucket's bullpen. If he's going to return to the big leagues in the next few seasons, it'll probably be as a middle reliever. The PawSox, however, recently moved Spruill into their rotation. In two starts, Spruill has allowed a combined four runs over 10.2 innings, putting his FIP at 3.77 for the year. The big-picture numbers are solid overall. The only concern is he's prone to getting into trouble and working with high pitch counts. He could some day be a serviceable back-end starter, or be good for a spot start here or there down the road, but he seems best served out of the bullpen at the big league level.
Double-A Portland: Marco Hernandez, SS and Sam Travis, 1B
Marco Hernandez isn't supposed to be a big name or a budding star. It explains why he was the player to be named later when the Red Sox traded an unhappy Felix Doubront to the Cubs last summer. But unlike Doubront, who essentially gave up in the middle of last season, Hernandez has at least shown some value in his first year in the organization. The 22-year-old Dominican Republic native has speed and a solid glove at shortstop, and this season – in Double-A Portland – may be the best of his professional career offensively. Hernandez has posted a .282 TAv, an impressive .375 BABIP and has shown surprising power thus far. He's been especially hot at the plate recently, riding a nine-game hitting streak into Sunday and reaching base safely in 11 of the last 12 games while hitting out of the leadoff spot. With a number of shortstops locked throughout the organization, Hernandez may need to adopt a utility role to ascend to the major leagues in Boston. But this offensive surge is a good step forward.
It was just one year ago that Sam Travis was playing in short-season Lowell after being drafted in the second round out of Indiana. Now the 21-year-old is three games into his Double-A career. Travis was a strong offensive performer over 66 games in High-A Salem, boasting a .297 TAv and a 1.9 WARP before being called up. Travis is strong and a solid contact hitter, but he also has a good knowledge of the strike zone, with his 9.4 walk percentage in High-A as evidence. The first baseman has started off slowly in Double-A thus far, collecting just one hit in three games while batting in the middle of the order. Perhaps Travis' biggest challenge as he moves up the organization will be adjusting to the increased velocity given his longer swing.
High-A Salem: Kevin McAvoy, RHP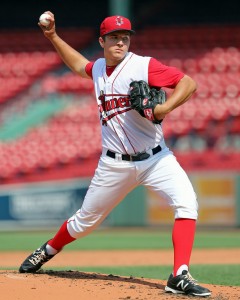 Kevin McAvoy is another pitcher whose name can be easily overlooked in the shadows of bigger names within the organization. In this case it's because of the notoriety of Ty Buttrey and Teddy Stankiewicz in High-A Salem. There's hope for McAvoy to make it through the system, however. He was a 2014 fourth-round pick out of Bryant University, and after one strong summer in Lowell jumped right to High-A ball. McAvoy looked like one of the better pitchers in the Carolina League to start the season, but has since struggled, giving up four or more runs in three of his last six starts and upping his FIP to 4.24.
McAvoy is primarily a ground- ball pitcher who lives off location down in the zone to force weak contact and get easy outs. He's done more of that this season, but is also striking out three to six batters in most of his outings. What McAvoy has been most hurt by is his command. He's issued seven free passes combined in his last two starts and holds a 4.93 BB/9 for the season. McAvoy doesn't work at a high velocity, so location is essential to him becoming an effective pitcher and developing into a back-end starter in the big leagues.
Low-A Greenville: Michael Chavis, 3B
There's a reason the Red Sox used a first-round pick on Michael Chavis in 2014. He makes solid contact, has plus power potential and is a good overall defensive player. He has the tools to one day become a solid, everyday major leaguer. But if we've learned anything from Chavis' first three months in Low-A ball it's that he's a long way from reaching his potential, particularly at the plate. The 19-year-old has yet to hit well this season, sporting a .216 TAv and an ugly 33.3 percent strikeout rate. Chavis had one solid stretch from the end of May to the first week of June, but has quickly tapered off again, collecting just two multi-hit games this month. Chavis' bat is expected to be an asset for him once he starts to reach his potential. For now, it's a work in progress to say the least.
Photos by Kelly O'Connor/www.sittingstill.smugmug.com