If you picked up the BP Boston eMag using the Baseball Prospectus app — and, really, why wouldn't you — you just reviewed some of the big hits that Xander Bogaerts contributed in the first half. The sample size of Bogaerts plate appearances with RISP has only grown since then, and now with 93 PA, Xander's .391 batting average in those situations is starting to get meaningful.
He's definitely had more success in those situations, whether you compare it to his .297 average with the bases empty, or to last season, when he hit .273 with the bases empty — and a paltry .153 with men in scoring position. From kind of a spectacular liability to something of a hard-to-believe strength, in just one season. And while there's definitely plenty of luck in there, it does look like Xander has taken a much different approach.
The short answer: Bogaerts stopped being so patient. Last year he walked 6.7% of the time with the bases empty, and 6.3% with runners in scoring position (and with runners on, in general). Considering he tallied just 143 PA with RISP, it's almost remarkable he walked at so similar a rate — one extra walk would have put him at 7.0%. This year, though: 4.7% BB% with the bases empty, and down to 2.2% with RISP. It's a more aggressive approach in general (and Xander wasn't exactly patient last year), but this year, it looks like pitchers have had to work pretty hard to keep him from swinging.
On the point that Xander has been more aggressive in general, from Baseball Prospectus:
| | | | |
| --- | --- | --- | --- |
| | Swing Rate | Zone Swing Rate | Outside Zone Swing Rate |
| 2014 | 45.03% | 60.58% | 29.03% |
| 2015 | 50.13% | 64.82% | 35.66% |
The change has paid dividends, with Bogaerts jumping from a .247 TAv to a .266 TAv this season; swinging more hasn't seemed to make it harder for him to hit the ball, as his contact rate on balls in the zone has increased slightly by about 1.5 percentage points (86.7% to 88.3%) and his contact rate on balls outside the zone has jumped (from 59.3% to 69.0%).
But that aggressive approach has been much more about the situation than it has in the past. With no runners, Bogaerts has swung at 48.8% of pitches — but with RISP, he's swung at 55.7%. Compare that with last year's rates: 44.7% with no runners on, and 45.5% with RISP. Xander is no longer tentative with runners in position to score — he's ever more aggressive when a single could put a run on the board.
There are probably two ways to be an "RBI Man" — expand the zone and swing at a wider array of pitches to get the job done, or, like Joey Votto, simply swing at many more of the pitches in the zone. Here's what Xander has done with pitches in the zone this year with no runners and RISP: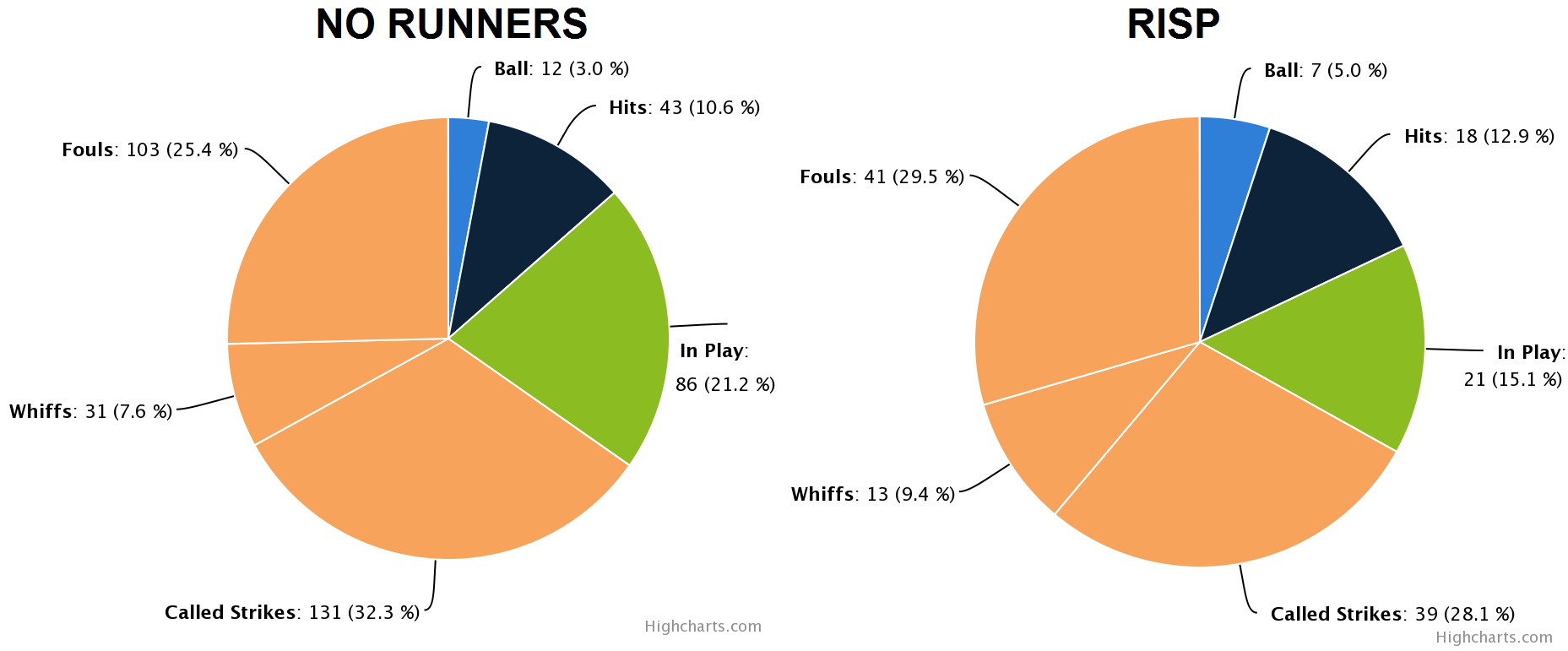 Bogaerts has definitely been less tentative with RISP in terms of swinging in the zone. His called strike rate drops by about 5% and a 6% combined increase in whiff and foul rates suggests that not all of the extra pitches he's swinging at are things he can do something with.
He may be doing a little of both, though. What he's done differently with pitches outside the zone is a little more dramatic:

This is the increase in swing rate that we've already noted. Xander is content to watch pitches for a ball nearly 55% of the time with no runners as he tries to coax a walk, but put a runner on first and/or second, and that drops more than 10 percentage points. Just as on pitches in the zone, there's still an increase in whiff and foul rates.
So far this year, it's all added up to pushing more runners across: a .297/.330/.396 line with the bases empty and a .391/.391/.529 slash with RISP. It seems to be at least partly a reflection of approach, and it seems to be related to the situation; skipping straight to "low" or "high" leverage situations as reported at FanGraphs, and there's evidence that what we think we've been seeing is real. Xander's .289/.319/.378 line in low leverage situations is very similar to bases empty, but the difference between it and his high leverage .438/.441/.656 is even more dramatic than just looking at runners. We can say it: he's been clutch.
We should also say, however, that he's been lucky, just as he's been lucky in general: Xander's BABIP with RISP is .453, much higher than his .342 BABIP with the bases empty (which is still high). He's not earning that with harder hit balls, most likely — just 48.1% of his batted balls have been hit at least 90 mph with RISP, actually a fair bit lower than the percentage with the bases empty (55.3%). When a single would probably score a run, Xander has had probably unsustainable success this year — and yet, with his change in approach, there's at least some reason to believe he's helping to make his own luck.
Photo by Bob DeChiara/USA Today Sports Images