When Dave Dombrowski was hired as President of Baseball Operations on August 18, Red Sox Nation wasn't sure what to think. That's understandable, as they had a lot of digesting to do.  Reactions were mixed but mostly positive, although there were some who feared Dombrowski's perceived track record of playing fast and loose with his farm system.  While this carries some mixed truth, it was enough to send our prospect loving fan base into a bit of a shock.
Soon after the acquisition went down, Ryan Hannable of WEEI.com took a look at Dombrowski's recent trade history dating back to his start with the Tigers.  He dispelled most notions that Dombrowski was a reckless trader while also pointing out that while he was very willing to move prospects for elite MLB talent, he was correct nearly 100% of the time.
Dombrowski's moves over the remainder of the year, from promoting Mike Hazen to General Manager to keeping the current Red Sox coaching staff, leads me to believe he is anything but the maniac some suggested, but rather a very calculated and astute talent evaluator.  The Red Sox have what is almost universally considered a top-five farm system, with ESPN's Keith Law ranking it first in his mid-season ranks. Pre-season, we at Baseball Prospectus had it ranked sixth.
Below, I broke down the top ten Red Sox prospects and sorted them into tiers as to how much it would hurt the organization to trade them.  All things were considered – age, position, team need, floor, ceiling, and proximity.  Here is a blueprint for Dombrowski to look at when he is trying to fix the problems that may hold back your 2016 Red Sox.
Tier One: Untouchables
Yoan Moncada: 2B, Greenville Drive – A
It looks like Ben Cherington's $63 million gamble on the young Cuban phenom has already paid dividends.  In their end-of-season rankings, Baseball America ranked Moncada as the number one prospect in the South Atlantic League coming off a season where he slashed .278/.380/.438 over 81 games.  There was a whole lot of rust at first, which was not surprising since he took nearly an entire year off from baseball.  When he got going, Moncada was electric adding 8 HR, 19 2B and 49 SB while improving his previously erratic defense.
The Red Sox seem very set at second base with Pedroia locked in through 2021, but nothing is yet set at third base.  Dombrowski will explore the trade market for the disappointing Pablo Sandoval this off-season and should a move happen a position switch for Moncada is not out of the question.  Moncada certainly has excellent power projection and the athleticism needed to make the move and develop into a well above average option at the hot corner.  If no move is made, his athleticism leaves him plenty of flexibility to move around the diamond wherever the team needs him.
Anderson Espinoza: SP, Greenville Drive – A
No one in the organization saw their value explode more than this former July 2 signee from Venezuela.  As a 17-year-old this young right-handed starter dominated both the DSL and GCL culminating in the nearly unprecedented move all the way up to A-ball, making him 13 months younger than the next youngest player.  He posted a 1.23 ERA and 0.94 WHIP while striking out 65 guys over just 58 IP between all three levels while showing very advanced pitchability.
The Red Sox need pitching and they need it badly, and with the cost of aces being at an all-time high trading a player that could develop into one is foolish.  After Lucas Giolito and Julio Urias make it to the big leagues next year, it would not surprise me at all to find Espinoza on the short-list of pitching prospects with the highest upsides in the minors. Kids like this simply do not come around often so unless you are offering a current ace in his prime, this man cannot be in any package.
Tier Two: Mostly Untouchables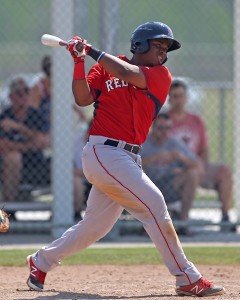 Rafael Devers: 3B, Greenville Drive – A
The Sox are clearly doing something right with their Dominican signings lately, as Devers has blossomed into an elite talent and one of the better offensive prospects in all of baseball.  He was extremely young last year, playing the full season in Greenville at just 18.  Offense is his calling card, and this young left-handed bat slashed a robust .288/.329/.443 while four years younger than the average prospect at this level.
Devers isn't perfect. His home run power has yet to fully develop, and he seems likely to shift across the diamond to first base.  All these things aside, the thought of giving up on a player like this gives me fever dreams of Anthony Rizzo, something I'd rather not repeat.  Giving him up would be terrible and the return would have to be high, however, it is not unthinkable since power comes more cheaply at first base than any other position.
Andrew Benintendi: CF, Greenville Drive – A
Drafted seventh overall out of Arkansas this past year, Benintendi had about as good a 2015 season as he could have hoped for.  After winning the Dick Howser award for best college baseball player of the year he signed with the Sox and went on to dominate short-season ball in Lowell.  After taking care of business there, he ended up with a promotion to Greenville where he dominated even more.
This left-handed bat has played all of his games at CF but seems like he could have ample power to play a corner position.  He walked more than he struck out while also hitting 11 home runs in just 54 games.  The power is real, and while I don't like to make comps to major league hitters, he looks a lot like a future big leaguer in the Alex Gordon mold.  Trading players like this is tough to swallow, especially considering the relative uncertainty surrounding Rusney Castillo and Jackie Bradley Jr.
Tier Three: This Is Going to Hurt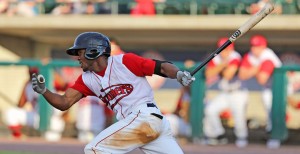 Manuel Margot: CF, Portland Sea Dogs – AA
Mookie Betts is the center fielder of the present and the future for the Sox, and nothing Margot does is ever going to change that reality.  That alone makes him expendable.  Look, Margot is a great player ranking nearly universally in all top-25 prospect rankings, but he is redundant on this roster.  This is exactly the type of player who could both fetch a good return and not come back to bite the Sox in the future.
Trading a player with elite contact ability, great speed, and surprising pop for his position is never an easy thing to do, but if it can improve the team elsewhere I am all for it.  As a 21-year-old at AA this year his K rate finally climbed above double digits to 12.8%.  Bat-to-ball ability like this is rare and you can bet he will be highly coveted.  After more than holding his own at AA by slashing .271/.326/.419 there will be no shortage of interest in Margot around baseball should he become available.
Javier Guerra: SS, Greenville Drive – A
Without a doubt the biggest breakout in the Red Sox system among position players this past year was the 20-Year-old Panamanian, Guerra.  Playing very solid defense at shortstop for his first two years in the minors, Guerra looked as if power was not going to be part of his game.  He only totaled two home runs in 2013 and 2014, but behind the scenes the power was building.  Over the past three years, his ISO has climbed from .043 to .139 before busting out last year at .171!  He hit 15 home runs last year against higher level pitching without having to sell out his average.
The reason Guerra is so tradable is that we have Xander Bogaerts.  Not sure if you all have heard of him yet, but the guy is pretty good, and with his improved defense he is at no risk to move off of the position.  Many teams across the league could benefit from bringing Guerra in and the price will not be cheap to do so.
Tier Four: We Probably Won't Regret This
Sam Travis: 1B, Portland Sea Dogs – AA
Travis enjoyed a fantastic 2015 between two-levels at the age of 22, and he will also be the lone top-10 Red Sox prospect on the Scottsdale Scorpions roster this fall.  Selected in the second round of the 2014 draft, Travis has a whole lot of polish compared to similarly aged prospects.  The less famous of the recent draftees out of Indiana thanks to Kyle Schwarber, Travis is pretty good- he has shown exceptional plate discipline and an ability to make consistent strong contact.  The power has yet to come though, as the first baseman only hit nine home runs this past season, but he had 32 doubles and an excellent .382 OBP.  It would stink to lose him in a deal but provided the Sox keep Devers it's something they can live with.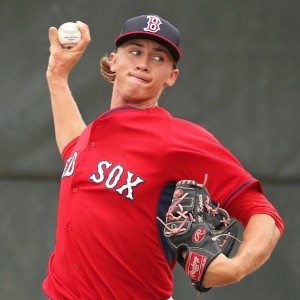 Michael Kopech: SP, Greenville Drive – A
Most who follow the minor leagues closely won't remember Kopechs's 2015 season for his dominance but rather his 50-game suspension for performance-enhancing drugs.  Kopech was suspended for Oxilofrine, which according to my brief research is an amphetamine that improves focus and oxygenation of the blood.  Essentially it gives you more focus and more endurance.  Amphetamines have had their place in the game for far too long and it was disappointing to see such a promising young guy make that mistake.
Suspension aside we have to look at the 19-year-old Texan for what he is: a damn good baseball player.  Kopech is a 6'3" right-hander with a fastball that works in the mid 90's, he complements that pitch with a nasty slider.  Before the suspension he made huge strides in limiting his walks while striking out 70 batters in just 65 IP.  He may end up a reliever long-term but even if he doesn't cut it as a starter he could be elite out of the pen.
Brian Johnson: SP, Pawtucket Red Sox – AAA
The lone player on this list who is truly on the cusp of making it to the majors is Johnson.  Before going down with the sore shoulder, which will reportedly not require surgery, Johnson dominated in 96 IP with a 2.53 ERA.  Provided he is healthy Johnson could slot into a rotation as a respectable fourth or fifth starter and succeed due to his elite command. Given the depth the Red Sox have in these possible back-end starters Johnson could be a very popular name when Dombrowski is seeking trading partners.  Lefty starters are always in demand, and with such a high floor Johnson will certainly garner interest.
Henry Owens: SP,  Boston Red Sox
I won't go into detail describing what Owens can do because most of you who have taken the time to read this article are very familiar with his strengths and weaknesses.  He looked great at times this year, but when his breaking pitches don't work and his command gets loose he can get beat up in a hurry.  With Rick Porcello, Wade Miley, Eduardo Rodriguez, Clay Buchholz and the inevitable ace penciled into the lineup, the Red Sox may feel Owens is expendable.  He may even be the more likely guy to be traded should the Sox have to choose between Owens and Johnson due to his value being higher right now.  If it happens it will be a shame for him to go but his ceiling really isn't higher than a third starter.
Final Word
No matter what ends up happening in the off-season, one thing we can bank on is that at least some of the above names will not be with the Red Sox organization in 2016.  Hopefully Dombrowski can keep the best core pieces while looking to contend next year.  The pieces are there for one good off-season to remedy the lion's share of issues with the MLB roster, and Dombrowski has a track record that suggests he'll be able to right the ship.
All photos by Kelly O'Connor/www.sittingstill.smugmug.com