For nearly a decade, David Price has been one of the best pitchers in baseball. Red Sox fans certainly don't need to be reminded of how good Price was when he first debuted, considering he was one of the main culprits in Tampa Bay's defeat of Boston in the 2008 ALCS.
From the very beginning of his pro career, when the Rays selected him first overall in the 2007 MLB Draft to his initial seasons with Tampa, Price was primed for stardom. That, over eight years later, he remains a bona-fide ace and a pitcher the Red Sox were willing to spend $217 million on demonstrates how dominant—and consistently dominant—he's been during his career.
Yet Price is by no means the same pitcher he was in those early days with the Rays. The left-hander has evolved throughout his time in MLB, and his approach against opposing hitters has changed, in some ways dramatically.
In many respects, Price has only improved as a pitcher the last few seasons. In terms of what pitchers can control, he's excelling at career-best levels. Price is striking out more batters and walking fewer than ever before, all while keeping his home-run rate right in line with his career averages.
What really stands out about Price is how few hitters he's walked the past couple years. Dating back to the start of 2013, he ranks fourth in all of baseball in walk rate (min. 500 IP), and he's mainly surrounded by starters who don't fall into the "ace" category on that list, such as Bartolo Colon, Mark Buehrle and Phil Hughes.
At the same time, Price has excelled at limiting contact while pounding the strike zone. He's posted the two highest strikeout rates of his career the past two seasons, and his zone-contact percentage of 81.7% was fourth among MLB starters in 2015. In this regard, Price is among a group of hurlers he's more often mentioned in the same breath with in Clayton Kershaw, Chris Sale and Max Scherzer.
So Price is throwing tons of strikes and generating loads of whiffs, which is a pretty great combination. But how? How has he been able to sharpen his command and also increase his strikeouts?
The answer lies in how Price's pitch selection has changed over the years. When he first arrived in the majors, he mainly attacked hitters with an overpowering fastball/slider combination. As his career has gone on, Price has added a few different pitches to his arsenal and made some other tweaks along the way.
Last season, Price threw four different pitches over 15 percent of the time; a four-seamer, a sinker, a changeup and a cutter, which has replaced his slider. He also mixed in a curveball in nearly 9 percent of his offerings, giving him five pitches that, on average, clock in anywhere between 95 mph (his four-seamer) and 80 mph (his curve). All that variance in pitch selection reflects the many weapons at Price's disposal.
The strides Price has made with his changeup in recent years are perhaps the most noteworthy. As the graph below shows, Price's reliance on the offering has increased on an annual basis, and last season, his usage of the pitch rose above 20% for the first time.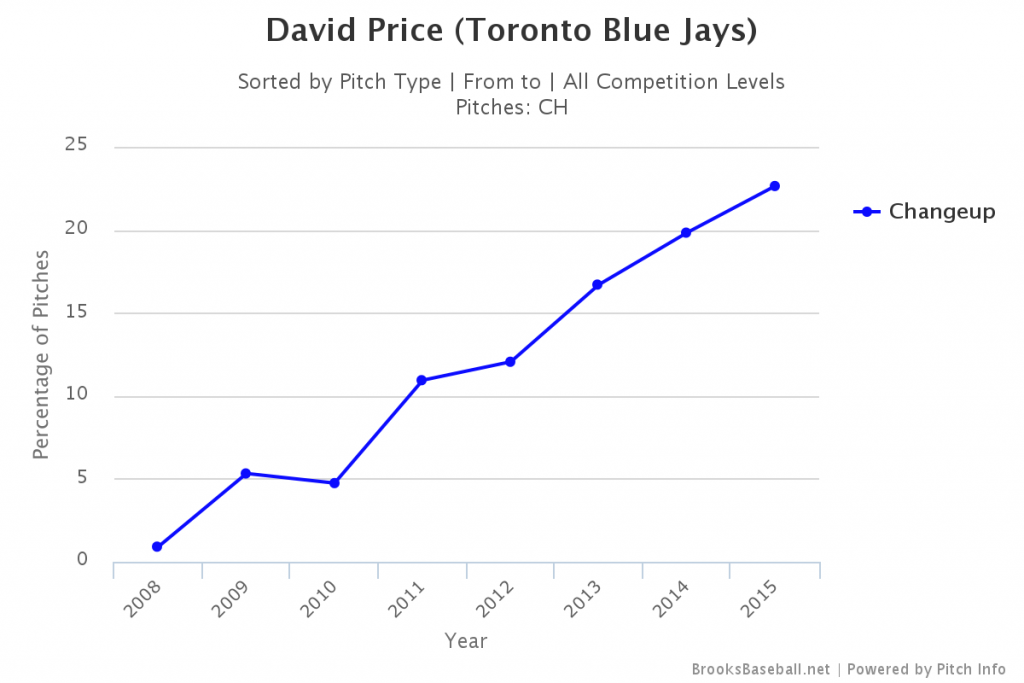 That improved change has enabled Price to better his performance against right-handed hitters over the years. Price went with the offering over 25% of the time against righties last season, yielding just a .219 batting average against and 19.5% whiff rate, according to Brooks Baseball, his highest on any pitch.
The example below, of Price striking out Elvis Andrus with a changeup in the ALDS, shows how the pitch can be a deceptive weapon for the southpaw, especially considering he can still challenge hitters with mid-90s heat.
In fact, Price's changeup got more swings and misses on a per-pitch basis than any of his other offerings. It's little wonder, then, that he finished with better results against righties, who hit .216/.267/.342 off him in 2015, than left-handed batters (.257/.284/.374). Prior to 2014, when Price achieved the same feat, he had never posted better numbers against righties than lefties in single campaign.
All this demonstrates how much Price's approach on the mound has changed, especially in recent seasons. For someone who used to dominate hitters with overpowering stuff, Price now excels due to his intelligence, elite command and control of multiple quality pitches, all while still averaging 95 mph on his fastball.
Since 2013, Price has had better command, by walk rate, than Mark Buerhle, while striking out batters at a higher clip than Zack Greinke.
And indeed, Price's ability to adapt throughout his career is one of the main reasons why Dave Dombrowski was so adamant that Boston's ownership spend the money required to sign him. It's also the explanation for why Price, at the age of 30, has shown little sign of a decline but is rather at the peak of his powers.
Since 2013, Price has had better command, by walk rate, than Mark Buerhle, while striking out batters at a higher clip than Zack Greinke. The Red Sox should be excited about signing a pitcher of Price's quality, and his willingness to evolve and seek ways to improve, even after winning a Cy Young at age 26, should give Boston hope that Price remains a top-of-the-rotation arm for years to come.
Photo by Nick Turchiaro/USA Today Sports Images