We'll start with two lists. The first: a list of some of the players Mookie Betts out-WARPed in 2015:
1. Miguel Cabrera
2. Matt Carpenter
3. Anthony Rizzo
4. Nelson Cruz
5. Andrew McCutchen
6. Todd Frazier
7. Edwin Encarnacion
8. Justin Upton
9. Chris Davis
10. Jose Bautista
Now, the second list. This one is a list of the players from the first list who are younger than Mookie Betts:
1.
To reiterate: Betts was both better and younger than every player on that list last season. Pretty crazy.
Crazier: Mookie Betts was 22 years old last season. He turned 23 on October 7th, so about three months ago. Last season he put up 5.5 WARP, better than all but 13 position players in all of baseball. But he just had his age 22 season! Player aging curves aren't decreed from the clouds, but they are pretty reliable in the sense that they're based on decades of data. We typically think of position players peaking at around age 27 and that's roughly correct. Of course, that's a wide swath of data, so any individual player can still plot a different course within that. Betts' productivity curve could look like a bell, like a sledding hill, like a cliff, or like a sleeping dog. We won't know until his career is over, but we can guess, which is kinda the point here. Even if Betts doesn't do anything different, he should spend the next roughly five seasons getting better.
So how good can Mookie Betts be? Is he going to be worth six, seven, eight or nine wins next season? Let's not get ahead of ourselves. First and foremost, he's already really good. There's only so much more room to grow, unless you think he's going to be a perennial MVP candidate. Most guys don't sniff top-14 seasons in their careers, but then that's why we're talking about Mookie and not about most guys. So the question is, will Betts get better, and if so, how much?
Betts' productivity curve could look like a bell, like a sledding hill, like a cliff, or like a sleeping dog.
We don't have PECOTA projections for 2016 yet, but FanGraphs has released the results of two different projection systems, ZIPS and Steamer. Presumably someone could parse the differences between them, but I'm not that writer and this isn't that article. The point is both are educated guesses as to what Betts will do next season and both have Betts projected for seasons almost exactly as valuable as his 2015. ZIPS says Betts will be worth 5.4 WAR (FanGraphs had Betts worth 4.8 WAR last season), and Steamer says 4.8 WAR. If you look moderately deeper at the projections, you'll see they see they call for a modest step forward offensively but a step back defensively for Betts. That's pretty conservative and not shocking given his age.
As I said, I haven't seen the PECOTA numbers for Betts yet, but we do publish long term PECOTA outlooks that show PECOTA's best guess at the next decade of a player's career. Betts' is still based on last season's projections, but once we know that we can take a look and not be horribly offended that it has him spending the next nine seasons bouncing between 2.7 WARP and 4.5. That's both very good (a player who averages just above 3 WARP per season is a very good player) and kinda cute, considering he blew past that already in his first full season in the big leagues.
I'm not going to do my own long term projection for Betts here, but it is instructive to look at his skill set and see what can be found there that might indicate how well he might age. We know Betts has speed and that speed tends to not age well, in the sense that we can see players formerly considered fast in their early 20s slow down considerably in their 30s. Defense is the same, in that it, again, on the whole, begins to drop off almost immediately after a player gets to the major leagues. Betts is a fast player and he's a good defender, but he's not a speed-only guy and he's not a guy who gets the majority of his value from defense. Losing a step wouldn't kill him and neither would a drop in his defensive value. If he proves unable to play right field in the future a move back to second base wouldn't be a terrible idea (depending of course on that position being open which, for the record, it most certainly is not right now).
Betts is a fast player and he's a good defender, but he's not a speed-only guy and he's not a guy who gets the majority of his value from defense. Losing a step wouldn't kill him.
The aspect of Betts' game that makes me the most excited about him is that he has no single aspect of his game where his production comes from. As it turns out, he's pretty much good at everything. He's spectacularly good at putting the bat on the ball. He runs well, he's smart, and though he's not a big guy, he has surprising power. That power shouldn't disappear until much later in his career, and the extra exciting part comes if he can add to what he has now. Last year Betts hit 18 homers. He may never hit a lot more than that, but consider this; of his 18 homers, just one is labeled as "Lucky" by Hit Tracker, and it's actually labeled "Just Enough/Lucky," so straddling two categories. The rest are of a good distance.
In fact, here are all the homers Betts hit last season with an overlay of Fenway Park (not that he plays all his games there, but just for fun).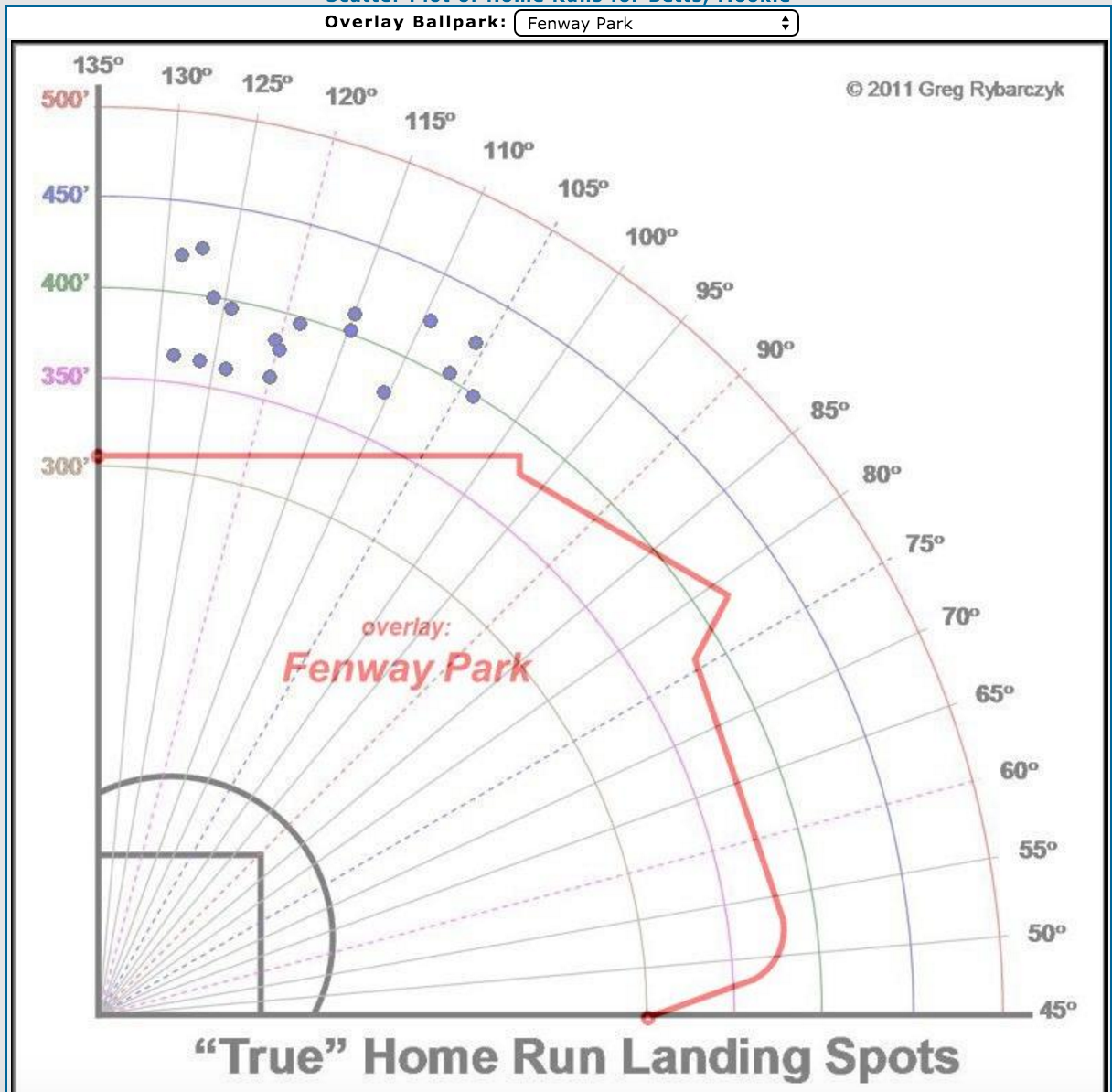 They don't look cheap to me. This is backed up by Baseball Savant. They track batted ball velocity and last season, Betts' average batted ball velocity was 91.16, tied for 48th in baseball with, oddly, Hanley Ramirez. It's also virtually tied with Andrew McCutchen, and ahead of Bryce Harper, Prince Fielder, Carlos Gonzalez, Yasiel Puig, and Edwin Encarnacion. That's good company.
None of that means Betts will be a power hitter like those players. Chances are he won't be. But McCutchen is an interesting parallel. Betts isn't thought of as a big power threat because of his size. He's listed as 5'9, 180 pounds. Andrew McCutchen has hit 30+ homers before so he's looked at as a legitimate power hitter, but at 5'10, 200 pounds he's not much bigger. When trying to diagnose if a player can maintain or improve a skill it's always a good idea to see if someone comparable has done it first. In McCutchen's first two seasons beginning at age-22, he hit 12 and then 16 home runs. Then, in his age-24 season he hit 23 followed the next season by 31. Again, that's not to say Betts will do the same, just that a player of his size (roughly) has accomplished it before.
In the end Betts is a very intriguing player because of the sheer number of skills he possesses. This bodes well for his production not just over the next few seasons but over his career. What's more, he's very young, so there is not only a chance he'll build up additional value as he heads towards his peak seasons, but there's also a good shot that he could do this for a long time. Perhaps the surest sign a player will have a long career is getting to the majors as early as possible. Betts is here, now. He's poised to provide lot of value for the Red Sox both next season and on into the future. The joy will be in watching him do so.
Photo by Jennifer Nicholson/USA Today Sports Images