Rusney Castillo's first two years with the Red Sox haven't exactly gone as planned. In fact, Castillo has spent more time in Pawtucket than in Boston, with nagging injuries and the transition to playing baseball in America slowing his development.
Now set to enter his third season, Castillo is finally in line for a starting job with the big club. Whether that's good news for the Red Sox is a fair question to ask, especially with another unknown commodity in Jackie Bradley Jr. also primed to start in the outfield.
The truth is we just don't know what Castillo will contribute in 2016, but Dave Dombrowski and the team's front office appear determined to find out.
During his brief spells in the majors, Castillo has shown the ability to impact the game defensively but also left much to be desired at the plate (if this also sounds like a good description of Bradley Jr., you'd be right!). What really stands out is how frequently Castillo hits the ball on the ground, or, said another way, how rarely he drives the ball with any authority in the air.
Over 289 plate appearances in 2015, Castillo hit an underwhelming .253/.288/.359, but the real story is that he hit 63.5% of his balls in play on the ground. That groundball rate would have been the highest in all of baseball if Castillo had enough at-bats to qualify, and it really hampered his production with the bat. The Cuban native hit ground balls at a rate similar to slap hitters like Jean Segura and Ben Revere, and while the Red Sox don't need Castillo to mirror David Ortiz's power output, they'll need better offense from him next summer.
As Castillo's spray chart from 2015 shows, he hit loads of weak ground balls to the left side of the infield and seldom pulled the ball in the air, which isn't a great recipe for success: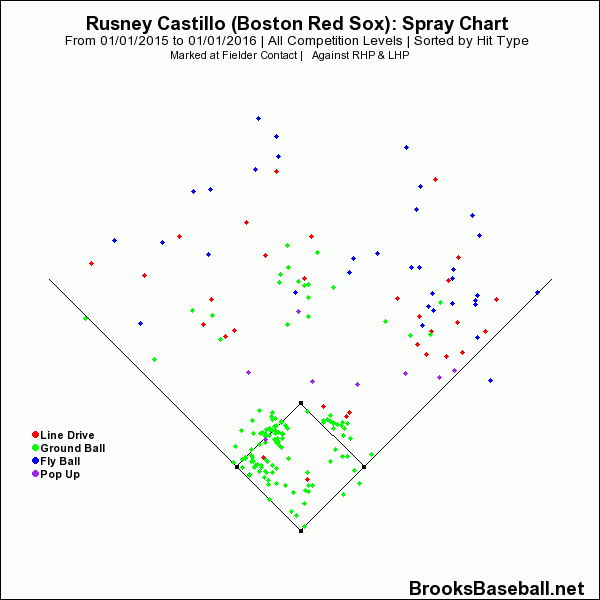 Indeed, such a batted-ball profile speaks to how infrequently Castillo hit the ball hard this past season, and there's no denying his quality of contact will have to improve moving forward.
Judging by how pitchers approached Castillo last year, it's pretty clear the book was out on him across the league. Castillo saw hard pitches –four-seamers, sinkers and cutters—nearly 65% of the time, according to Brooks Baseball. As this zone chart shows, opposing hurlers often attacked him inside with their fastballs and challenged him to drive the ball, which he never proved capable of doing on a consistent basis: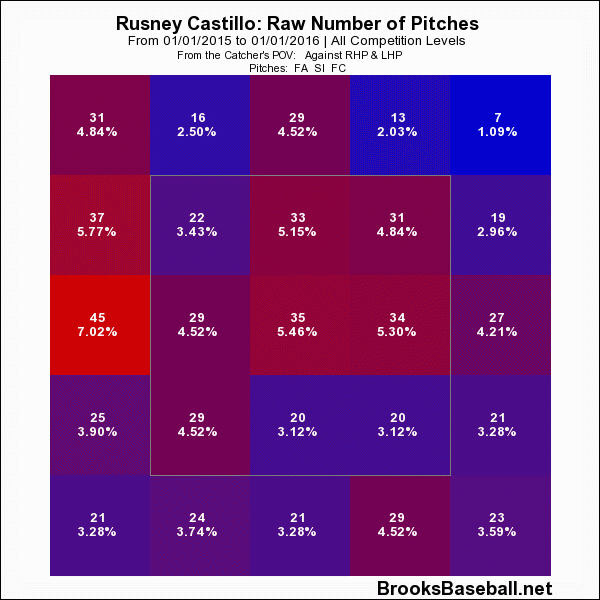 If pitchers couldn't coax a weak groundball out of Castillo with this approach, then they bombarded him with junk away, throwing offspeed and breaking pitches over 50% of the time when ahead in the count against the outfielder, per Brooks Baseball.
This zone chart, of all the offspeed offerings he saw in 2015, paints a clear picture of where opponents took advantage of Castillo. After forcing him to cope with fastballs inside, they regularly changed speeds and location on him later in the count.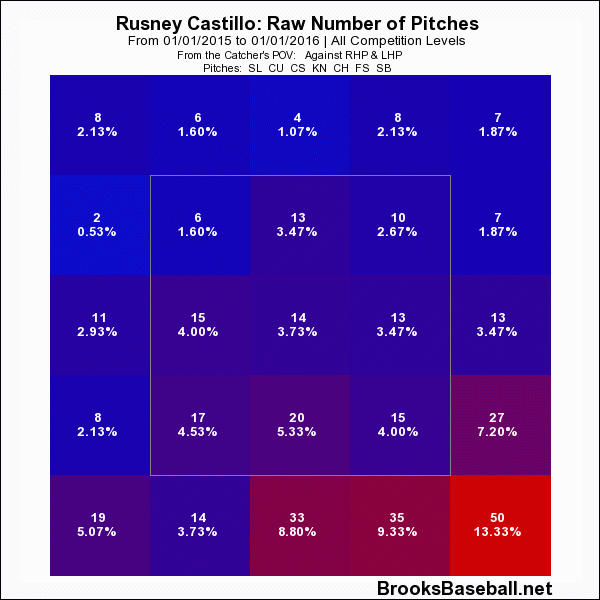 If pitchers couldn't get Castillo to swing and miss at their breaking-ball and offspeed pitches, they could at least count on him to ground out meekly on offerings away and off the plate. For a hitter who rarely provided a threat to drive the ball into the outfield, getting Castillo out became an easy proposition. The disparity in how someone like Mookie Betts performs against inside fastballs and how Castillo struggled with them last season is eye-opening.
This reality doesn't necessarily doom Castillo, but he'll have to make some adjustments if he's going to contribute enough offensively to earn an everyday job. The longer he proves incapable of pulling the ball with authority in the air, the more pitchers will continue to pound him inside with heat and then counter with offspeed stuff away.
What will truly be crucial for Castillo in 2016 is his health. Injuries have kept him off the field far too often the past two years and prevented him from getting enough reps against big league pitching. Many of his struggles could be attributed to this lack of experience, though he must begin to adjust to the strategy of his opposition.
Although Castillo has yet to deliver on that seven-year, $72.5 million contract, you can understand some of the reasons why the Red Sox felt comfortable giving him that deal. His defense has been great when he's played, and he can handle all three outfield positions. He has plenty of speed, even if that hasn't translated into stolen bases in the majors. And with his build, it's easy to see why they projected Castillo would provide at least a little thump with the bat. He has, in fact, shown some power when he's driven the ball these past couple years.
The problem is those occasions have been few and far between. The challenge for the Red Sox will be getting Castillo to more frequently hit the ball in the air so he can tap into any dormant power more often. With the way pitchers exploited his swing last season, the jury is still out as to whether Castillo will ever be able to do so consistently against MLB competition.
Photo by Winslow Towson/USA Today Sports Images