When the Red Sox paid $51,111,111 as a posting fee for the privilege of negotiating with Daisuke Matsuzaka, they knew he had been great in Japan. In a league in which few pitchers dominated, Dice-K had maintained a 2.22 ERA in his final two seasons, with over 400 innings pitched. But even fewer pitchers dominated in Nippon Professional Baseball the way he had, with a 9.6 K/9 over the same period. Evaluators had concerns about some Japanese pitchers' abilities to take a finesse game from Japan to the States, but as it turned out, Dice-K's more dominant approach didn't let him fare much better. Skill at striking out legions of contact hitters just didn't seem to translate in a post-Moneyball MLB where Kevin Youkilis was idolized and patience was preached.
Matsuzaka's contract expired after the 2012 season, and the Red Sox paused with Dice-K in the mirror only slightly longer than the Fresh Prince, signing Rusney Castillo to a seven year, $72.5M deal that was strikingly similar to Matsuzaka's six year, $52M pact. Once again, the team set a record for signing an international player, granting the largest guarantee to a Cuban player up to that point. And once again, differences between the game in a player's home country and MLB could be the difference between a very good player and a merely useful one for the Red Sox.
Once again, differences between the game in a player's home country and MLB could be the difference between a very good player and a merely useful one for the Red Sox.
NPB is more insular than MLB, with a four-foreigner limit on rosters. Even NPB can't hold a candle to Cuba's Serie Nacional, however, which is organized in a way more closely resembling high school ball in the U.S. Throughout Castillo's time in Cuba, teams were drawn from the region in which they played, resulting in a more idiosyncratic game. In 2014, Baseball America's Ben Badler discussed several of those consequences, which included players working a positions they'd never sniff in a system of drafting, trading and organized minors.
At the time, Badler observed that he could "count on one hand the number of pitchers who can throw 95 mph," later adding that the prevalence of mid- to  high- 80s mph pitchers led to an unusual number of long swings. Could that be part of what we're seeing with Rusney Castillo, who put up an underwhelming .647 OPS in 80 MLB games last year, and an only marginally better .722 OPS in 40 games with Pawtucket?
Baseball-Reference publishes a power/finesse split that aggregates a player's stats against the top third, middle third and bottom third of pitchers, according to K% plus BB%. "Finesse" pitchers are therefore pitchers that see the ball put in play more often than most. League averages against "power" pitchers lag a little behind the numbers for the other two thirds of pitchers, but Rusney did struggle more than most, to the tune of a .451 OPS and particularly putrid .188 batting average in a smallish 84 PA against those pitchers. Against the middle third, Castillo had a .721 OPS (97 PA) — and against "finesse" pitchers, Castillo finished 2015 at .735 (108 PA).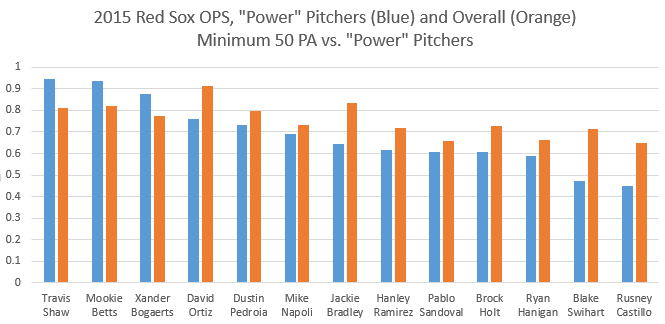 Some of the above are small samples cut into even smaller samples, but from what I can tell, these splits are anything but random; David Ortiz's "power" pitcher OPS has lagged behind his other marks by .100 or more basis points in nearly every season, for example. There's a lot of overlap between these splits and hitters' ground ball/fly ball rates, and (especially) contact rates, each of which are also fairly consistent year to year.
Even if we consider Castillo's struggles against "power" pitchers as meaningful, that's not necessarily the same thing as struggling against power pitchers, or power pitches. Per Baseball Savant, Castillo was served 127 fastballs at 94+ mph last year, with a 53% swing rate and a fairly high whiff rate of 24% of swings. Against fastballs 93 mph or slower, Castillo had a significantly lower 47% swing rate — and a substantially better whiff rate of 17% of swings.
The rest of the Red Sox had less swing and miss in their game overall, with a 15% whiffs per swing rate on fastballs 94+ mph, and 12% on fastballs 93 mph or slower. On a percentage basis, the difference for the rest of the team was not more dramatic than that for Castillo, and it's worth noting that the rest of the team had a K% against "power" pitchers almost identical to that of Castillo (both 28%).
Castillo's swing looks long, and in his brief career, it's looked from his numbers against "power" pitchers that his stat sheet might reflect a long swing. Failing to catch up with high heat is also something one might expect in 2015 after not playing as a professional in 2013 or most of 2014, though, and at this point, Castillo's struggles against "power" pitchers could be luck. Still, if Castillo is a liability against high K+BB pitchers, he may still have to play against them: 4th outfielder and fellow right-handed hitter Chris Young has also struggled against "power" pitchers in his career, if not to the same degree as Castillo (and both been much more successful against ground ball pitchers). It's early to raise the alarm, but a good time to continue to monitor.
Photo by Winslow Towson/USA Today Sports Images