When the Red Sox were getting ready for the 2015 season, it was fairly obvious that they were emphasizing ground balls in their rotation. From the outside, the approach appeared to be their way of offsetting the team's lack of a legitimate ace. Obviously, being from the future and all, we know it didn't work out. The ground balls didn't come, and the pitching staff as a whole was a disappointment.
Of course, the lack of ground balls generated and the subsequently poor pitching was not the only reason for Boston's poor season. For most of the year, the lineup was just as — if not more — disappointing. Looking at the numbers, Red Sox batters hitting the ball on the ground with frequency was likely just as harmful as pitchers failing to produce them.
By the end of the year, the Red Sox offense hit the ninth-most ground balls in all of baseball, but the White Sox were the only American League team to hit more. The performances of three hitters in particular led to this issue, as each of them saw a large increase in ground-ball rate compared to their previous seasons. As it turns out, the Red Sox will need improvement from all three in 2016. Let's try to figure out why these three batters had trouble hitting the ball in the air.
Hanley Ramirez
Here's a shock: We're talking about a deficiency from the 2015 season, and Hanley Ramirez was one of the main culprits. The now-first baseman went from a steady ground-ball rate around 45 percent throughout his career heading into last season before ending the year with a single-season rate just over 50 percent. It's not the first time he's hit this many ground balls, but it is a stark increase over each of his last three campaigns.
Looking more closely at his breakdown, it appears Hanley's problems began against fastballs. Per Brooks Baseball, he's produced a ground-ball rate ranging from 42 to 46 percent against "hard" pitches over the last three years. In 2015, that number rose to 53 percent. His shoulder injury immediately jumps to mind in this case, but even in April his GB% against hard pitches was 50 percent. As it turns out, pitchers changed their approach a bit with him, throwing more fastballs in on his hands than in years past.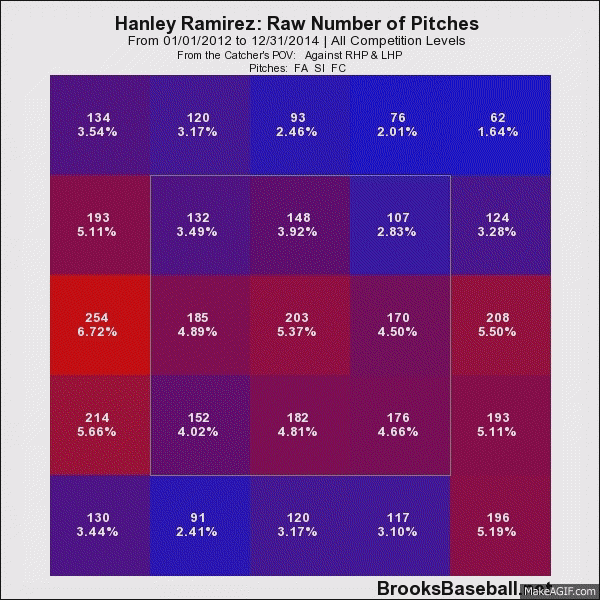 Sure enough, the strategy worked. Ramirez couldn't make solid contact on the pitches, leading to ground balls on almost every ball put in play against one of those offerings.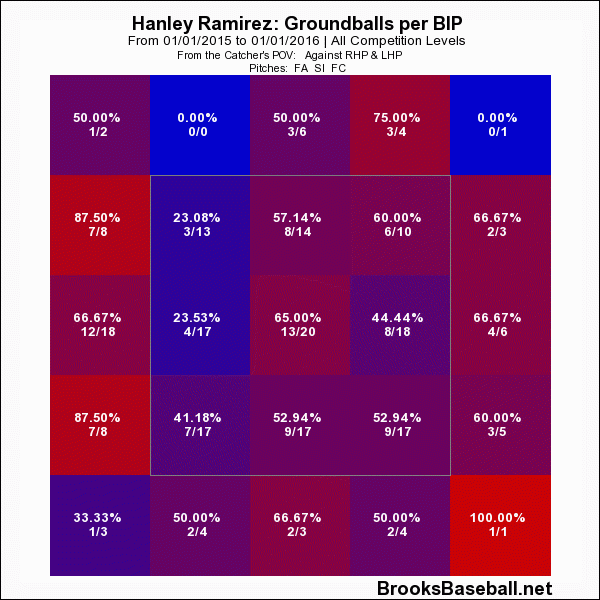 It's possible that the injury did lead to bat speed problems later in the year — his GB% against hard pitches did get above 60 percent by late summer. Whether he needs to back up off the plate or get his bat through the zone more quickly, he'll need to figure out how to offset this. That, for the first time in his career, less than 30% of Hanley's balls in play last season were fly balls is telling. He simply didn't drive the ball in the manner the Red Sox were hoping for.
Pablo Sandoval
Here's a shock: We're talking about a deficiency from the 2015 season, and Pablo Sandoval was one of the main culprits. As an aggressive hitter with decent-but-not-great power, hitting line drives at a high rate has always been his bread and butter. Grounders are his kryptonite.
Last season, Sandoval watched his ground-ball rate rise to just over 49 percent from a 43-percent rate the year before. It was a similar gain to Ramirez, but Sandoval's was the result of poor performance against breaking balls. He had trouble with the curve, if you will.
From 2012 through 2014, his GB% against sliders was just 33 percent. Last season, it rose to 44 percent. Similarly, his three-year rate versus curveballs sat at 47 percent, but it climbed all the way up to a whopping 58 percent in 2015. There wasn't much of a change in approach with breaking balls against Sandoval. Good breaking balls end up down in the zone, and that's where they stayed last year. However, the number of grounders he hit on those pitches clearly increased.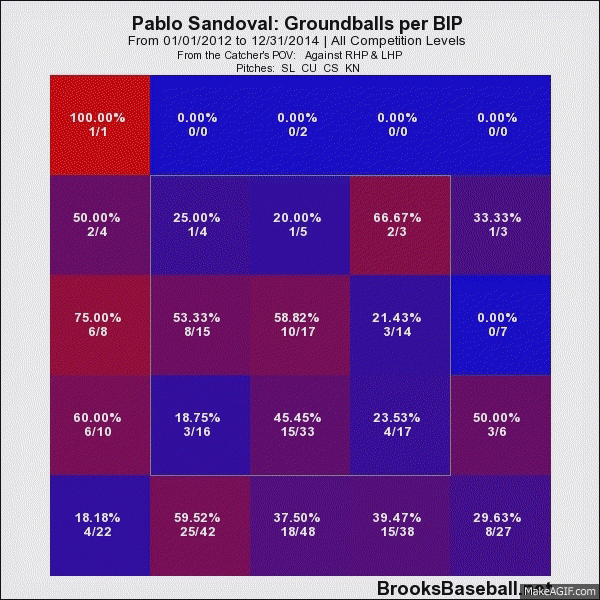 The problem zone appears to be on breaking balls down and away when he's hitting from the left side. He's going to have to be more selective in 2016, or at least foul those pitches off rather than roll them back to the pitcher.
Xander Bogaerts
Here's a shock: We're talking about a deficiency from the 2015 season, and Xander Bogaerts was one of the main culprits. Wait. This one actually is a shock. The overall results were good for the young shortstop in 2015, but there's no denying he'll need to change his approach if he wants similar production. Bogaerts' increase in GB% from his first full season to his second was jarring.
After hitting grounders just 31 percent of the time in 2014, that number climbed all the way up to 54 percent in 2015. Unsurprisingly, he had a ton of luck on those pitches, finishing the year with a .322 BABIP on grounders compared to a league average of .236. As one would expect with an increase like this, it's hard to pin down one area in which Bogaerts needs to improve. His GB% went up against virtually every pitch, and as you can see from the visual, it rose in almost every section of the zone.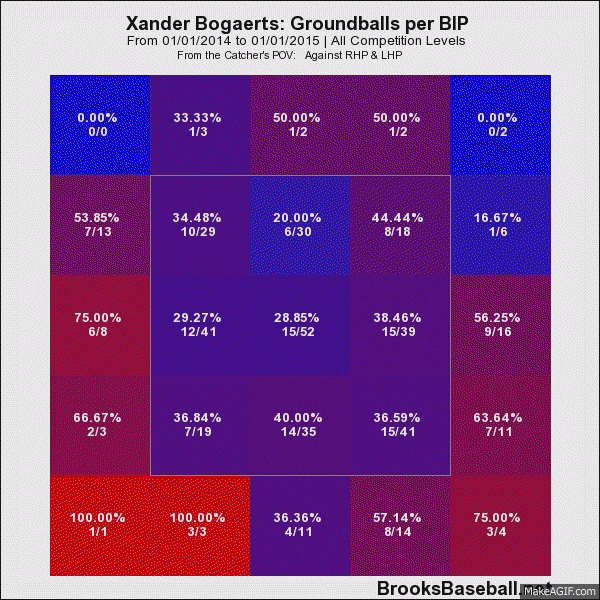 It's a striking way to look at things for a player who had such a good season. The only suggestion here would be to show a bit more patience and wait on pitches that he can drive. Offerings away and off the plate in particular are ones that Bogaerts should be laying off.
***
Hanley Ramirez and Pablo Sandoval are the obvious players who the Red Sox need improvement from if they're going to succeed in 2016.  They're the story of spring training, and fewer ground balls — or, put another way, better contact — will go a long way towards that improvement.
Boston doesn't need improvement from Bogaerts, as he was a clear net positive in 2016. With that being said, if he plans on producing at the same rate, he'll need to get back closer to his 2014 GB%. Luckily, he's shown an ability to adjust throughout his pro career, and should be able to do so again. All three of these players hope to be big parts of the Red Sox lineup in 2016, and their ground-ball tendencies will be key to their production as the season officially gets underway.
Photo by Mark L. Baer/USA Today Sports Images