Opening Day is a week away, and the Red Sox's pitching staff is already hurting. First it was Eduardo Rodriguez, who is expected to miss the start of the season with a knee injury suffered early in spring training, leaving a hole in the rotation. Last week, the bullpen took a hit when newcomer Carson Smith experienced soreness in his right forearm. Smith's injury is not as severe as it could have been — an MRI revealed a strained flexor mass — but he will start the year on the disabled list with no timetable for a return.
Losing Smith hurts. The former Mariner is a hard thrower with a strong sinker/slider mix who can both induce ground balls and, with a 32.4 percent K% in 2015, strike batters out. He was acquired to solidify the Sox's already improved bullpen following the addition of Craig Kimbrel, and perhaps form a three-headed monster at the end of games with Kimbrel and Koji Uehara. Now the Red Sox need to reassess their bullpen depth once again. Without Smith, this group looks more like the one that sported a 4.24 bullpen ERA in 2015 — good for 26th in the majors — than the revamped relief corps we were expecting. That means more Matt Barnes, who Matthew Kory wrote about last week, Robbie Ross and Tommy Layne in 2016.
It's a concern for a Red Sox. However, there's no need rush Smith back. In fact, now is the time to play it safe with one of their most important young pitchers. Last year's bullpen stunk. But one returning piece that will be crucial in Smith's absence will be Junichi Tazawa, who will likely slide into Smith's role for the time being. And now is a better time than ever to have Tazawa in your bullpen.
The last two seasons have been hard on Tazawa. He's been relied on to pick up the slack for a thin Red Sox bullpen, but that dependence has seemingly backfired late in seasons. The overall numbers have been decent. He sported a 3.22 DRA, 2.97 FIP and 1.0 WARP in 2014, and a 4.11 DRA, 3.02 FIP and 0.4 WARP last season. That's more than acceptable for a middle reliever. The issue has been the way he's regressed as those seasons have gone on.
Just take his career numbers. Tazawa has seen his ERA increase with each month over the course of his career. And you don't even need the numbers to know that. If you've watched this team over the past few seasons, it's evident. Tazawa has worn down with each passing month, and his performance has suffered as a result. Some basic stats from Baseball Reference tell it all.
| Split | ERA | G | IP | HR | SO9 | SO/W |
| --- | --- | --- | --- | --- | --- | --- |
| April/March | 1.80 | 41 | 40.0 | 5 | 8.8 | 9.75 |
| May | 2.21 | 39 | 36.2 | 4 | 9.6 | 4.33 |
| June | 3.38 | 36 | 34.2 | 3 | 9.9 | 7.60 |
| July | 3.62 | 36 | 37.1 | 1 | 9.2 | 4.75 |
| August | 4.38 | 56 | 76.0 | 9 | 6.9 | 2.32 |
| Sept/Oct | 4.54 | 41 | 37.2 | 3 | 10.0 | 7.00 |
Tazawa bottomed out last August. He saw a solid season go south with an 8.44 ERA for the month. That was followed by a September in which he tossed just three innings, giving him only 10 innings pitched over the past two Septembers, both of which have been meaningless for last-place teams. It was the culmination of another ugly second half in which he continuously left pitches in the middle of the strike zone, and continuously got crushed.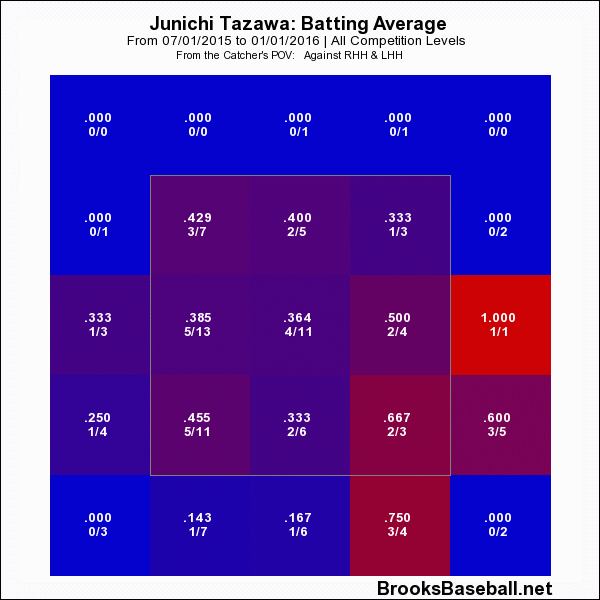 Here's the good news: that was second-half Tazawa. First-half Tazawa has been a dependable reliever who is just as effective as a healthy Smith would be. He's a far different pitcher than Smith is — he gets swings and misses off a mid-90s fastball and splitter (he posted a 22.7 percent K% in 2015), and induces flyball contact off his curve — but his April and May performances are good enough to fill the void left to start the season.
There's a reason Tazawa's second-half efforts have been so disappointing in 2014 and 2015. He posted first-half ERAs of 2.61 and 2.58 in the last two seasons. His strikeout rates were high and walk rates low. He was still attacking the zone, but seeing far different results. Take the difference in the 2015 plots as the obvious example. There was still some success off Tazawa, but it wasn't nearly as consistent.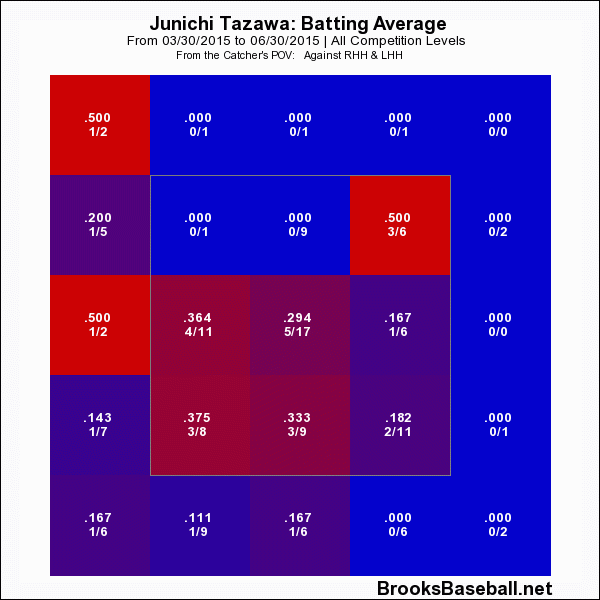 Kory's aforementioned article argues that Barnes can be Smith's replacement, but that's assuming he has finally made the full transition from starter to reliever. Barnes' 5.89 DRA and 5.20 FIP last season simply can't be ignored. The Red Sox know what they're getting with Tazawa. That may not be a good thing come August, but that predictability makes Tazawa the Sox's best option to start the season.
If that's the pitcher the Red Sox will get in Smith's absence, that's ok. Tazawa won't give the Sox the 2.67 DRA or 2.09 FIP Smith had in just his first full season last year, but he throws hard and is more than capable of holding them over enough to let Smith nurse his way back to 100 percent. Tazawa is still an above-average reliever, and if his career numbers are any indication, he will be even better than that over the first two-plus months of 2016 with most of his action likely coming in the seventh inning to set up Uehara and Kimbrel. The bullpen won't be elite, but it won't be among baseball's worst again, either.
Smith's injury doesn't become a problem until it takes longer to heal than we expected. Arm injuries, especially in the elbow area, are often unpredictable, and this one could lead to the Red Sox once again relying on Tazawa to play a major role out of the bullpen for a majority of the season. But for now, Tazawa's consistent inconsistency is an asset. The Red Sox can afford to take their time with Smith — a young pitcher under team control for the coming years — and still have a strong back end of their bullpen to start the season.
Photo by Bob DeChiara/USA Today Sports Images