Joe Kelly allowed 12 baserunners in five innings and the Red Sox still won. Don't watch the replay. Let me save you from the torture.
Top Play (WPA): Xander Bogaerts takes the crown here, as his two-run double in the third inning knotted the score at two apiece and chalked up a .181 WPA. Bogaerts had challenged Manny Machado earlier in the game, hitting into a very strange double play when he sent a hard-hit grounder over to the hot corner. This time, Bogaerts got the upper hand. It wasn't a sharp, worm-burning groundball, but it was close enough to the line to get past the young third baseman. It's good to see Bogaerts pulling the ball for extra bases, sure – but if he can get them up in the air, we might be onto something special.
Bottom Play (WPA): Bogaerts was all over the WPA chart today, but you know the old adage: the shortstop giveth, the shortstop taketh away. Hanley Ramirez hit a soft liner to JJ Hardy, and Bogaerts was frozen about 20 feet off of second base. Hardy caught it, flipped it to Jonathan Schoop at second, and that disastrous bout of baserunning culminated in a -.128 WPA. It looked like Bogaerts was thinking that it was going to go over Hardy into center field, but he stopped way too far off second base, and that's what got him. Bad stuff all around.
There's no one metric to describe the horrendously awful starting pitcher matchup, but Joe Kelly was terrible but still got the win. Please don't turn five innings into two hours again. We have lives to live, Joe.
Key Moment: In the bottom of the fourth, Jackie Bradley Jr. took a Ubaldo Jimenez slider and blasted it 380 feet. It wasn't a homer. That gave the Red Sox a lead they'd never relinquish. Kelly, uh, "worked" his way through another inning, Matt Barnes looked good in his inning of work, and the Tazawa-Uehara-Kimbrel reliever train blew through the Orioles lineup in the last three innings. If JBJ can crank out extra-base hits despite hitting .250, we'll take it.
Trend to Watch: It's all about the relievers.
Matt Barnes sat 97 mph with his fastball. Ninety-seven! It even looks like there could be more where that came from.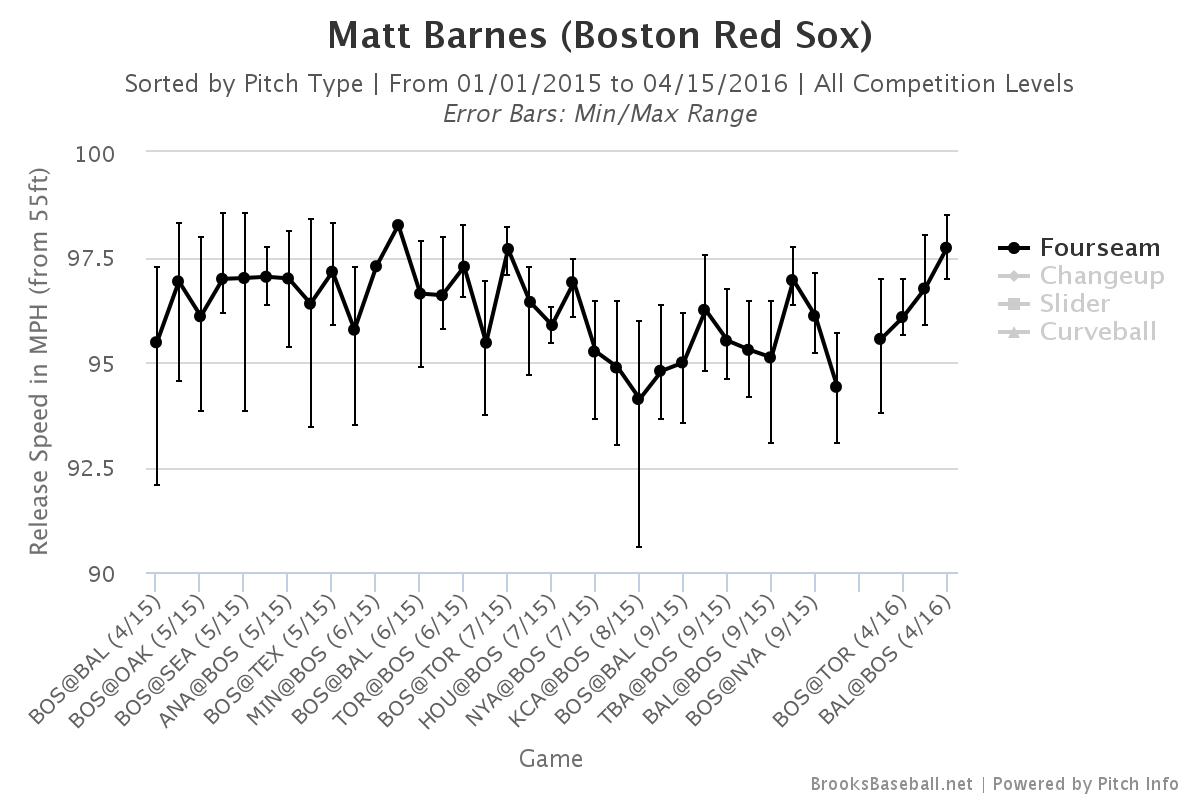 His fastball peaked in 2015 around mid-season, but he's ramped it up by a couple ticks early on in 2015. It's encouraging to see after he was knocked around quite a bit last year. With some improved command, Barnes could be a real asset this year in a bullpen full of them.
Speaking of bullpen assets, Craig Kimbrel was having none of the Orioles last night.
That last pitch to Davis – y'know, the guy who hit a homer off of him on Monday – hit the chalk around the batter's box. Davis still swung. I leapt out of my seat.
We're going to be seeing a lot more of that.
Coming Next: The Red Sox are off on Thursday, but on Friday, the Blue Jays come to town to kick off a four-game series. R.A. Dickey will face off against Rick Porcello in a battle of who can give up the longest home run. You don't want to miss it! Seriously, you actually don't want to miss this, because a ball might fly through your window and this game might be responsible.
Photo by Bob DeChiara/USA Today Sports Images