Remember when you were a little kid and you were really sick? Not the weak kind of sick that you embellish so you can stay home from school and race on Rainbow Road all day. I'm talking about the kind of sick where you spend all day at the doctor's office, feeling like you're going to die. As a child, you don't know any better and you eventually start to wonder if you're ever going to feel better. In the back of your head, you know it's not that serious, but the thought doesn't leave your mind.
That's early-season baseball. We know that, at this point in the year, the samples are too small to reach any meaningful conclusions. However, we've been waiting all winter for baseball, and it's human nature to overreact to what we've seen thus far. It is, after all, the only data points we have, so why wouldn't we pay attention to them?
All this brings me to Mookie Betts, who has gotten off to a distressingly slow start. If you asked all Red Sox fans before the season who the most reliable hitter in the lineup would be, Betts would've been one of the two most popular answers along with David Ortiz. Nothing he had shown in his first year-plus in the majors led us to believe that failure was a possibility. On April 21, there clearly haven't been enough games to change our minds on that. Nevertheless, we're only human, so no one can blame you if that little bit of doubt starts creeping into the back of your mind, regardless of your more logical senses.
Nothing Betts had shown in his first year-plus in the majors led us to believe that failure was a possibility.
[Editor's note: the following stats do not reflect Betts' 2-for-3 night with two walks and a homer on Wednesday. Thank you to Matt for jinxing him into success]
Just 59 plate appearances into the season, Betts has been among the worst hitters in the game. As of this writing, he's batting .207/.220/.345, culminating in a .196 TAv. Needless to say, there haven't been many bright spots in his surface numbers. He's not walking at all, carrying a 1.7 percent walk-rate. He's striking out way more than he ever has, with a 27.1 percent K-rate. He's also not getting any hits to drop, putting up a .250 BABIP after showing the talent to carry an above-average rate so far in his short career.
Looking a little bit deeper, what we want to find out is whether there is really anything to worry about, or if we're just overreacting like that kid who's stuck home from school.
We'll start with the plate discipline, because that is the most jarring portion of Betts' early season struggles. The good news is, despite the decrease in walks and increase in strikeouts, he hasn't suddenly turned into an ultra-aggressive hitter. He's swinging at essentially the same rate as he did last season, and his swing rate on pitches out of the zone has actually decreased substantially. However, he is having some trouble making contact through the first few weeks of the season. This is particularly shocking considering his ability to make contact was one of his premiere carrying tools last year. In 2015, he had one of the 15 lowest swinging-strike rates among the 122 MLB players who saw at least 2000 pitches. This year, though, he's fallen back to a rate that would've finished as the 40th lowest, a far more middling number.
The big issue has been pitches out of the zone, as his contact rate on strikes hasn't fallen by a significant margin. Instead, he's been unable to do anything with pitches out of the zone, whether that means poking them the other way or simply fouling them off. Looking at his zone profile, it's clear that pitchers are taking advantage of him on balls down and away.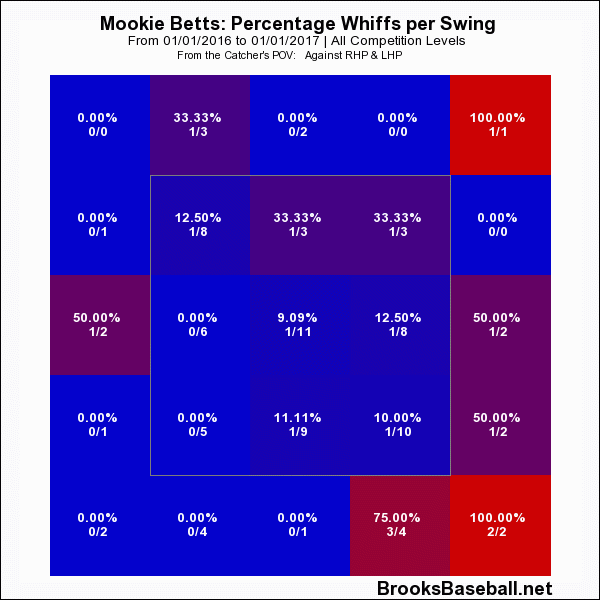 Unsurprisingly, given the patterns of that whiff profile, breaking balls are the pitches giving him the most trouble. Particularly, Betts has struggled more than usual against curveballs. While his whiff rate has risen slightly against sliders, it's gotten significantly worse against curveballs thus far in 2016. To wit, he's whiffed on a third of his swings against the pitch, and all of his batted balls have been either ground balls or pop ups. We're dealing with tiny samples, of course, but it's a trend to watch as Betts tries to right his ship.
The good news is, beyond those plate discipline issues, everything else looks good. One of the reasons Bettsm was able to succeed last year was through spraying the ball all over the field. He's been able to do that again this year, and while he hasn't had much success to the opposite field, one would expect that to change. Betts is also carrying a similar batted-ball profile as last season, with a few more grounders and fewer fly balls, but no major differences. Even more encouraging is that his power appears to be present, as his average fly-ball distance is 20 feet longer than last year. Much of that is small-sample noise, but keep in mind that this is coming during the coldest point of the season when balls typically don't fly as far. Finally, his exit velocity is right in line with where it was last season against all types of pitches.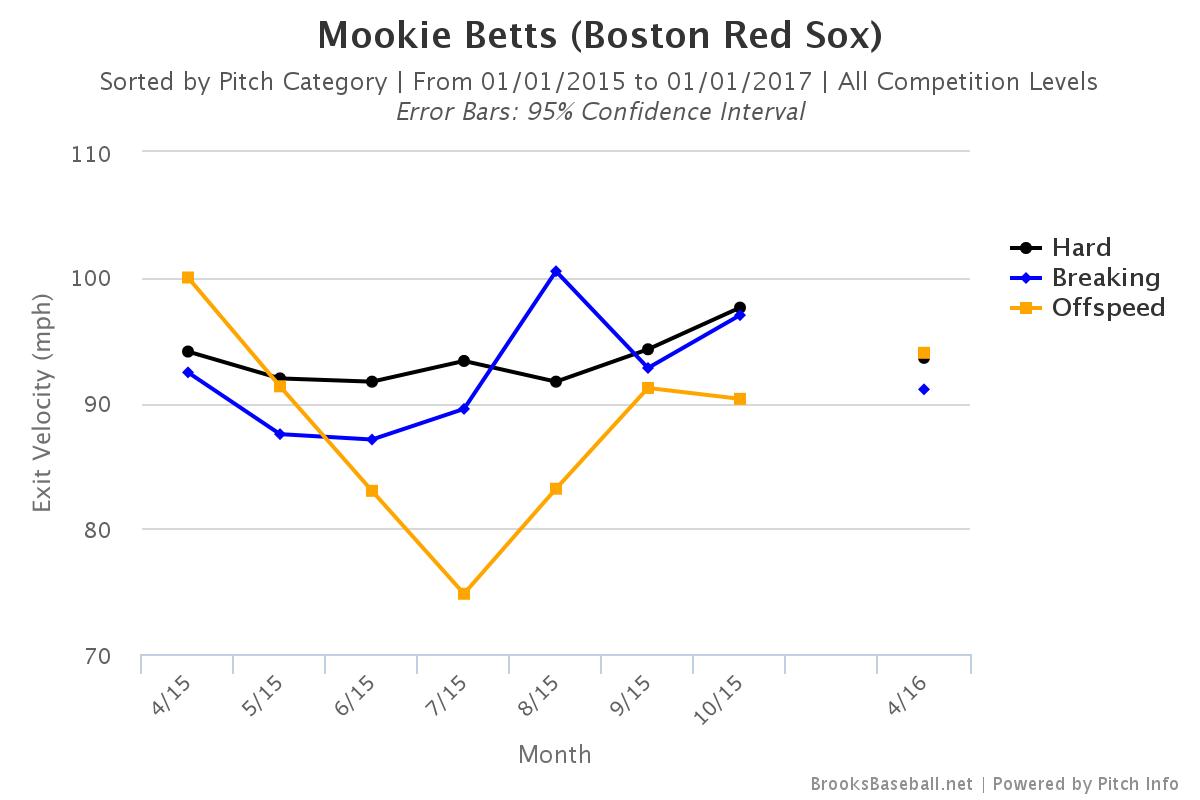 It'd be nice to see Mookie hitting the ball as hard as he was at the end of 2015, but that's asking for a lot. With all that data in mind, it's hard to imagine Betts not getting back to at least an average BABIP, which will do wonders for his production.
Realistically, there's no reason to worry about Betts just a couple weeks into the season. Of course, that won't necessarily prevent us from thinking irrationally. It's true that there are some mildly troubling signs. Most notably his inability to fight off breaking balls down and away. Moving forward, pitchers will likely try to exploit this trend. Knowing what we know about Betts, it's likely he'll make the adjustment and get back on track in short order.
Photo by Bob DeChiara/USA Today Sports Images